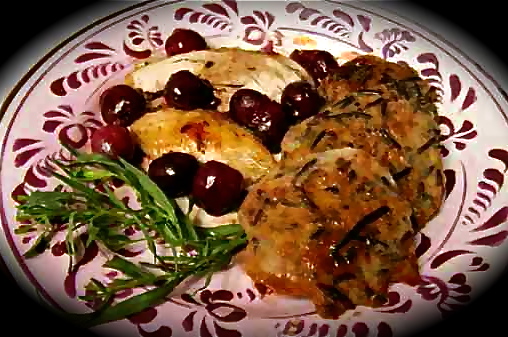 Really. In 1985, when I wrote The Vanilla Cookbook, my editors asked me what vanilla could be used in besides ice cream, dessert and beverages. Quite honestly, the idea had never crossed my mind. However, they threw down the gauntlet next to my half-written manuscript. Experiment or give back the advance — what would you do?
My first attempt was a chicken in white wine sauce. I put part of a vanilla bean in the small stockpot on the stove, along with the onions, celery, carrots and giblets. I sauteed the chicken and mushrooms. I added the wine. When the chicken was tender, I set it aside while I finished the sauce. After finishing with a nice splash of cream, and with the bottle of pure vanilla extract at arm's length, I added a few drops. I held my breath, then tasted it. I was shocked!
The sauce was buttery smooth and had a lovely, delicate, vanilla nuance that lifted up the flavors of the tarragon, the cream, the meat. It didn't overpower the sauce. It was more like a light breeze riffling through grass on a warm afternoon. Wow!! I never looked back.
When using vanilla in savory foods, don't think of it as the main event. It's the background music. Kind of the way that a grind or two of black pepper gives a spicy note to a strawberry-rhubarb compote. You don't think "pepper," you just notice a hint of spiciness.
What about vegetables? Carrots, beets, corn , sweet potatoes, butternut squash, fresh English peas. They're naturally sweet, aren't they? Adding a few drops of vanilla won't make them sweeter; it will simply underscore their sweetness. You're just adding one short brushstroke to the canvas when you put in vanilla . Now what about the fresh corn or peas you thought would be sweet, but instead they're kind of starchy or flat. Add a few extra drops of vanilla to kick them up a notch.
Fruits such as pineapples and lemons are sometimes a little too acidic. Add a little vanilla to cut the acidity. Early strawberries not living up to their promise? A little vanilla sugar will help out considerably.
When it comes to meats, I wasn't the first person ever to add some vanilla. The French have been doing it since who knows when! I had heard tell of duck with vanilla in the little Parisian hole-in-the-wall restaurant — you know, the one, don't you? But I wasn't in Paris to verify it, at least not in 1985. When I was in Tahiti in 2001, however, an island favorite was mahi-mahi in vanilla creme sauce. The French chef I interviewed thought nothing of throwing a couple of plump Tahitian beans into the massive stockpots simmering on his restaurant stove , as well as wine sauces and more. And big fat prawns were sauteed and covered with coconut milk and vanilla. French families tied to the Madagascar vanilla trade were no strangers to vanilla in poultry and meats. They knew.
Pork is a shoe-in. Pork tenderloin with apples or peaches just begs for a touch of vanilla. Rich, salty carnitas or pulled pork? Throw in a few drops — or more! Sweet and sour pork? Of course! Barbecue? It's a must.
Roasted lamb benefits hugely from a partial bean scraped into the gravy or glaze. Poultry? Of course! Beef ? Absolutely. Fish? Nothing quite like salmon slow roasted with vanilla salt.
Not long after my early experiments, probably around the time I began to speak up about vanilla for the benefit of vanilla farmers worldwide, I decided my rallying cry should be, Bring vanilla out of the cupboard and onto the table and use it every day!
Don't take my word for it — just try it. Here are some recipes to get you started. Or go to our Entrees and Side Dishes to see more recipes.
Pork Tenderloin with Apple Cider, Vanilla Maple Glaze
Cornish Game Hens with Cherry Vanilla Sauce
Grilled Snapper with Tropical Fruit Salad
Latest posts by Patricia Rain
(see all)