Grilled Snapper with Tropical Fruit Salsa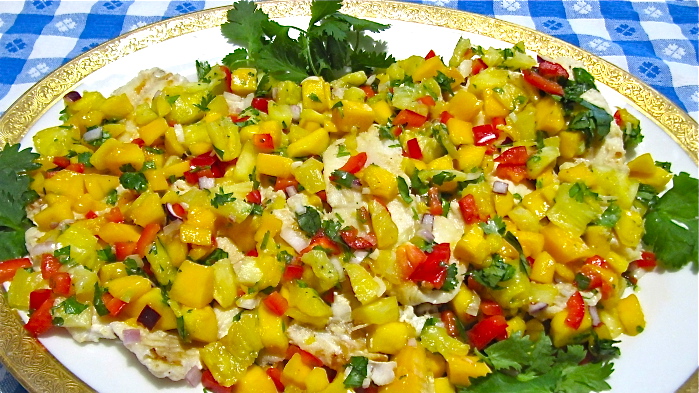 One of the pluses about living on the Central California coast is the fresh fish! I live down the street from a couple of fishermen and occasionally I go out on the Bay with them, though I admit, it's more for the boat ride and being on the water than it is for the fishing. What I've learned as they've reeled the fish in, is that the markets use names like "snapper" and "cod" when the fish is actually one of the many varieties of rock fish. I mention this because it really doesn't matter what firm-fleshed white fish you use to make this and many other fish dishes. It's more about choosing fresh fish that ideally is also sustainable. If you are concerned about what fish to choose regarding sustainability, check fishwatch.gov.
Although I've suggested grilling the fish in this recipe, there are several ways to prepare fish quickly and simply. Personally? I don't have a grill. I remove the fish from the marinade, lightly pat it dry, then pan-saute the fish in a little of the marinade or plain olive and coconut oils. Once it is lightly browned on both sides, If the fish is cut in chunks rather than fillets, I throw in a big splash of white wine or broth, cover it and cook it until it is just done. If you aren't quite sure, take the pan off the heat and let it sit for a minute or two, then carefully cut it open. It should be opaque and tender. It's so easy to overcook fish that I'm willing to err on underdone and tuck it into a warm oven if necessary for another couple of minutes than allow it to get dry and overcooked. If you live in tight quarters and don't want your dwelling to smell like fish for days, you can also bake the fish. Place the fish in an ovenproof pan, add a little of the marinade to the pan and bake it at about 325. Keep a close eye on it so it doesn't overcook.
The salsa recipe is also easy to adapt. If you like heat, use peppers with heat. You can also sprinkle pepper flakes on the fish if you'd like. If you don't like mangoes, substitute a different fruit. Substitute strawberries and nectarines when they're in season. In other words, you should play with your food. I need to go nudge my neighbors and go fishing again soon!

Print
Grilled Snapper with Tropical Fruit Salsa
Scale
Ingredients
For the Fish
4

(8-ounce) red snapper fillets or other firm, white-fleshed fish

2

limes, juiced

1 teaspoon

minced fresh ginger

1 teaspoon

coarse ground black pepper

3 tablespoon

s extra-virgin olive oil
For The Salsa
2

mangoes, diced

2 cup

s pineapple, diced

½ cup

green onion, minced

2

–

3

fresh chiles of your choice (for mild I suggest Anaheim; for hot, jalapeno, serrano, or padron. You can also add red pepper flakes for more heat.

½ cup

cilantro, chopped

2 tablespoon

s agave or dark brown sugar, or to taste
juice of

1

–

2

limes

½ teaspoon

salt, or to taste

1 teaspoon

Rain's Choice pure Vanilla Extract
Instructions
For the Fish
Preheat a grill.
Place the red snapper fillets in a shallow dish. In a small bowl, combine lime juice, ginger, pepper, and olive oil. Pour the mixture over the fish and let sit for 15 minutes.
Grill the fish over medium heat until the flesh is cooked through and opaque, about 4 minutes per side, depending on the size of the fish. Top with tropical fruit salsa and serve.
For The Salsa
In a medium-sized bowl, combine fruits with the green onion. Remove seeds and veins from chiles and mince. Add to fruit mixture along with the agave or brown sugar and chopped cilantro. Add salt, vanilla and lime juice. Taste and adjust seasonings.
Look Delicious?
Pin it for the world to see!
Patricia Rain
is an author, educator, culinary historian, and owner of The Vanilla Company (www.vanillaqueen.com), a socially conscious, product-driven information and education site dedicated to the promotion of pure, natural vanilla, and the support of vanilla farmers worldwide. She also does culinary presentations for food professionals, cooking schools, trade shows, food fairs, and private groups, and is a regular radio and TV guest.
Latest posts by Patricia Rain (see all)
Tags: fruit salsa, Grilled Fish with Tropical Fruit Salsa, Grilled Snapper, Tropical Fruit Salsa
Trackback from your site.