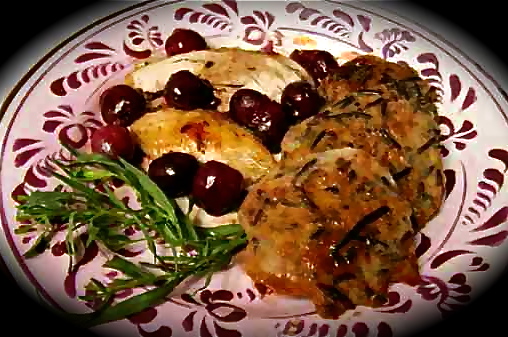 This is a great pull-out-the-stops recipe for an elegant meal, but it's also really easy to assemble. Pitting the cherries takes time unless you have a pitter, a handy gadget that speeds things up exponentially.
The first time I made this recipe was when I wrote The Vanilla Cookbook in 1985. I have fond memories of the afternoon. I lived in a rural area next to a stream. It was June and the air was warm. Friends drove down from San Francisco and had picked up fresh English peas from a roadside stand. We sat by the stream pitting the fat, juicy cherries and shelling the peas. We cooked the peas in a steamer, wrapped in lettuce leaves. They were so sweet and plump, and the game hens and cherries so succulent, that we could barely speak. It was perfect!
I'm updating all of my recipes and adding photos. I wasn't about to make four game hens for the photo, so I purchased one lovely organic game hen at Whole Foods. It was so large that it easily could serve two. I say this because you don't necessarily need one whole bird per person, though it's a nice touch to send the leftovers home with your guests. Substitute frozen cherries instead of the fresh unless they're in season.
The wild rice pancakes I made with the game hens are a knockout! Crunchy, flavorful and savory, a nice foil for the cherry sauce. I made a half-recipe so that I could have some with maple syrup this morning. You can prepare them the day before and then heat them in the skillet before serving. For an easier option, the Brown and Wild Rice Pilaf can be made ahead and warmed in the oven while the Cornish hens finish roasting. Change the herbs to suit your taste.

Look Delicious?
Pin it for the world to see!
Print
Cornish Game Hens with Cherry Vanilla Sauce
4 Cornish game hens (or two if they're large)
Coarse sea salt and coarsely ground pepper
2–4 tablespoons unsalted butter
3–4 cups Bing cherries, stemmed and pitted
4– inches of 1 Vanilla Bean, split lengthwise or substitute 1 teaspoon Rain's Choice pure Vanilla Extract
4 teaspoons sugar or 1 tablespoon honey (or to taste)
fresh tarragon springs plus 1 tablespoon finely chopped fresh tarragon
1 cup port — either tawny or ruby
2 tablespoons cherry vinegar (or champagne vinegar)
Instructions
Heat oven to 375 degrees. Rub game hens with salt and pepper and dot with butter. Stuff cavity of birds with tarragon and place a sprig on top of each. Place in oven and roast until tender, basting several times.
When hens are tender, place on a platter and keep warm.
Place pan with juices over high heat, and de-glaze pan with cherry vinegar. Add vanilla bean, sugar or honey, tarragon and port, and mix well. Add cherries and cook until cherries are tender and pan liquor has reduced by 1/2. If cherries are tender but the sauce hasn't reduced enough, spoon cherries into a small bowl and continue reducing liquor.
Add vanilla if using extract, otherwise, remove bean, adjust seasonings, put cherries back into pan to heat if necessary, then pour over game hens and serve.
Latest posts by Patricia Rain
(see all)