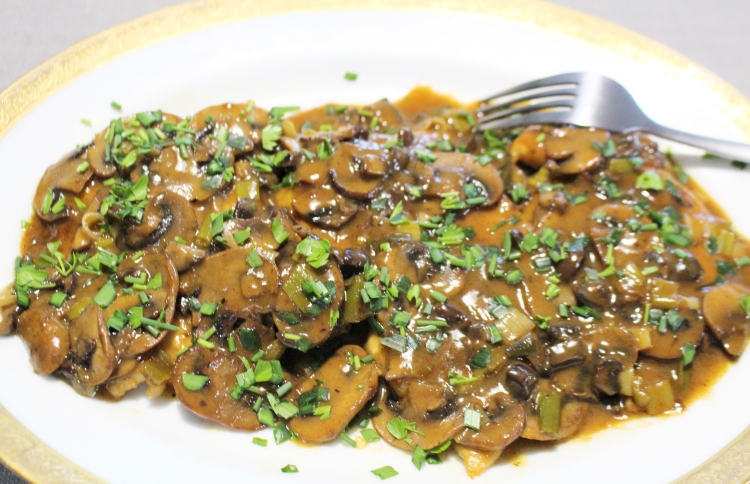 Chicken Marsala has been around since the 19th century, but it's well worth dusting off and enjoying. The recipe itself probably originated in Western Sicily within a community of British ex-patriots in the region where Marsala wine is produced.
Not only is it an entree you can have on the table in roughly 30 to 45 minutes or less, it's a one-pan-dish, it makes its own gravy via a reduction sauce, there's a romantic edge to it, and it appears far more complicated to prepare than it actually is.
Serve with polenta, a wild rice and basmati pilaf, risotto, or roasted new potatoes.
Print
Chicken Marsala
2 (6 – 8 ounce) boneless, skinless chicken breast halves, sliced in half horizontally and pounded into approximately 1/4-inch steaks.
Potato starch or all-purpose flour (potato starch works really well in the reduction sauce)
1 tablespoons olive oil
4 tablespoons unsalted butter
3 cups thinly sliced cremini, button, or shitaki mushrooms
2 tablespoons thinly sliced scallions
1/2 teaspoon dried thyme, crumbled
1/2 teaspoon paprika (smoked is especially nice)
3/4 cup Marsala (dry is best, but sweet works)
1 teaspoon Rain's Choice pure Vanilla Extract
1 cup regular or reduced-sodium chicken broth
Freshly ground pepper and salt to taste
Fresh parsley or chives as garnish
Instructions
Place about 1/3 cup of potato starch, or all-purpose flour in a bowl. Pat chicken breasts dry with a paper towel and then dip each piece lightly into the starch. Shake off any excess.
Heat the oil in a large skillet over medium-high heat until very hot but not smoking. Add 1 tablespoon of the butter and cook the chicken breasts until golden brown on both sides, about 3 minutes per side.
Transfer to a plate and set aside.
Add 1 tablespoon of the remaining butter to the pan and add the scallions and mushrooms. Cook, stirring frequently, until mushrooms are golden brown around the edges and have given off their liquid.
Add the Marsala wine and vanilla extract and bring to a boil, scraping to remove any browned bits from the bottom of the pan. When the wine has reduced by half, add the chicken stock and cook for 3 minutes, or until the sauce has reduced slightly.
Lower the heat to medium and return the chicken breasts to the pan and continue to cook until they are cooked through and the sauce has reduced, about 5 to 6 minutes. Swirl in the remaining 2 tablespoons of butter, add salt and pepper, to taste. Garnish with chopped parsley or chives and serve immediately.
Look Delicious?
Pin it for the world to see!
Latest posts by Patricia Rain
(see all)