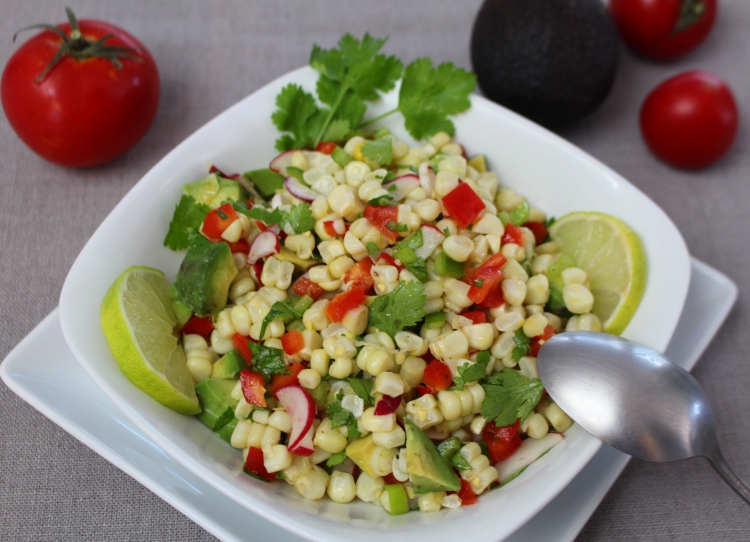 There's nothing like the sweetness of freshly picked corn, whether eaten on the cob or transformed into a flavorful salad with a kick. The issue with fresh corn is that it can go from sweet to starchy very quickly once it's harvested. If you aren't planning to serve the corn immediately (or if you have purchased extra to use for another meal), shuck and cook it right away and store it in the refrigerator. This way the corn will retain its natural sweetness.
My personal preference is to buy white corn when it's available. It typically is sweeter than yellow corn and the kernels are a bit smaller. If the corn is grown in regions with warm summer nights, unless it's harvested too early, it's bound to be sweet. High quality frozen corn can be substituted if fresh isn't available. The combination of lime juice and jalapeno gives the salad a nice punch. If spicy is a little too much for you, substitute a mild Anaheim pepper. It has a subtle spark and pleasant flavor. Also, if cilantro tastes like soap for you, please substitute flat-leaf parsley and spare your taste buds.
Print
Spicy Corn Salad with Avocado, Jalapeno and Cilantro
3–1/2 cups chilled cooked fresh corn (about 4 ears)
1 red bell pepper, finely chopped
3 medium radishes, sliced into thin half moons
1 or more jalapenos to taste (or substitute milder Anaheim chiles)
1 large scallion, thinly sliced
2 tablespoons olive oil or avocado oil
1 tablespoon fresh lime juice, or more to taste
1/4 teaspoon Rain's Choice vanilla extract
1/2 teaspoon sea salt
Freshly ground pepper to taste
1 large ripe avocado, peeled, pitted, and diced
1/3 cup fresh cilantro, coarsely chopped
Instructions
In a large bowl, toss corn, bell pepper, radishes, jalapeno(s) scallion, oil, lime juice, vanilla extract, salt, and pepper.
Right before serving, add avocado and cilantro (or parsley). Gently toss to combine. Taste and adjust seasonings and lime juice to taste.
Nutrition
Serving Size:

Serves 4 - 6
Latest posts by Patricia Rain
(see all)