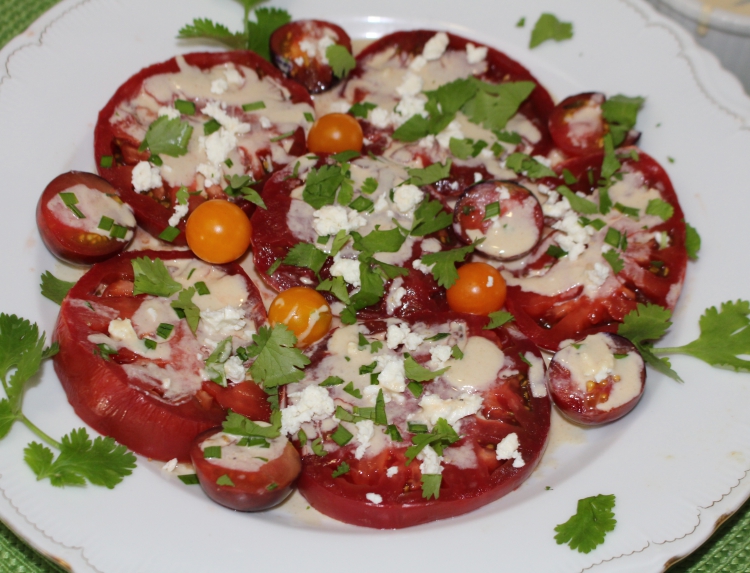 Tomatoes reach their sweetest, juiciest best near the end of summer. As I write this post, there have been exceptionally plump, sweet and flavorful tomatoes at our local Farmers Market and I've thoroughly enjoyed them on their own, in salads and in sandwiches. Thinking about them makes me want even more. Know what I mean? So, when I saw a recipe for Tomatoes with Tahini Dressing, I was intrigued.
Naturally, just like so many ideas we have or recipes that sound great, recipe number one didn't meet my expectations. I like tahini for its earthy flavor and its versatility, so I knew that with enough tweaking the recipecould work. One of the ingredients is 3 tablespoons of water. This amount will vary depending on the thickness of the tahini you are using. One recipe I read called for 1 tablespoon of maple syrup. I realized that the maple syrup was actually a good idea as it could potentially give the tahini a subtle sweetness that would add some "pop" to it. However, 1 tablespoon was overkill. I've put 1 to 2 teaspoons in my recipe, but I suggest you start low and add more in small increments until it tastes right for your palate. The dressing does complement the sweet tomatoes; it's also good as a dressing for green salads or even as a dressing for meat sandwiches.
One last thing: I had some mild sheep's milk feta cheese that I suspected would actually be a plus, and it was. I happen to like sheep's milk feta as it's mild and slightly sweet. Feel free to use it…or not.
Print
Heirloom Tomatoes with Tahini Dressing
A unusual spin on the usual dressings we put on sweet heirloom or beefsteak tomatoes, Tahini dressing complements the tomatoes with earthy, savory notes.
Author:
Prep Time:

15 - 18 minutes

Cook Time:

none

Total Time:

14 minute
3–4 large heirloom or beefsteak tomatoes, medium slice
1/4 cup Tahini |
3 tablespoons water, or more if needed
2 tablespoons fresh lemon or lime juice
2 tablespoons olive oil
1 – 2 teaspoons maple syrup or to taste
1 tablespoon toasted sesame oil (or use an additional tablespoon of olive oil)
1 clove of garlic, minced
1/4 teaspoon sea salt, or to taste
1/4 teaspoon Rain's Choice pure vanilla extract
1/3 cup Feta cheese (optional)
Chopped chives or Italian parsley for garnish
Instructions
Blend tahini and water together, adding more if needed to make it more fluid. Add balance of ingredients, taste and adjust to your taste.
Spread some of the dressing on a large plate. Slice tomatoes and place on top of the tahini. Drizzle more dressing on top of the tomatoes, add feta if using, and garnish with chives or parsley.
Notes
(Found in natural food stores and on the International Foods aisle in some supermarkets.)
Latest posts by Patricia Rain
(see all)