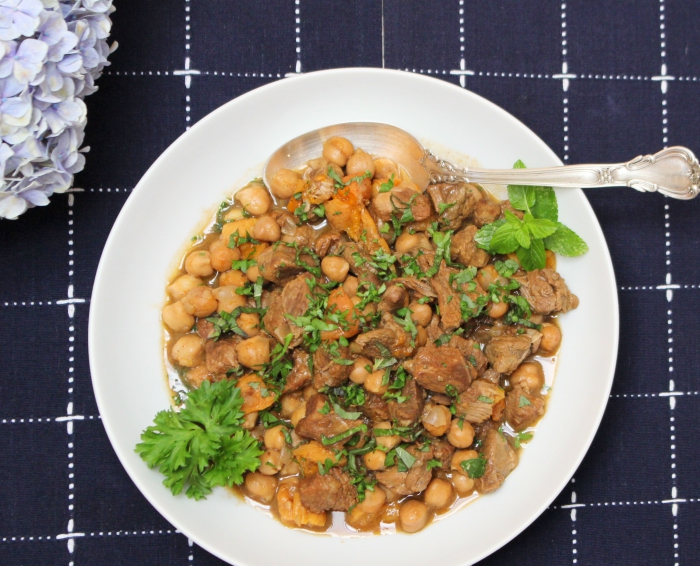 If you are unfamiliar with tagines but enjoy trying new recipes are up for exotic flavors, you are in for a treat. The richness and depth of flavor as well as the interesting pairing of ingredients are truly a sensory delight.
Tagines (also spelled tajines) are North Africa's version of stew, a mainstay and comfort food of people everywhere. The Berbers of North Africa gave the world tagines as well as couscous; in Morocco, the tagine is both daily food and edible art.
Morocco is a culture with one foot in Europe and the other in Africa. It is a long history of travel and cultural interchange with Europe and many Europeans spend their holidays in Morocco. Morocco is sophisticated and, at the same time, has deep traditional Berber roots. Its cultural heritage extends to its music and arts, its fine textiles and rugs and its complex and delicious cuisine.
Many of the tagine's ingredients are drawn from those who colonized Morocco or those who came as immigrants. Arab invaders brought fruit and nuts and the sweet/tart flavors of the tagines. The Moors who controlled Spain for hundreds of years introduced olives and olive oil as well as citrus, and the Jewish Moors brought their preserving techniques, which included preserved lemons and pickles. The Ottoman Empire gave the Moroccans kebabs and other barbequed meats, and the French introduced pastries, wine and cafe culture.
The classic flavors found in tagines include parsley and cilantro, which are also used daily in many different Moroccan dishes, dried ginger, cumin, coriander, saffron, cinnamon, paprika, chiles, and Ras al hanoot which is a spice blend that contains between 20 and 40 different herbs and spices. Vanilla has only recently become a flavor used in Asia and Africa. None of the following three tagines contained vanilla, but vanilla does add to the complexity of flavors very nicely. I've added it as an optional flavor. Tagines are definitely flavor-dense but are not necessarily spicy or hot. The use of fruits such as apricots or dates and almonds are common, and honey often adds a slight sweetness to an otherwise savory dish.
The word "tagine" also refers to the traditional clay and ceramic pots in which the tagines are prepared. The round container with a conical top helps to draw the steam to the top of the pot where it pools and then returns to the pot, concentrating the rich flavors. Whether prepared over a charcoal fire or now, on a stove top or in an oven, the tagine is typically cooked very slowly. Most women start preparing the daily tagine right after breakfast.
Two of the tagine recipes I've included are made with chicken though tagines can contain lamb, beef or fish and many are made entirely with vegetables. This is the beauty of tagines; there is ample room for creativity. You can serve the tagine with rice,cous cous or even noodles if you like, or serve it with a really good flat bread to soak up the juices.
Chicken Tagine with Apricots and Almonds is from David Lebovitz's book, The Sweet Life in Paris where he has resided for more than a decade. He has been a professional cook for most of his life, working at Chez Panisse and Monsoon before heading to Europe in 2001. I wasn't in the mood to blanch almonds when I most recently prepared this tagine, so instead, I used roasted Marcona almonds, a heart-shaped almond variety that comes from eastern Spain. I especially like their salty, slightly sweet flavor and their crunchiness contrasted nicely with the apricots and tender meat.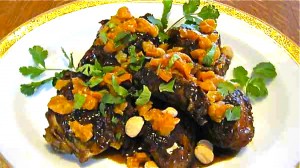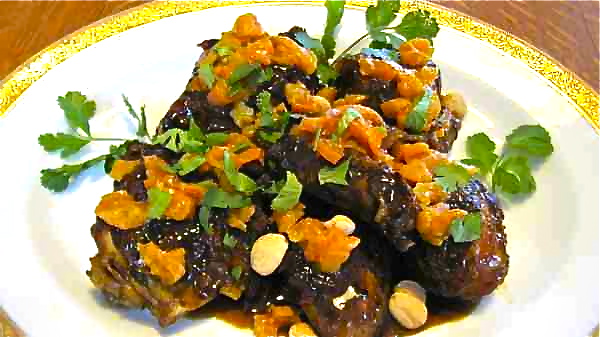 The second tagine, while also containing chicken, is entirely different. Paula Woolfort lived for many years in Morocco and has painstakingly documented Moroccan and Mediterranean cuisine. Her Moroccan Chicken with Preserved Lemons recipe comes from her extraordinary book, The Food of Morocco.
Moroccan Lamb Tajine is a recipe quite liberally adapted from one I found in the New York Times, and is also quite different from the other tagines included here.
Although the tagines contain a number of ingredients and steps to prepare, they aren't difficult to make and the flavors are frequently better the next day. If the creative muse strikes over the weekend, make one up and enjoy the leftovers during the week. I'm so hooked on these sensory powerhouses that I am seriously considering the purchase of a good ceramic tagine so that I can experience that extra special bouquet that comes from slow cooking in a container designed for optimal flavor enhancement. I hope you'll enjoy these recipes as much as I do!
Did you like this post? "Like" it, and share your thoughts in the comments below!
Latest posts by Patricia Rain
(see all)