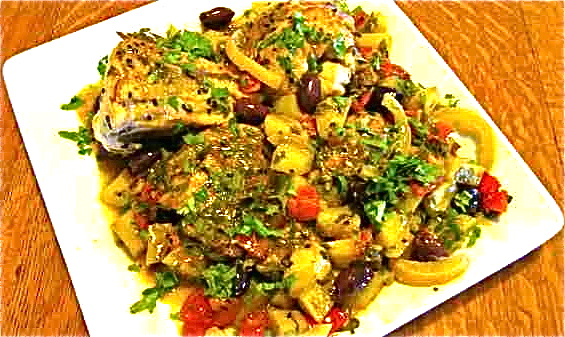 Chicken With Preserved Lemon, Soft Black Olives and Nigella Seeds
Courtesy of Paula Wolfert, The Food of Morocco
Paula says, "An absolutely delightful dish from Marrakech, inspired by a recipe in L'Authentique Cuisine Marocaine by Jorg Zipprick and Ben Marrakchi."
Tagines are truly remarkable. If you aren't familiar with them please read more about them here. If you are unable to find preserved lemons and don't want to make them, substitute a teaspoon of lemon zest and a splash of lemon juice.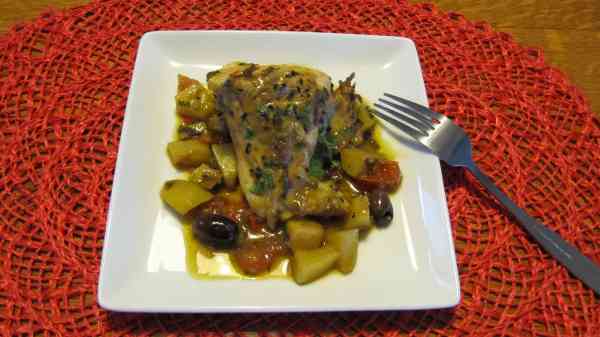 Print
Moroccan Chicken with Preserved Lemons
One 3-pound chicken, preferably organic and air chilled, quartered, backbone and wings removed
1 small garlic clove
2 teaspoons nigella seeds, briefly toasted before using
2 teaspoons coarse salt
1/4 cup extra virgin olive oil
1 large onion, halved and thinly sliced
2 tablespoons saffron water (see below)
1 teaspoon ground ginger
1 teaspoon Rain's Choice pure Vanilla Extract (optional)
1/2 teaspoon freshly ground black pepper
8 ounces Yukon gold potatoes, peeled and cut into 1-inch dice
2 small tomatoes, peeled, halved, seeded, and diced
2 tablespoons finely chopped cilantro
Juice of 1 lemon, or to taste
12 Kalamata or Gaeta olives, pitted, soaked in water to remove excess salt and vinegar, and drained
1 preserved lemon, pulp removed, rind rinsed and quartered
Instructions
Rinse the chicken quarters and pat dry; trim away excess fat. Slide your fingers under the skin to loosen it from the flesh.
Crush the garlic, half the nigella seeds, and the salt into a paste in a mortar. Loosen with 1 tablespoon of the olive oil. Rub this mixture under and over the skin of the chicken.
Heat the remaining 3 tablespoons olive oil in a 12-inch heavy-bottomed skillet over medium-high heat. Add the chicken pieces and fry, turning occasionally, until golden brown on all sides, about 5 minutes.
Spread out the chicken pieces, flesh side down, add the onion, cover and steam for 5 minutes. Add 1 scant cup hot water, the saffron water, ginger, and pepper and bring to a boil. Cover, reduce the heat to low, and cook for 20 minutes. Remove the chicken breasts to a side dish. Cover to keep moist.
Add the potatoes, tomatoes, the remaining nigella seeds, and half the cilantro to the sauce in the pan. Cover and cook over medium-low heat for 15 minutes, or until the potatoes and chicken legs are fully cooked.
Return the chicken breasts to the skillet and reheat. Correct the seasoning with lemon juice, add vanilla if using, and baste the chicken with the sauce. Decorate the dish with the olives, the preserved lemon wedges, and the remaining cilantro.
Notes
How to Make Saffron Water
Making saffron water is economical and it brings out more of the spice's aroma and flavor than simply adding a few strands to a dish.
Dry 1/2 teaspoon crumbled strands of Saffron in a warm (not hot) skillet. Crush again, then soak in 1 cup hot water and store in a small jar in the refrigerator. This will keep for up to a week. You can also freeze the saffron water for when you need it.
Look Delicious?
Pin it for the world to see!
Latest posts by Patricia Rain
(see all)