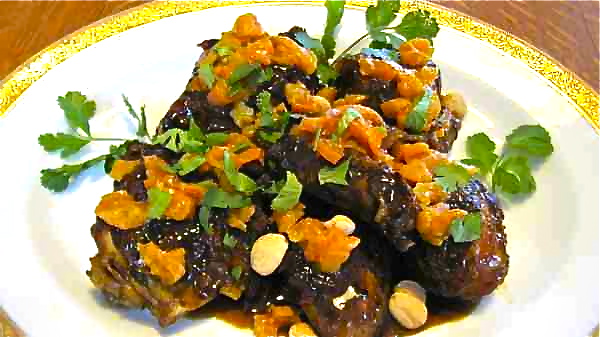 Courtesy of David Lebovitz: The Sweet Life in Paris
Tagines (also spelled tajine) are a perfect antidote to cold, wintry nights. Remarkably enough, they're also wonderful on warm summer nights. Why? because they are so richly flavored, all of your senses will come into play. They're also warming, filling and unique enough for serving at intimate dinner parties or even for a special date night for two.
This tagine is so good that tears will come to your eyes when you eat it! You will find yourself wanting to lick your fingers (or the plate) to enjoy the last bits of the tangy flavor.
If you want to learn more about tagines, visit my blog about them here. Although vanilla is not a traditional ingredient it does enhance North African and Mediterranean flavors such as cumin, coriander and cinnamon. I've added it as an optional flavor but I recommend that you try it.
Print
Chicken Tagine with Apricots and Almonds
4 ounces dried apricots
1 chicken, cut into 8 pieces (2 legs, 2 thighs, and each breast cut in half crosswise, leaving wings attached)
1 teaspoon ground ginger
1 teaspoon ground turmeric
2 teaspoons paprika
1/4 teaspoon saffron threads
1 teaspoon ground cinnamon
1 teaspoons coarse salt
freshly ground black pepper
1 tablespoon butter, salted or unsalted
1 large onion, finely chopped
2 cups chicken stock
1/3 cup chopped fresh cilantro, plus a bit extra for garnish
1 tablespoon honey
1 teaspoon Rain's Choice pure Vanilla Extract
juice of 1/2 lemon
3/4 cup blanched almonds, toasted
Instructions
Preheat the oven to 375 degrees F.
Put the apricots in a small bowl and pour boiling water over them to cover. Set aside.
In a large bowl, toss the chicken pieces with the ginger, turmeric, paprika, saffron, cinnamon, salt and pepper.
Melt the butter in a large Dutch oven or similar ovenproof casserole. Add the onion and cook for 5 minutes over moderate heat, stirring occasionally, until translucent.
Add the chicken and cook for 3 minutes, turning the pieces with tongs to release the fragrance of the spices. Pour in the stock, add the cilantro and cover.
Bake for 50 minutes, turning the chicken pieces once or twice while they're braising.
Remove the casserole from the oven. Use tongs to transfer the chicken to a deep serving platter, then cover with foil. Return the casserole to the stove top, add the honey, vanilla if using, and lemon juice, and reduce the sauce over medium-high heat by about one-third. Taste, and add more salt if necessary.
Return the chicken to the pot, add the almonds and reheat in the sauce. Transfer the tagine back to the serving platter. Drain the apricots and spoon them over the top, then garnish with additional cilantro.
Notes
Serves 4 to 6.
David says, "Although tagine isn't traditionally served with couscous, I do at home, as they serve it at one of my favorite North African restaurants in Paris – L'Atlas, which faces the Institut du Monde Arabe."
Look Delicious? Pin it for the world to see!
Latest posts by Patricia Rain
(see all)