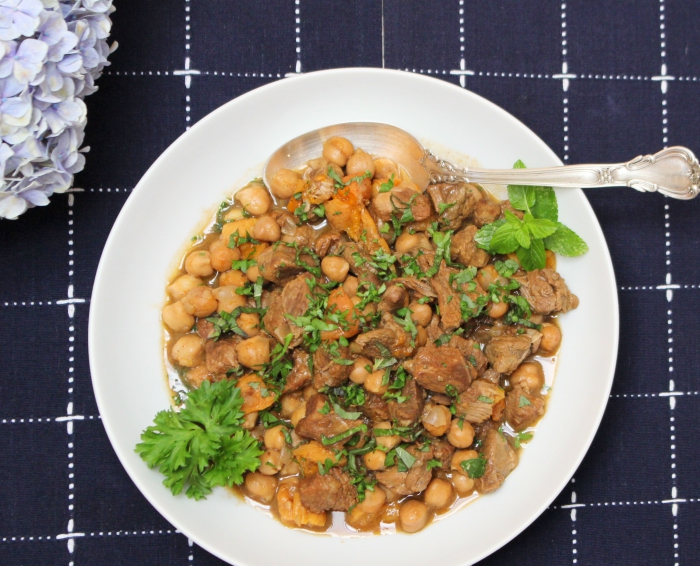 As a big fan of Mediterranean food, I'm always excited when I find a new recipe or see a recipe that I can tweak to taste. I found the original version of this Moroccan Lamb Tajine in the New York Times but have I have adapted it considerably. I have to say that it has become a signature dish to serve for friends who love lamb.
A few considerations I want to share. I call this dish a tajine (also spelled tagine) as this is what both this recipe and the container traditionally used to make it are called. If you have tajine, use it as the flavors will be more intense. You can very easily build an entire Moroccan-inspired meal around this entree, which is what I recently did for a friend. He said it was better than the meals he had in Morocco as the entrees he had were too sweet for his taste.
First — couscous. In North Africa couscous is not only made with wheat, but also with corn and millet and even rice. If you are gluten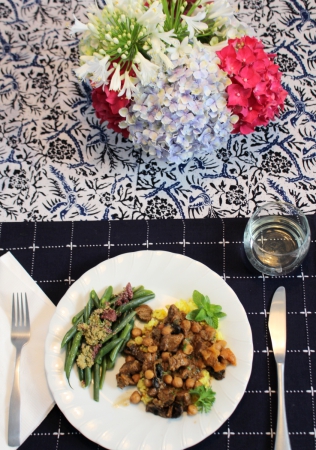 intolerant, I suggest using millet or a blend of millet and quinoa, or make rice (I used basmati rice but jasmine is fine as well) with a few saffron threads. These will make excellent substitutes for couscous. And, if you feel so inclined, use pasta instead.
Second, there are various types of the more common wheat couscous, a pasta which is made from semolina, a variety of wheat. The Moroccan style is smallest; Israeli is largest. Near East packaged couscous offers a variety of couscous options. You can also find couscous in bulk in some markets. Whichever variety you decide to use, you can make it in the same way you might make pilaf, by using broth instead water, adding sauteed onion or mushrooms, and even nuts, pomegranate seeds, or whatever else you'd like.
Our recipe database has side dishes that are complementary to serve with the lamb stew. One is a very refreshing Moroccan Orange Salad. Another is, Tomatoes, Preserved Lemons and Red Peppers.
In the photo above and to the right I made saffron rice with the tajine and included some sauteed mushrooms. The green beans are served with green and brown olive tapenades. I have also served orange salad along with roasted beets and carrots with pomegranate molasses as side dishes with the lamb and couscous.
For dessert I like to serve one of my favorite creations — Apricots with Mascarpone Cheese and Pistachios. Not only is this a showstopper, it's a light dessert. Serve it with mint tea.
If you are not fond of lamb, feel free to use beef, pork tenderloin or even chicken thighs. Adapt the cooking time accordingly. The tajine is hearty enough for a chilly evening but equally pleasant for a warm summer night.
Print
Moroccan Lamb Tajin
2 pounds lamb leg or shoulder stew meat, cut in 3/4-inch pieces
2 tablespoons unsalted butter (or substitute olive oil)
1 medium onion, finely chopped (about 1/2 cup)
4 cloves garlic, minced
1 teaspoon black pepper (add at the end)
1 teaspoon salt
1 teaspoon ground cinnamon (I use Ceylon cinnamon, also known as canela
1 teaspoon ground coriander
1 teaspoon ground cumin
3/4 teaspoon Rain's Choice ground Vanilla Bean Powder
1/2 teaspoon red pepper flakes (optional)
1/4 cup apricot preserves or apricot spread
1/3 cup white or red wine vinegar
1–1/2 15-oz cans chickpeas, drained and rinsed
2 cups chicken stock
1/4 cup raisins or chopped dried apricots
1/4 cup chopped fresh parsley
1/8 cup chopped fresh mint
2 tablespoons lemon juice
Cooked couscous, for serving
Toasted sliced almonds for garnish if desired
Instructions
In a large, heavy-bottomed pot, melt the butter (or oil) over medium-low heat. Add the lamb, onion, garlic, salt, cinnamon, coriander, cumin, vanilla bean powder, red pepper flakes (if using), apricot preserves and vinegar and cook, stirring frequently, until the aroma of the spices is strong, about 5 to 7 minutes. (Do not allow the meat to brown.)
Add chickpeas and stock, bring just to a simmer, then reduce the heat to low, cover and simmer gently until the lamb is very tender, about 1 hour 15 minutes. Add the raisins or apricots and continue to cook, uncovered, until they are nicely plumped, about 10 minutes more. Remove from heat, adjust salt and add pepper, then stir in the parsley, mint and lemon juice, top with toasted almonds if using and serve over couscous.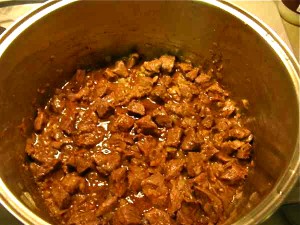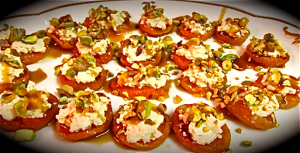 Look Delicious?
Pin it for the world to see!
Latest posts by Patricia Rain
(see all)