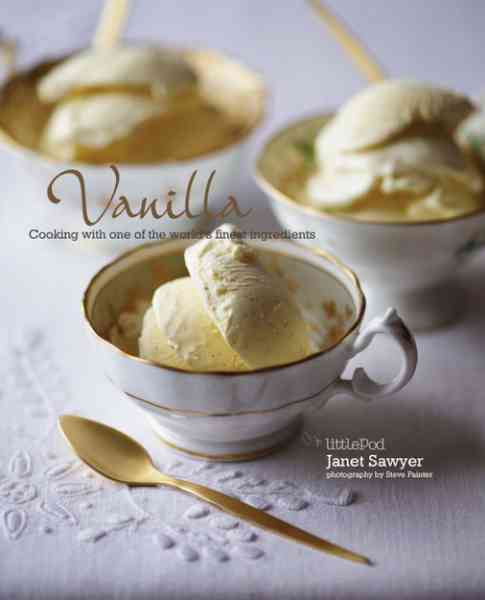 My friend Janet Sawyer is an exceptional woman who magically makes a 24-hour day stretch exponentially. She claims she has always been project-oriented, but my assessment is that she's in love with the world and embraces ideas and opportunities that speak to her as remarkable and warrant further consideration. Once she commits to something new, she's in 110%!! Having just spent three weeks with Janet in England, I have experienced firsthand her joie de vivre and how nothing pleases her more than an exciting challenge.
For instance, a long-time friend, while visiting Janet six or so years ago asked her what she planned to do now that her children were grown and had left home. He then handed her a container of vanilla paste (he has a vanilla company), and said, "What could you do with this?" Within a year Janet fully embraced the challenge by launching Little Pod, a vanilla company in rural Devon, England where she lives.
One of Janet's goals was to provide business experience and mentoring to young people in Devon who had completed university studies. One thing led to another and five years later, Janet has a great staff running a very successful company, where one of her products is the same wonderful vanilla paste packaged in smart looking tubes, perfect for bakers and chefs!
This October, Janet launched National Real Vanilla Day, a two-day event held at Bickleigh Castle in southern Devon. I was invited to be the keynote speaker for what evolved into a delightful castle party. Name chefs offered brilliant demos featuring both sweet and savory cuisine. Evening speakers included Dr. Vik Mohan who works with Blue Ventures, an innovative organization offering healthcare and ocean stewardship in rural Madagascar, and Dr. Made Setiawan, an Indonesian academic-turned-vanilla farmer. Rounding out the event were an enthusiastic group of attendees, including Robert and Sarah Hay, the castle owners. The only no-shows that weekend were the two castle ghosts.
But that's only part of the story: Janet's beautiful new culinary book, Vanilla: Cooking with One of the World's Finest Ingredients, enjoyed a soft launch, on National Real Vanilla Day, followed a week later by an official launch at the BBC's Cake and Bake show in London! This gives you a fair idea of how Janet operates at 110% of possibility!
The Book
Writing a book was not on Janet's short list of projects when she was approached in late 2013 by an editor at Ryland, Peters and Small. It struck her fancy, however, and then she learned she had exactly six weeks to write it and produce over 50 recipes! With the help of chefs and friends, and a fair measure of hard work as well as some of her own special recipes, she made the deadline. The resulting book is visually stunning, with a full-page photo accompanying each recipe. The recipes are home-baker and cook friendly, with a broad appeal for family dining as well as some recipes you dream of finding on restaurant menus.
Scones worthy of a Devon cream tea, Butternut Squash Cupcakes with Orange Icing, Coffee Eclairs with Almond Filling, Chocolate and Beetroot Fudge Cake (swoon-worthy), Apricot and Almond Frangipane Tart, Apple-Blueberry Cake, Sikarni, and Lavender Hot Chocolate with Vanilla are just some of the sumptuous sweets. On the savory side, Truffled Sweetcorn Chowder with Vanilla, Hand-dived Scallops with Vanilla Risotto and Pea Shoots, Venison Loin in Vanilla Marinade with Chocolate Red Wine Sauce, Manju's Coconut and Vanilla Chicken Curry, and Lalu's Pork Sekuwa, offer a sense of the breadth of the recipes included in Vanilla.
Here's the clincher: While yes, you can pick up a signed copy of Vanilla if you live in England or plan to visit in the near future, Barnes and Noble are carrying it in the United States and it's also available on Amazon!
Having been intimately involved with the vanilla industry since 1985, and as the voice for those who cultivate vanilla around the world, I am thrilled when the use of pure vanilla is encouraged as well as when its use in savory cuisine is celebrated. Janet has done both beautifully through her call-to-action on the use of real vanilla as well as by producing her compelling new book. Janet has certainly earned the title as the English Doyene of Vanilla!
If you are as smitten with vanilla as Janet and I, then pick up a copy of Vanilla! While you're at it, purchase some extra copies as gifts for your vanilla-smitten friends! And, if you have even the slightest hesitation, Vanilla was chosen by Country Life Magazine as one of this year's best cookbooks!
Latest posts by Patricia Rain
(see all)