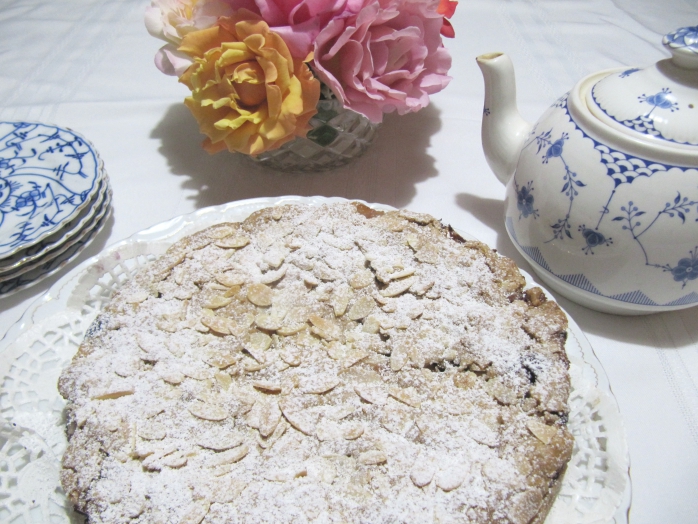 Apple and Blueberry Cake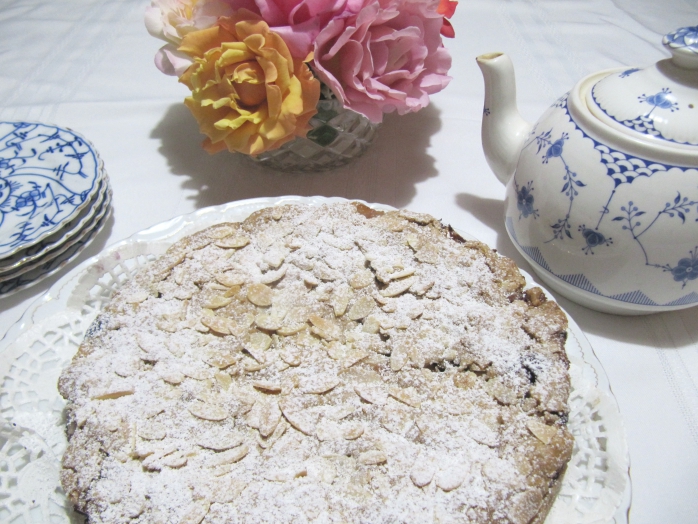 This quick and easy cake comes from Janet Sawyer, owner of Little Pod and author of Vanilla. It is an adaptation of a Mary Berry favorite. (Mary Berry is a well-known English culinary professional and cookbook author.) It's perfect as an afternoon cake and can also be served for brunch. Vary the fruits based on the season; it's as adaptable as it is easy to assemble.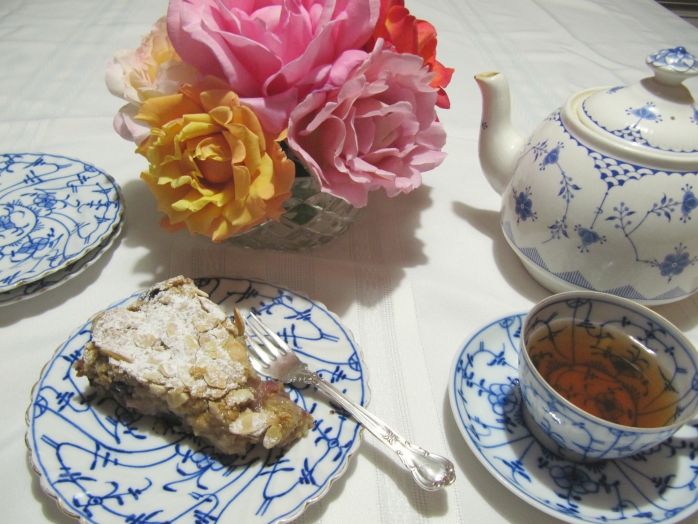 Print
Apple and Blueberry Cake
Scale
Ingredients
300 grams/10 ounces apples
100 grams/2/3 cup blueberries
1 tablespoon brandy or dark rum
230 grams/1-3/4 cups all-purpose flour
2–1/2 teaspoons baking powder
230 grams/1 cup plus 2-1/2 tablespoons sugar
2 eggs
1 teaspoon Vanilla Bean Paste
150 grams/1 stick plus 2 tablespoons butter (can substitute coconut oil if preferred), melted
handful of raw, sliced almonds
Instructions
Peel and slice the apples and combine them with the blueberries. Pour over the rum and infuse the vanilla pod/bean (this can be washed and retained for further use). Set aside for half an hour or so.
Preheat the oven to 160 degrees C or 325 degrees F.
Sift the flour, baking powder and sugar into a bowl. In a separate bowl, whisk the eggs until fluffy and light, then add the butter and vanilla paste or extract and stir them into the flour mixture. Pour just over half of the batter into the cake pan, then arrange the fruit on top. Cover with the rest of the mixture but don't worry about spreading it evenly over the fruit as it will spread in the oven. Sprinkle with the almonds.
Bake 90 minutes, or until golden. Let it cool in the pan, then turn out.
Notes
Serve with lightly sweetened cream, ice cream or Creme Anglaise (pouring custard) if desired.
By Janet Sawyer
Adapted from From Mary Berry
Look Delicious?
Pin it for the world to see!
Latest posts by Patricia Rain
(see all)
Tags: Apple and Blueberry Cake Recipe, Apple Coffee Cake, Fresh Apple Cake, Janet Sawyer, Little Pod, Mary Berry
Patricia Rain
Patricia Rain
is an author, educator, culinary historian, and owner of The Vanilla Company (www.vanillaqueen.com), a socially conscious, product-driven information and education site dedicated to the promotion of pure, natural vanilla, and the support of vanilla farmers worldwide. She also does culinary presentations for food professionals, cooking schools, trade shows, food fairs, and private groups, and is a regular radio and TV guest.