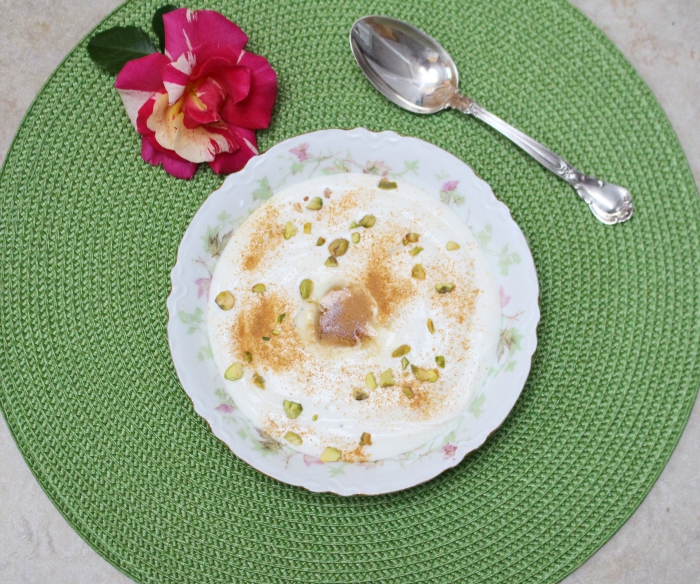 This recipe comes via Janet Sawyer, who got the recipe from Lalu Mahato, head chef at Nepal's Tiger Mountain Pokhara Lodge, which was opened by Edmund Hilary. A long journey, but a lovely way to enjoy yogurt as a breakfast or dessert. If you're serving it as a dessert, it would match well with our Cardamom, Pistachio and Vanilla Shortbread.
Print
Sikarni
400 grams/14 ounces Greek yogurt
1 teaspoon clear honey plus more for serving
1 teaspoon Vanilla Bean Paste or 1 Vanilla Bean, seeds only
1/2 teaspoon cinnamon
1/2 teaspoon ground green cardamom pods
1/2 teaspoon saffron threads (optional)
1/2 cup shelled pistachios
Instructions
Pour the yogurt into a bowl. Add the honey and vanilla paste or seeds and stir together. Add the cinnamon and cardamom. If you like, soak a few threads of saffron in a little hot water or milk, strain and add to the yogurt mixture. Roughly chop the pistachios.
To Serve
Place yogurt in bowls, making a small depression for another teaspoon of honey. Sprinkle pistachios over each bowl and sprinkle with a little more cinnamon for color.
Look Delicious?
Pin it for the world to see!
Latest posts by Patricia Rain
(see all)