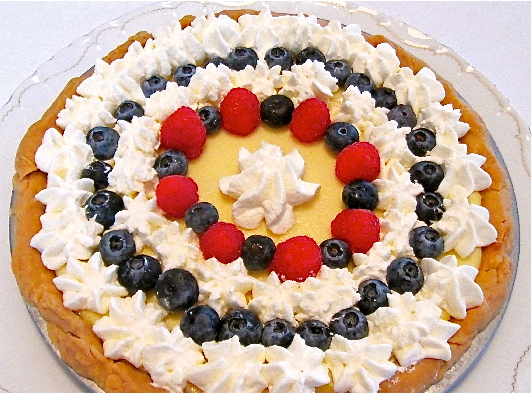 This is an amazingly smooth, creamy, over-the-top delicious tart. I had been traveling through Italy and Greece for three weeks then spent two days in London before heading home. Along the way I had eaten more than my share of amazing cakes, tarts, and cookies, as well as the exquisite lemon desserts in Sorrento and the Amalfi Coast. The irony of this is that the last morning in London, we went to a coffee shop before heading to the airport and there, in the dessert case, was a Sicilian Lemon Tart that cried out to be enjoyed. Of course I obliged. It was hands down one of the best desserts of the trip. In London, for crying out loud!
Once home I decided I needed to replicate the dessert. This is what I ultimately came up with. The original just had big poofs of cream on top of it, so feel to keep it simple. However, I recently made this dessert again when I had lots of fresh berries, so I celebrated.
This tart is so rich, you won't want large slices. Actually, maybe you will. If you're feeling sassy, spread each plate with a tablespoon or so of raspberry sauce then plate the tart slice on top. And here is a good recipe for Lemon Curd. And, if by chance you have some Limoncello, feel free to toss a tablespoon or two into the unbaked filling. It will add a subtle-but-delicious note to the tart.
Print
Sicilian Lemon Tart (Torta al Limone)
1 sweet tart crust for 9 inch pie
Filling
1 8-ounce container of Mascarpone (I use Crave Brothers)
1 teaspoon Rain's Choice pure Vanilla Extract
2–1/2 tablespoons Limoncello
Zest of 1 lemon
1 cup fresh lemon curd or 1 8-ounce jar of prepared lemon curd
Whipped Cream Topping
1/2 pint whipping cream
1 tablespoon powdered sugar
1/2 teaspoon Rain's Choice pure Vanilla Extract
Garnish
raspberries and/or raspberry sauce
Instructions
Make tart crust. Bake it until it is light-golden brown. Allow to cool.
Heat oven to 300 degrees F.
In a large bowl, blend Mascarpone with pure vanilla extract and Limoncello, using a mixer. Whip until completely smooth. Fold in lemon curd and blend the ingredients with the mixer just until well incorporated.
Place tart in oven and bake for 15 minutes. Check and turn completely. Bake another 10 – 15 minutes or until tart is puffy but the center still jiggles.
Place tart on a cooling rack and allow to cool completely, then chill for at least 2 hours before serving.
Whip cream with sugar and vanilla extract. Pile onto the tart and spread decoratively. Adorn the tart with raspberries or strawberries.
Notes
This tart is so rich, you don't want large slices. If you wish, spread each plate with a tablespoon of raspberry sauce then plate the tart slice on top.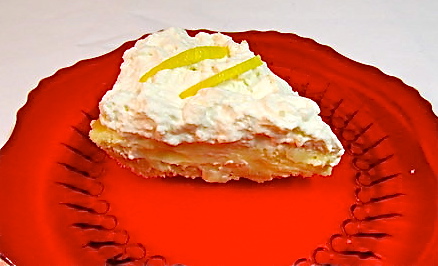 Look Delicious? Pin it for the world to see!
Latest posts by Patricia Rain
(see all)