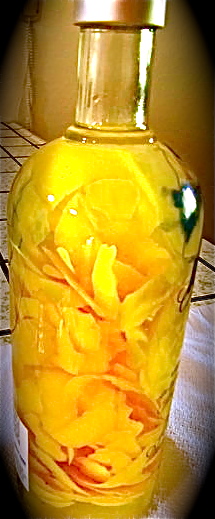 In 2011 I went to Italy with several friends, and we spent a week in Cinque Terra, Sorrento and the Amalfi Coast. As a dedicated lemon user, I was charmed by the Italian's devotion to their precious harvest. In Monterosso there was a weekend fair dedicated to lemons. When I walked through the town very early in the morning, there were baskets and boxes of lemons waiting for someone to bring them down the hill. We sampled several favorite family lemon tarts and cakes and drank Limoncello as the fair got underway.
In Sorrento and the Amalfi Coast we dined on Limoncello gelato, lemon tarts, Delizie di Limone and lemon anything else you could imagine. In most stores bottles of all sizes of Limoncello were for sale. Every family has their own wonderful recipe of course.
I didn't buy any Limoncello as I learned that the Coastal Mediterranean Italian lemons are very similar in acidity and flavor to the Meyer's Lemon trees that grow so well in California. And, I just so happened to have one in my garden. Truth be known, I'm not a huge fan of Limoncello by itself, but I am quite fond of it in recipes or mixed with soda water or in a cocktail.
When I returned home I made a large batch of Limoncello for holiday gifts and for a delightful Sicilian Lemon Tart I created. Everyone loved the Limoncello and, the tart is so good you can't possibly not love it.
Here is the recipe I used. I have since talked with the owners of a Northern Italian restaurant where I live and they use Everclear instead of vodka. I don't know if that would change the flavor, but you certainly can use it instead of vodka. The main thing is to allow the mix to rest for at minimum 30 days before you add the syrup and serve it.
I still have some Limoncello from a batch I made a year ago! I just tasted it and it has mellowed so exquisitely that I intend to have some chilled this evening.
One last thing. If you so desire, add 1 vanilla bean to the vodka at the same time you incorporate the lemon peels. This makes the Limoncello more complex and interesting.
Print
Limoncello and Vanilla Limoncello
10 organic Meyer's lemons, well scrubbed
1 750 Ml bottle 80 proof vodka (I used Absolut)
3–1/2 cups water
2–1/2 cups granulated sugar (I use organic sugar which is not heavily processed)
1 Rain's Choice pure Vanilla Bean (optional)
Instructions
Very carefully peel lemon peel into thin, long strips, doing your best to avoid getting pith with the outer peel. Use the lemons for another purpose or juice them and freeze the juice. If there is too much pith on the peels, take a spoon or butter knife and scrape it off. This is important as you don't want a bitter flavor.
Place the peels and a vanilla bean, if using, into a large bottle and tuck away in a cool, dark, cupboard for at least 30 days, shaking the bottle occasionally.
Mix water and sugar together in a saucepan and cook over medium heat until the sugar has completely dissolved. Pour the sugar over the lemon/vodka mixture and allow to sit overnight. Strain the Limoncello through a mesh strainer or through cheesecloth and bottle. Allow the bottles to rest for another few weeks before using. Serve chilled.
Look Delicious? Pin it for the world to see!
Latest posts by Patricia Rain
(see all)