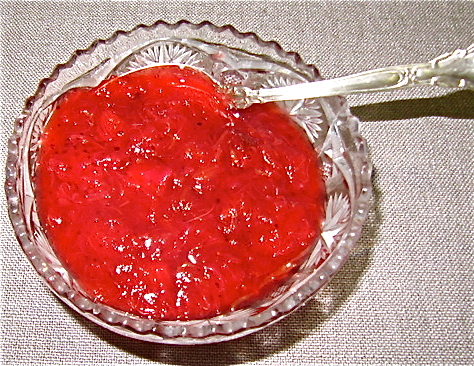 If you aren't sure whether or not you like rhubarb, this is a good place to start. If someone's given you rhubarb, pick up some strawberries and make this jam. It's quick and easy to make and you don't have to process it as it will keep in the refrigerator for at least two weeks. Make some toast and try. If you like it, terrific. If you don't, you have an automatic gift for someone who does.
Assuming you like it, you now have a versatile sauce. Mix it with plain Greek yogurt for a delicious breakfast or dessert. Spoon it over ice cream. Spread it between layers of a cake (sponge cake or angel food cake are especially good), then add a layer of whipping cream. Toast some pound cake add the sauce and top with whipped cream. If you like fruit jam in layer cakes, here you go. And just as delicious, slather it on scones, biscuits and toast.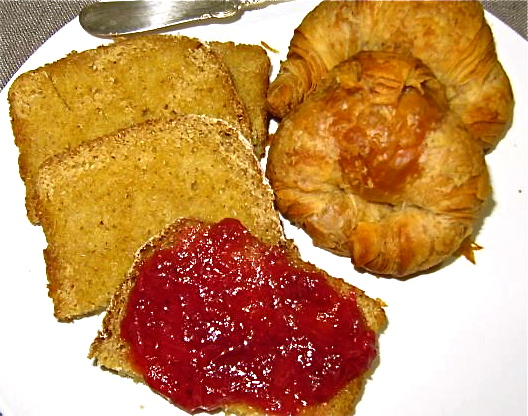 Print
Strawberry Rhubarb Jam
1–1/2 cups (about 1/2 pound) rhubarb, trimmed and cut into 1-inch pieces
1/2 cup sugar
1 tablespoon fresh lemon juice
Dash salt
8 large strawberries, stemmed and quartered
1 teaspoon Rain's Choice pure Vanilla Extract
1/8 teaspoon allspice (freshly ground if possible)
1/8 teaspoon ground black pepper
Instructions
Combine the rhubarb, sugar, lemon juice and salt in a 1-1/2-quart heavy-bottom saucepan.
Bring to a simmer over medium-low heat, stirring occasionally until the sugar dissolves.
Increase heat to medium-high and cook 5 minutes.
Add the strawberries and cook 12 minutes, stirring occasionally. A pale-pink foam will appear on the surface and the bubbles will be larger than when the mixture began cooking.
Stir in the vanilla extract and spices.
Cool, then refrigerate, uncovered, for at least 1 hour, or until the jam thickens and is cold.
Latest posts by Patricia Rain
(see all)