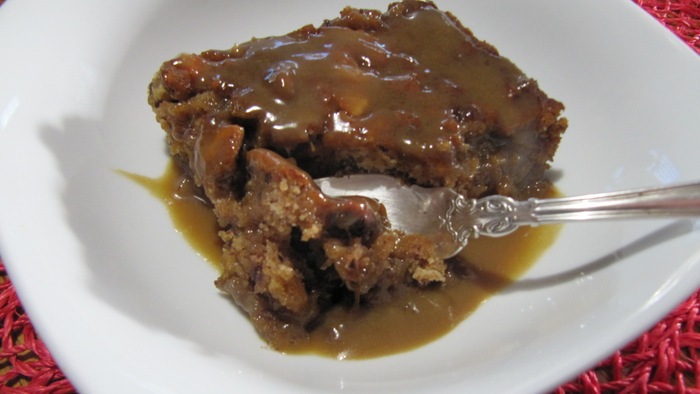 During my time in Devon, England, one of my goals was to try Sticky Toffee
Pudding. For those of you unaware of English vernacular, "pudding" is used interchangeably with "dessert" and includes cakes, and other baked goods. To add to the confusion, puddings can also be savory, such as Yorkshire Pudding, which is served with roast beef. So Sticky Toffee Pudding is actually a cake that can be baked or steamed and is smothered in a caramel-like sauce.
My opportunity to sample this iconic dessert was at Riverford Farm, a large farm in Devon that supplies organic produce and sustainably raised meats to restaurants and residents. It also operates a coveted weekend restaurant, where meals are served family style at big rustic tables, followed by an almost overwhelming selection of freshly made desserts. I would have loved to have been served a small portion of several of the desserts. As that wasn't an option, my friends and I sampled each others' desserts, but I admit, I was perfectly happy to lose myself in the over-the-top presentation of the date-rich cake smothered with its sticky sauce and sitting in a puddle of Creme Anglaise.
I returned home and tracked down the recipe online. The sticky toffee sauce turned out well but the cake, which I steamed as directed, was less of a success. I shelved the dessert for months as I wasn't about to allow anything that rich and delicious in my home without at least a few hungry diners to share it with me. As autumn inched closer to winter, my opportunity finally came. Three of us went to a concert and returned home for dessert.
At this point I had done more research and read a variety of recipes. In the process I discovered that Sticky Toffee Pudding wasn't a traditional English dessert at all. It was first served at a popular English roadhouse in the mid-1970s and became an instant favorite. A little more sleuthing and I found that it actually wasn't English, but Canadian and sent to the owner of the aforementioned roadhouse. This was all good news as I now felt free to tweak the recipe however I chose as I wasn't messing with history. I've added spices and walnuts to the cake, which I bake rather than steam, then drizzle a bit of Meyers's rum over the cake when it comes out of the oven. I recommend using Medjool instead of the more readily available Deglet Noor dates if at all possible as they are a moister, more luscious date. After trying two different versions of the sticky toffee sauce, I created a hybrid of the two, using muscovado sugar and adding Meyers's rum and vanilla to the sauce. The resulting pudding is wickedly delicious, enough so that you need to be careful not to have too much left over unless you wish to gain weight.
Look Delicious? Pin it for the world to see!
Print
Sticky Toffee Pudding
For the Toffee Sauce
1–2/3 cup heavy cream
8 tablespoons butter
1 cup dark brown sugar (if possible, use muscovado sugar)
1 teaspoon Rain's Choice pure Vanilla Extract
1 tablespoon dark rum (Meyers's is a good choice)
For the Pudding
6 ounces (180g) pitted dates, snipped or chopped (Medjool if available)
1 cup (250 ml) water
1 teaspoon baking soda
1–1/4 cups (175 g) flour
1 teaspoon baking powder
½ teaspoon sea salt
½ teaspoon allspice
½ teaspoon freshly grated nutmeg
4 tablespoons (55 grams) unsalted butter
¾ cup (150 g) granulated sugar
2 large eggs, room temperature
1–1/2 teaspoons Rain's Choice pure Vanilla Extract
¾ cup coarsely chopped and lightly toasted walnuts or pecans
1 tablespoon dark rum (optional)
Instructions
Preheat the oven to 350 F (190C)
Butter an 8-1/2-inch (24 cm) Bundt pan or baking dish
Make the toffee sauce by bringing the butter and sugar to a boil in a medium saucepan and allow it to boil a few minutes, stirring well, until sugar melts completely and mixture begins to turn darker. Carefully add cream, mixing well, until the mixture blends together. Lower heat and simmer, stirring constantly for about 5 minutes, until the mixture is thick and coats the spoon Stir in vanilla and rum. Set aside or pour into a glass jar.
In a medium saucepan, heat the chopped dates and water. When the water begins to boil, remove from heat and stir in the baking soda. Set aside, but keep slightly warm.
Mix flour, baking powder, salt and spices in a medium bowl and whisk until well blended.
Using a bowl mixture or hand mixer, beat the butter and granulated sugar until light and fluffy. Gradually beat in the eggs, then the vanilla.
Stir in half of the flour mixture, then the date mixture, then add the remaining flour mixture until just mixed. Don't overbeat the batter.
Pour the batter into baking container and bake for 30 – 50 minutes (depending on container used), or until a toothpick inserted into the center comes out with moist crumbs attached.
Remove the pudding from the oven and sprinkle the rum over the top of the cake if using. Let cool slightly before serving. Warm up the sauce in the microwave or in a saucepan, poke holes into the cake with a chopstick and pour half over the top.
You can also make the pudding in advance, then cool and cover until close to serving time. Poke holes in the pudding with a chopstick. Pour half of the toffee sauce over the cake. Cover with foil, then warm in a 300F (150C) oven for 15 minutes or until warm.
Serve the pudding with the other half of the sauce along with whipped cream, Creme Anglaise or ice cream.
Latest posts by Patricia Rain
(see all)