Double Vanilla Creme Anglaise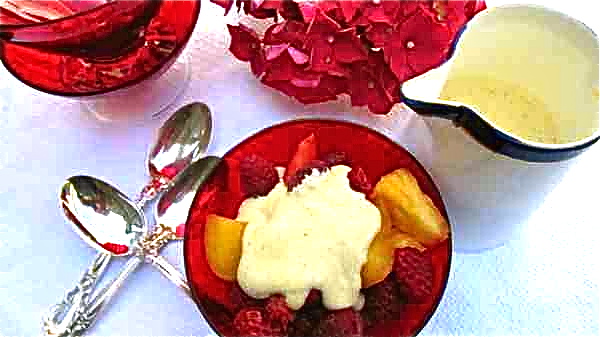 Courtesy of David Lebovitz at Davidlebovitz.com

I like the combination of vanilla bean and extract in my creme anglaise. This versatile
pouring sauce, fragrant with vanilla, is perfect alongside a rich chocolate cake or served
ice-cold in a pitcher alongside a bowl of summer berries.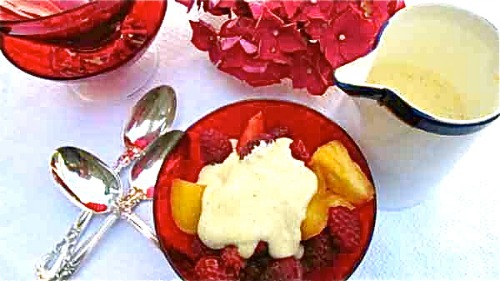 Double Vanilla Creme Anglaise
2015-03-14 11:37:25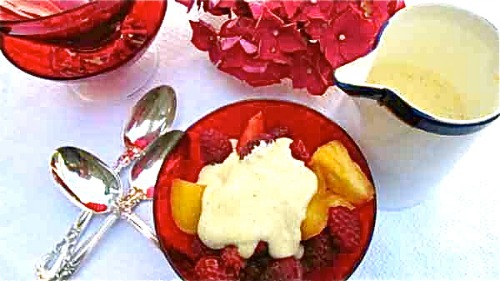 Ingredients
2 cups whole milk
6 tablespoons sugar
Pinch of salt
1 vanilla bean, split lengthwise
6 large egg yolks
1/2 teaspoon Rain's Choice vanilla extract
Instructions
Combine the milk, sugar, and salt in a medium-sized saucepan. Scrape the seeds of the vanilla bean into the pot then add the pod as well.
Make an ice bath by nesting a medium-sized metal bowl with a larger bowl filled with ice and water. Set as mesh strainer over the top.
Warm the milk until it is warm but not hot.
In a separate bowl, whisk together the egg yolks, then gradually add some of the warmed milk, whisking constantly. Scrape the mixture back into the saucepan.
Cook over low to moderate heat, stirring constantly with a heatproof spatula, scraping the bottom, until the custard thickens enough to coat the spatula.
Immediately strain the cooked custard through the strainer into the bowl set in the ice.
Stir the creme Anglaise with a clean spatula to help cool it down. Once cool, refrigerate.
Makes 2 1/2 cups
https://vanillaqueen.com/
Look Delicious?
Pin it for the world to see!
Patricia Rain
is an author, educator, culinary historian, and owner of The Vanilla Company (www.vanillaqueen.com), a socially conscious, product-driven information and education site dedicated to the promotion of pure, natural vanilla, and the support of vanilla farmers worldwide. She also does culinary presentations for food professionals, cooking schools, trade shows, food fairs, and private groups, and is a regular radio and TV guest.
Latest posts by Patricia Rain (see all)
Tags: creme anglaise, double vanilla creme anglaise
Trackback from your site.