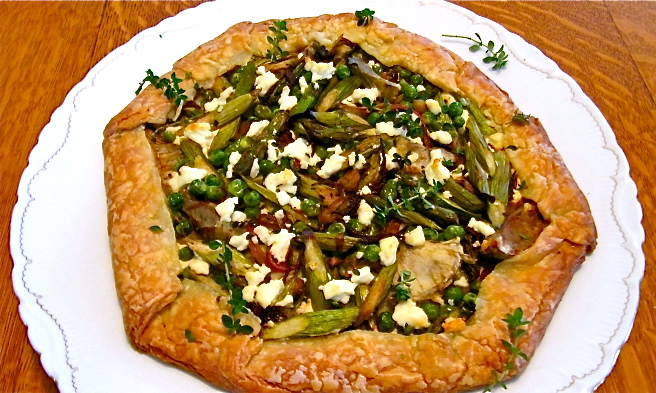 Spring farmers' markets and produce stores are so wonderful to peruse and fill our bags and baskets with their deliciousness. Finally, choices other than kale, cabbage and iceberg lettuce! Everything just pops and begs to be eaten — lettuces, baby spinach, leeks, garlic shoots, baby carrots, English peas, snap peas, asparagus, fava beans, even little zucchinis and squash blossoms. Woo-hoo! Time to make a Savory Vegetable Galette!
Sadly, some things are harder to find, specifically artichokes. This is a big blow for people like me who adore them. The problem? A lack of bio-diversity.
When the Italian farmers came to San Francisco in the early years of the 20th century, they brought with them the corms for Globe artichokes. They moved down the Coast to the Salinas Valley and planted chokes, as they're know around here, and they grew really well in the sandy soil. The problem was, they relied on only one variety. This wasn't a problem for a very long time, but eventually, the chokes began to have a pest problem and needed to be sprayed. Now, the bugs are resistant to the spray and the farmers don't haven't new varieties or hybrids. Additionally, artichoke plants take a bit of time to grow, but because of the pests, they've been plowing them under, pests and all, at the end of the season. This hasn't solved the problem at all. Instead, many farmers are growing artichokes from seed. But when artichokes are grown from seed, they tend to revert back to traits from their wild cousins, which means less meat on the leaves and a very small heart or bottom. They're also a bit mealy. Look for artichokes that have a conical shape and avoid ones that are more rounded and have thinner leaves. The conical shaped artichokes have more meaty hearts.
I bring this up as this recipe is a spinoff of one I found in Sunset Magazine, which so well represents the foods of the Western United States. This is the time of year when the "baby" artichokes come to market. They're not babies at all as they're the same age as the big chokes, but they grow near the bottom of the plant. Sunset suggests using frozen baby artichokes for this recipe, which works, and saves you time as well, but these little artichokes are so sweet when they're fresh. Our usual provider doesn't come to the market these days but I found some from a small farm up the Coast. My recommendation, however, is to use the frozen if you can find them or, substitute slices of summer squash like zucchini, fava beans, or even slices of fingerling potatoes. Feel free to be creative.
The original recipe calls for goat cheese. If you don't like goat cheese, I recommend substituting Boursin or Ricotta, which have the same texture but are made from cow's milk. You can also use pre-made pie crust from the market though I admit I'm partial to the Queen's Pie Crust, which is wonderful, not difficult to make, and you can make it and freeze part or all of it and pull it out when the pie or galette muse strikes.
This is a great Friday night option to make instead of pizza. It's also ideal for a small gathering or potluck and you're bound to win points as it's both healthy and really good. And don't sweat having a perfectly round galette! They're supposed to be rustic and no one will care if you don't have perfect pleats. As you'll notice, mine is very much a rustic galette but it's so delicious no one will care. I should also mention that I used fresh artichoke bottoms in this galette and no Parmesan. I decided it would be a nice addition.
Print
Savory Vegetable Galette
2 tablespoons unsalted butter
1/2 tablespoon olive oil
1 large or 2 medium onions (yellow or red) thinly sliced or 1 large leek, white and yellow part only, fairly thinly sliced
5 large thyme sprigs plus additional tiny sprigs for garnish
Sea salt
1 garlic clove, minced
1 8-ounce package frozen artichoke hearts, thawed and drained of extra water
6 ounces slender stalks of asparagus (about 1/2 inch thick), cut diagonally in 1-1/2 -2 inch pieces
1/2 cup fresh or frozen English peas
1/2 recipe pie pastry, homemade or 1/2 package refrigerated pie pastry
4 ounces fresh goat cheese or 4 ounces Ricotta or Boursin cheese, room temperature.
1 tablespoon heavy cream plus more if goat cheese is dry
1/2 teaspoon Rain's Choice ground Vanilla Bean Powder or 1 teaspoon Rain's Choice pure Vanilla Extract
1 tablespoon grated Parmesan or Romano cheese (optional)
Instructions
Preheat oven to 425 degrees F. Melt butter and add oil to a large frying pan over medium-high heat. Add onions or leeks, thyme sprigs and a good shake of salt. Cook, stirring frequently for about 5 minutes, until the onions or leeks soften. Add garlic and turn heat down to medium, and allow onions or leeks to continue to cook until they develop some color, about 5 more minutes.
Add artichoke hearts, asparagus, and fresh peas, if using. Cook, stirring frequently for another 3 – 4 minutes. Add frozen peas now, if using. Pick out thyme sprigs, leaving as many leaves as possible.
Line a baking sheet with parchment or foil, shiny side up. Place pie crust on a floured work surface and roll it into a 12-inch round. Place goat or cow's milk cheese in a small bowl. Using a fork blend vanilla powder or extract into the cheese. If the cheese is dry, add a little heavy cream and blend well. Sprinkle half the cheese over the bottom of the pastry crust, leaving a 2-1/2-inch border on all sides. Add the vegetable mixture, then crumble remaining cheese over the top of the vegetables.
Carefully transfer the galette to a pizza pan or baking sheet and bake for 20 – 25 minutes, or until pastry is lightly browned. Cut heat to 375 and bake until crust is browned and all vegetables are tender. Move to a cooling rack and allow the galette to rest for 15 – 20 minutes before cutting and serving.
Latest posts by Patricia Rain
(see all)