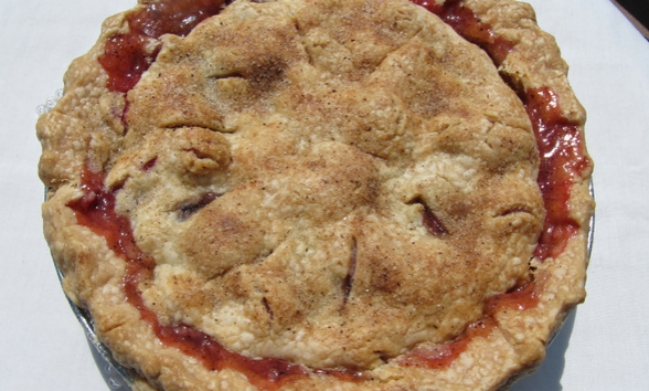 Every serious baker has a pie crust recipe she swears by. All butter. Butter and shortening. Lard. Ice water. Handle it lightly and refrigerate immediately! Roll it out quickly and don't over-handle it. No surprise that a lot of people skirt the pie crust issue entirely and buy pre-made crusts!
I grew up eating my mother's foolproof pie crust. It was given to her as a young woman from an older woman friend in the countryside outside of Cleveland. I suspect that the woman got it from a recipe put out by Philadelphia Cream Cheese in the 1930s. No lard. No shortening. No ice water. No delicate handling. Just cream cheese, butter and flour. Easy to mix, easy to roll out, and absolutely delicious. I've been making this crust since I was nine years old and I admit, it's the only pie crust I use unless I'm making a cookie crust.
Why? I'll take easy and delicious over tricky or complicated any day. Interestingly enough, I recently read that Ruth Levy Beranbaum, a meticulously competent baker and author of both the Cake and Pie and Pastry Bibles, admitted after trying — and using — dozens of pie crust recipes that the butter/cream cheese/flour recipe has become her top choice too.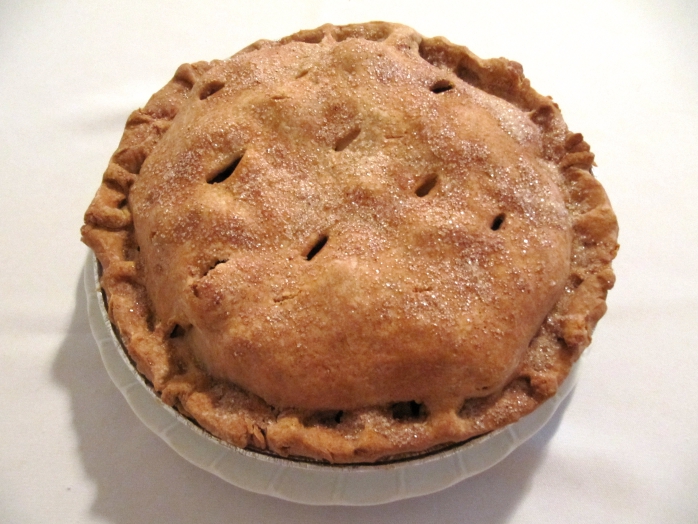 This pie crust is made with gluten-free flour that is a heavier flour than Bob's Red Mill's 1-to-1 baking flour. It makes a very tender crust that is sturdy rather than flaky. It is especially useful for hand pies and turnovers as it won't fall apart easily.
The Recipe
There are a few tricks I've learned that changed this recipe for the better. First, while this crust was tender, rich and flavorful, it was never flaky. That changed when I switched to Bob's Red Mill gluten-free, 1-to-1 flour. I also found that if I chilled the pie crust for several hours or overnight it relaxed the protein strands in regular flour and made the crust more tender and flaky. Let the chilled crust rest at room temperature until you can roll it out easily. After assembling the pie, chill it for at least one hour before baking.
I couldn't believe my eyes when I baked my first pie using both of these tricks. The crust had transformed into a delicate, flaky dream. I suspected the issue was gluten or lack thereof. This was confirmed when I read that Rose uses this same pie crust and, that she prefers using Wondra flour along with a teaspoon or so of vinegar. Wondra is highly processed, but it isn't heavy and has a similar texture to Bob's 1-to-1 flour. Wondra also contains very little gluten. Further, adding a little vinegar to the pie dough helps to relax the protein strands, which is gluten.
My recommendation is this: If you want a tender crust, use a good-quality unbleached white flour or pastry flour or a blend. If you want a delicate, flaky crust use 3/4 Wondra and 1/4 all-purpose flour or roll the crust out using all-purpose flour. Similarly, if you are gluten sensitive or allergic to wheat, use 1-to-1 for a flaky crust and Bob's Red Mill or Pamela's gluten-free flour for a tender crust.
One last detail: This recipe doesn't always produce perfectly symmetrical fluted edges that pies made using Crisco or shortening do, but most people prefer flavor over perfection any day.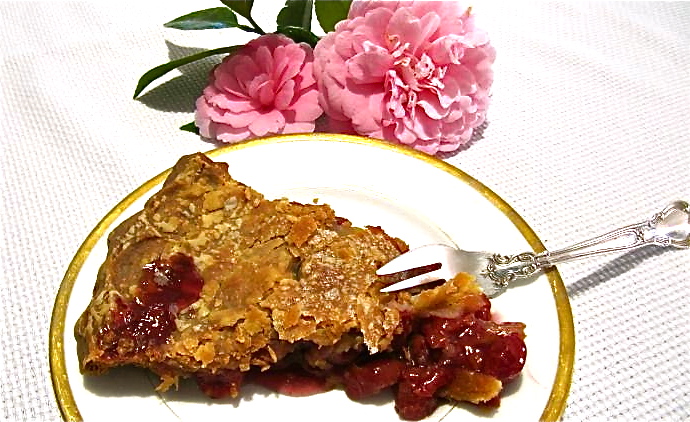 The following recipe makes enough crust for a 9 or 10-inch standard pie pan. There may be some dough left over. Make three bite turnovers and fill them with with a spoonful of jam. You can also make empanadas with this dough. Use a large glass to make circles of dough, then place 1 – 2 teaspoons of grated cheese in each circle, fold over like a turnover and crimp edges. Chill before baking. They're fantastic appetizers!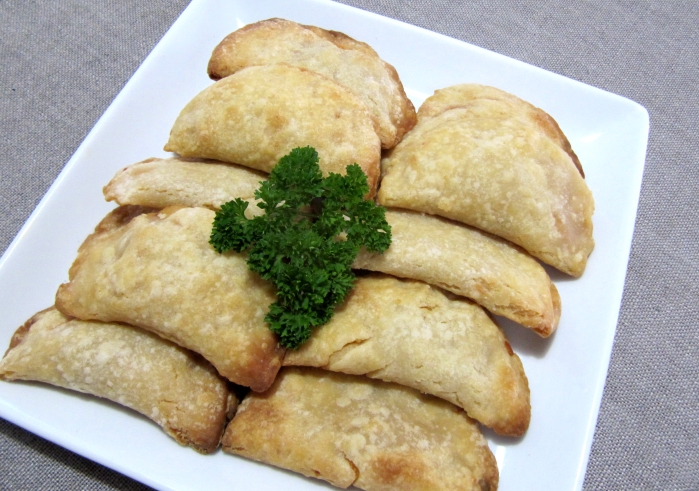 Cheese empanadas
Print
The Queen's Pie Crust
8 ounces cream cheese, room temperature, cut into 8 pieces
8 ounces (1 cup or 2 cubes) unsalted butter, room temperature cut into 12 to 16 pieces
2–1/2 cups unbleached white flour or
2–1/2 cups Bob's Red Mill 1-to-1 gluten-free flour
1/4 teaspoon salt (optional)
Extra flour or tapioca flour (also called starch) for rolling out crust
Rain's Choice Vanilla Sugar or Cinnamon Spice Vanilla Sugar
Instructions
In a medium mixing bowl, using a fork, mix the ingredients together until they are in small pieces. Using your hands, gather the pieces of dough, and shape into a ball. If you want to use a food processor, pulse the main ingredients until they begin to form a ball. Remove from the processor and shape into a ball.
Divide the dough in half and shape into two flattened discs about 6-inches in diameter. Wrap with wax paper or plastic wrap and chill at least 2 hours or overnight. This helps the moisture to distribute more evenly.
When you are ready to make the pie, remove the dough from the refrigerator and allow it to warm up just enough to handle easily.
Dust the surface you are using with flour. If you are using gluten-free flour, use that or use tapioca flour, which is a lot less expensive. Tapioca flour adds extra body to help the crust hold together more easily.
Roll the crust into a circle making certain you don't roll the dough too close to the edges or they will become too thin.
You will want a 12-inch circle for a 9 inch pie pan, or 13 if you are making a fluted edge. You will want a 13 -14 inch circle for a 10-inch pie pan. For tartlets, you want the dough circle to be 3/4 inch larger than the tartlet pan.
If the dough rips or breaks apart, don't panic. This dough is completely forgiving. Gather it up into a ball, dust the surface and the rolling pin again, and roll it out. Don't worry if it isn't a perfect circle. Gently lay the pie pan top onto the pie crust to use as a guide. Using a paring knife, cut about 1/2 – 1 inch out from the pie pan, into an approximate circle.
Now, using the rolling pin, carefully roll the crust around the pin but don't leave a flap of crust; roll it all around the pin. Carefully place it over the upright pie pan and roll it out over the pan, making sure there is ample crust all around. Now, very gently press the crust into the pan. Press the bottom into place and press down gently on the sides so that the crust is set firmly in place.
Fill the bottom crust with the filling.
Roll out the second circle and shape it as well as you can. Roll it over the rolling pin and gently place it over the pie. If you find it's a little lopsided, gently ease the crust into place.
If you have too much pie crust, cut the extra off carefully. You will want to have enough extra crust to overlap the top crust over the bottom crust. Pinch the two together gently and tuck it under. Once the crusts have been joined, gently shape (flute) the crust edges. Finally, cut at least 6 vents in the top crust to allow steam to escape.
Place the pie in the refrigerator for two hours or until it is fully chilled.
Heat the oven to 425 degrees F.
Bring the pie out and, using a pastry brush, brush the pie gently with cool water. If you prefer, you can use milk or egg yolk.
Lightly dust the top of the pie with your choice of sugars.
Place the pie onto a baking sheet and put into the oven. Immediately drop the oven heat to 400 degrees. Bake for 25 minutes. If your oven heat is uneven, turn the pie once during this time.
Lower the heat to 350 and continue baking until the contents are fully cooked and the pie is golden-brown.
Cool on a rack.
Latest posts by Patricia Rain
(see all)