Sugar and Spice Pumpkin Pie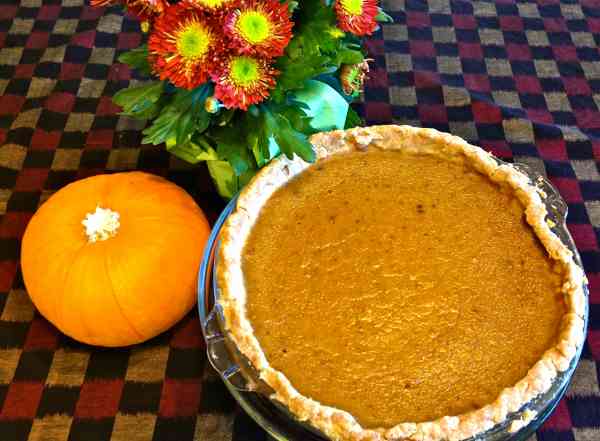 This is an especially rich and creamy pie, one that is memorably delicious. You remove it from the oven before the custard splits but after it has cooked long enough to set up when it cools. It some respects, this Sugar and Spice Pumpkin pie is more like a cream pie than a regular pumpkin pie. If you bake the pie on a pizza brick in the oven, the bottom crust will get enough heat to remain crisp, one of the challenges when making a custard pie filling. This is a recipe you are likely to reach for more than once during the holiday season.

Print
Sugar and Spice Pumpkin Pie
Pie Crust
1 Queen's Pie Crust, blind baked and cooled
Pie Filling
1 16 ounce can pure pumpkin or butternut squash
2 large eggs
1 large egg yolk
3/4 cup light cream
1/4 cup heavy cream
1 tablespoon brandy or rum (or 1 extra tablespoon of cream)
1/2 cup Rain's Choice Vanilla Sugar or Cinnamon Spice Vanilla Sugar
1–1/2 teaspoons cinnamon (preferably Ceylon or true cinnamon)
1 teaspoon ground ginger
1/2 teaspoon salt
1/4 teaspoon freshly ground nutmeg
1/4 teaspoon cloves
1 tablespoon Rain's Choice pure Vanilla Extract
Whipped Cream Topping
1 cup heavy cream
1 tablespoon Rain's Choice Vanilla Sugar or Cinnamon Spice Vanilla Sugar or 1 teaspoon Rain's Choice pure Vanilla Extract
1 tablespoon powdered sugar
Instructions
Heat the oven to 325 degrees.
In a large bowl, mix the pumpkin, eggs, egg yolk, cream rum or brandy and vanilla.
In a small bowl, whisk together the spices. Add to the pumpkin mixture and blend well.
Pour the filling into the cooled pie crust. Bake until the pie is set around the outside but still slightly wet and jiggly in the center, about 1 hour. Let the pie cool on a wire rack and then refrigerate unless you will be serving it that evening. You can refrigerate the pie for up to two days before serving.
Whip the cream, sugar, rum or brandy and extract just before serving the pie. Whip to medium firm peaks. Pass along with pie or add as you serve it.
Notes
Taking the pie out before the center sets will keep the pie from cracking on top. The filling continues to cook for a while after the pie comes out of the oven, so it will be firm when you serve it.
Also, when I prepared my crust, I whipped the egg white and, using a pastry brush, washed the edges of the crust with the white. Then I sprinkled Rain's Choice Vanilla Sugar on the crust. This adds a lovely glittery quality to pies.
Finally, this pie has half the sugar normally used in pumpkin pie. You are welcome to add more if you wish, but I think you'll find this sweet enough as it is. It's a good way to cut back a bit on the sugar and not miss it!
Look Delicious?
Pin it for the world to see!
Latest posts by Patricia Rain
(see all)
Tags: fall desserts, holiday pies, Pie, Pumpkin Pie
Trackback from your site.
Patricia Rain
Patricia Rain
is an author, educator, culinary historian, and owner of The Vanilla Company (www.vanillaqueen.com), a socially conscious, product-driven information and education site dedicated to the promotion of pure, natural vanilla, and the support of vanilla farmers worldwide. She also does culinary presentations for food professionals, cooking schools, trade shows, food fairs, and private groups, and is a regular radio and TV guest.