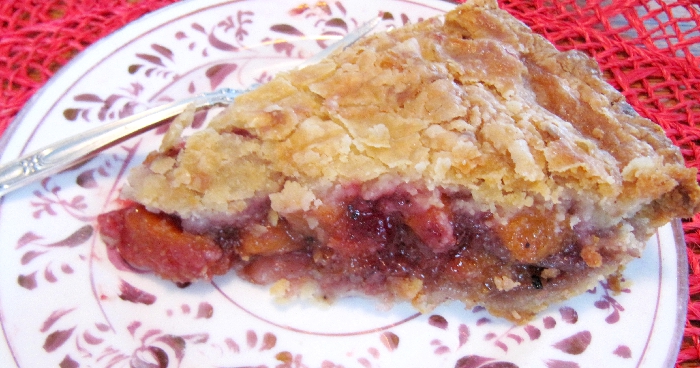 No one I've ever known has declined a piece of fresh, homemade pie. Although some version of pie is eaten in nearly all cultures, fruit pies are an American institution, and it isn't limited to apple! After writing this last sentence, I wondered if the expression came about because of Johnny Appleseed's having started apple tree nurseries across many of our midland states at a time when women made pies (often for breakfast), because they required less flour than bread. But no, it apparently was an increasingly common expression beginning in the 1920s attesting the goodness of all things American. Okay, back to pie.
While apple pie is certainly delicious, I believe it should be made during apple season. And even though there are some summer apple varieties, summer belongs to berries and stone fruits. That said, my newest pie is Peach and Sweet Cherry with lemon zest, allspice, nutmeg and vanilla powder. I baked it first thing this morning before the day warmed up, and it is so good!

Note: My pies are difficult to shoot well as they're made with gluten-free flour, which means a super flaky crust. Delicious but not photogenic.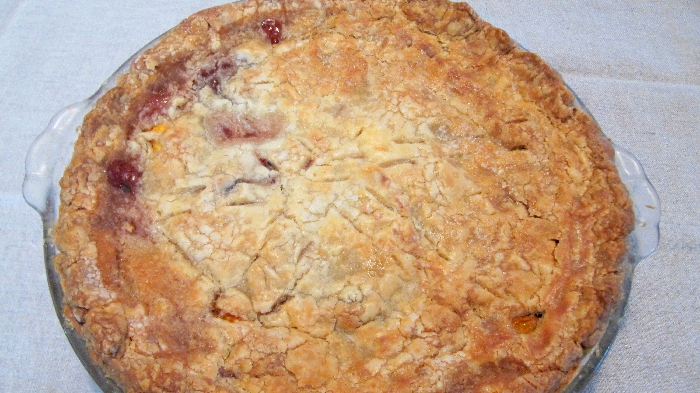 You will want to make this pie soon as cherry season is nearly over. If that's not an option for August, there are still some peaches in early September. While some tend to get a little too "woody," that isn't an issue if they're baked. You can either skip the cherries entirely or use frozen sweet cherries. Your call. The pie will be good either way.
The recipe calls for your favorite pie crust. If you don't have a fave, I recommend the Queen's Pie Crust as she's been making pies since she was nine and has no plans for stopping anytime soon.
Print
Peach and Cherry Pie
Your favorite double pie crust for a 9-inch pie
6 to 8 medium-large peaches, nectarines or a mix of both, peeled and sliced into slices or chunks
8 – 9 ounces sweet black cherries, pitted and cut in halves
Zest of 1 large lemon
1 tablespoon fresh lemon juice
1 cup sugar
4 tablespoons cornstarch (organic is best as corn is normally a heavily sprayed crop)
1/2 teaspoon each: freshly ground nutmeg, allspice and Rain's Choice ground Vanilla Bean Powder
1 tablespoon milk or cream
Rain's Choice Vanilla Sugar
Instructions
Place prepared fruit into a large bowl.
In a small bowl add sugar, cornstarch, and spices and mix well.
Grate lemon zest into the fruit, add splash of lemon juice and gently stir into the fruit mix. Add the sugar, cornstarch and spices and mix well.
Roll the bottom pie crust and place into pie pan.
Add in fruit mixture and spread evenly over the crust.
Roll out the top crust and place over pie, crimping the edges of the crust as evenly as possible.
Using a knife, make a series of small steam vents across the crust.
Refrigerate the pie at least two hours or overnight.
Preheat oven to 400 degrees. If you have a pizza stone, place it on the oven rack in the lower third of oven.
Place milk or cream in a small dish and, using a pastry brush, brush the liquid over the entire top crust. Sprinkle sugar over the crust to give it some crunch and sparkle.
Place the pie on a baking sheet with sides in case juices leak out. Put into the lower third of oven on top of the pizza stone if you have one. This helps to bake the bottom crust so it doesn't get soggy.
Bake 30 minutes at 400 degrees, then turn oven down to 350 and move the pie to the middle third of oven. Bake another 20 – 30 minutes or until the pie crust is golden brown and fruit is tender.
Remove from oven to a cooling rack.
Allow to cool to warm before cutting and serving. If you have made the pie in advance, warm it in a 250 degree oven before serving.
Excellent with homemade vanilla ice cream!
Latest posts by Patricia Rain
(see all)