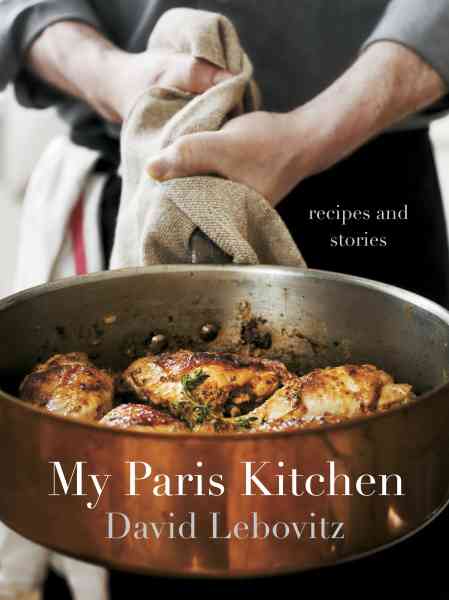 When I'm exploring an unfamiliar cuisine or planning a trip, and even when I discover a new author, I immerse myself with information in order to better understand the context of the food, the place, the author. By doing this I develop a sense of connection – whatever it is I'm learning about, it's no longer abstract.
Apparently I'm not alone in this respect as cookbooks written as memoir are ever popular, and they're glorious fun to read. The food, the place and the writer are deliciously woven together and you are the armchair voyager along for the adventure. This is precisely how I felt as I read My Paris Kitchen by David Lebovitz.
David and I go back a ways. Though we've never spent much time together, not long after he first moved to Paris he was invited to Japan for a week. Through serendipity, I ended up in his garret apartment, which was well-placed for exploring Paris. Every evening I would return and watch the lights twinkle on the Eiffel Tower, which I considered the star of his little apartment (though he might argue that the star was the elevator). I mention this because I had a unique appreciation of his book, The Perfect Scoop as I knew that his little refrigerator had a penchant for not quite closing and that the kitchen itself was so small that he ran the ice cream makers in his bedroom.
Even though I've read all of David's books, it wasn't until I read the introduction of My Paris Kitchen and perused the recipes, that I experienced a sort of deja vu. I felt as if I were reading the words of a dear friend and neighbor who mentored me when I was 23 years old. John was an American who lived in Europe in the 1950s, primarily on the Amalfi Coast of Italy. His food was was richly masculine and very different from anything I had experienced. I dined on Coq au Vin and Beef Bourguignon, drank red wine, ate crusty breads with olive oil and was given my first vanilla bean. Thank you David for conjuring my old friend through your very readable prose and thoroughly European food!
David has honed his skills as a writer, blogger, tour guide, and now, app-producer during his eleven years in Paris. If you are new to David's work, I suggest you visit DavidLebovitz.com, though it's hard to imagine you don't already know of him . While David's professional focus as a chef was patisserie, his repertoire of daily and celebratory fare shows his fine versatility as a chef with an exquisite palate and European sensibilities.
My Paris Kitchen is a book to first read, then to reorganize your pantry and finally to indulge in the recipes. Consider these: Leeks with Mustard Bacon Vinaigrette, Onion Tart with premium salted anchovies, Parisian Gnocchi, Lamb Shank Tajine, Cassoulet Classic, Celery Root Puree, Potatoes cooked in Duck Fat, Panisse Puffs (Chickpea flour puffs from Nice), the list goes on and on. All wrapped around these recipes are David's stories and wry humor as well as advice and suggestions based on his years of experience as a man whose creativity in the kitchen is boundless.
Of course there are desserts. A sampler: Madelaines as well as a tutorial on how to make them perfectly, Hazelnut Praline Paris Eclairs, Chocolate Terrine with Fresh Ginger Creme Anglaise, Merveilleux and two recipes that I chose – Apricot Crumble Tart (because it contains vanilla) and Coffee Creme Brulee (because I could add vanilla to the recipe without incurring David's wrath). Besides, they look fabulous!
Whether you are winter bound or basking in tropical sunlight, My Paris Kitchen will educate, entertain and very likely inspire you to go into the kitchen and cook like a Parisian!
Latest posts by Patricia Rain
(see all)