Apricot Crumble – Tarte Crumble Aux Abricots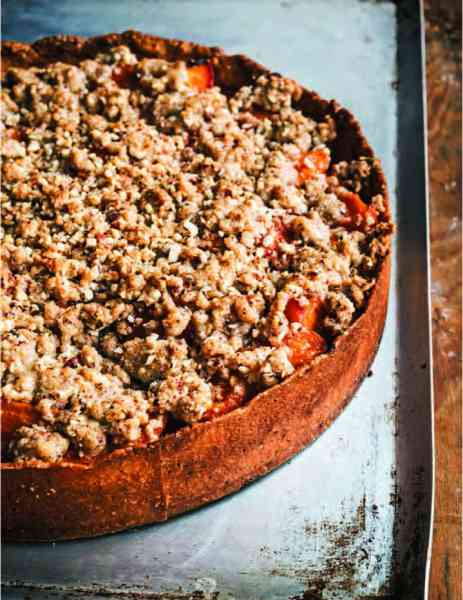 Courtesy of David Lebovitz, My Paris Kitchen; Ten Speed Press; 2014
I grew up on apricots, both fresh and dried as well as apricot desserts. David had never had fresh apricots until he went to France, at which time he "got it" about how amazing they are when they're baked. If you haven't used fresh apricots in desserts, you're in for a wonderful treat!
Print
Apricot Crumble – Tarte Crumble Aux Abricots
Dough
6 tablespoons (3 ounces/85g)
unsalted butter, chilled
1/2 cup (100g) granulated sugar
2 large egg yolks
11/4 cups (175g) all-purpose flour
1/2 teaspoon sea salt or kosher salt
Crumble Topping
3/4 cup (75g) whole almonds
1/2 cup (70g) all-purpose flour
1/3 cup (60g) packed light brown sugar
1/2 teaspoon ground cinnamon
1/2 teaspoon sea salt or kosher salt
6 tablespoons (3 ounces/85g)
unsalted butter, chilled and cubed
Filling
2 pounds (900g) ripe, fresh apricots, pitted and quartered
3 tablespoons granulated sugar
1 tablespoon cornstarch
1 teaspoon Rain's Choice pure Vanilla Extract
1/4 teaspoon Almond Extract
Whipped cream or vanilla ice cream, to serve
Instructions
To make the dough, remove butter from the refrigerator 10 min- utes before you plan to use it and let it soften slightly in the bowl of a stand mixer fitted with the paddle attachment. Add the sugar and beat on medium speed just until no visible lumps of butter remain. Add the egg yolks, then the flour and salt. Mix until the dough comes together. (You can also make the dough in a bowl using a spatula and a little moxie.)
Coat the bottom and sides of a 9- to 10-inch (23 to 25cm) springform pan with nonstick spray. Use the heel of your hand to press the dough over the bottom of the pan, and a little less than halfway up the sides. Try to get the bottom as even as pos- sible, not because anyone will see it, but so it bakes evenly. Put the pan in freezer for 30 minutes.
Make the crumble topping by pulsing the almonds, flour, brown sugar, cinnamon, and salt in a food processor until the almonds are broken up into very small pieces. Add the butter and pulse the food processor; after a few moments, the mixture will look sandy. As you continue to pulse, pieces will just start clumping together. Stop pulsing at that point and chill the crumble topping. (If you don't have a food processor, you can make the crumble topping by chopping the almonds finely and mixing the topping with a pastry blender or by hand.)
Preheat the oven to 375ºF (190ºC).
Line the springform pan with aluminum foil and a single layer of pie weights (or dried beans). Bake for 20 minutes. Remove the foil and pie weights and bake for another 5 to 10 minutes, until the tart shell is browned.
After the tart shell comes out of the oven, make the filling. In a bowl, mix the apricots with the sugar, cornstarch, and vanilla. Do not make the filling too far in advance because the apricots may become too juicy.
Transfer the apricots to the tart shell and even them out. Strew the crumble topping evenly over the apricots. Bake the tart for 50 minutes, until the crumble topping is nicely browned. Let cool on a wire rack for a few minutes, then run a knife around the outside of the tart to separate it from pan, in case any juices ran over. Let rest for 30 minutes, then remove the sides of the springform and let the tart cool. The edges may look rather dark, but should taste fine, not burnt. Serve warm or at room temperature with whipped cream or ice cream.
Look Delicious?
Pin it for the world to see!
Latest posts by Patricia Rain
(see all)
Tags: Apricot Crumble Tart, David Lebovitz' Apricot Crumble Tart, Tarte Crumble Aux Abricots David Lebovitz
Patricia Rain
Patricia Rain
is an author, educator, culinary historian, and owner of The Vanilla Company (www.vanillaqueen.com), a socially conscious, product-driven information and education site dedicated to the promotion of pure, natural vanilla, and the support of vanilla farmers worldwide. She also does culinary presentations for food professionals, cooking schools, trade shows, food fairs, and private groups, and is a regular radio and TV guest.