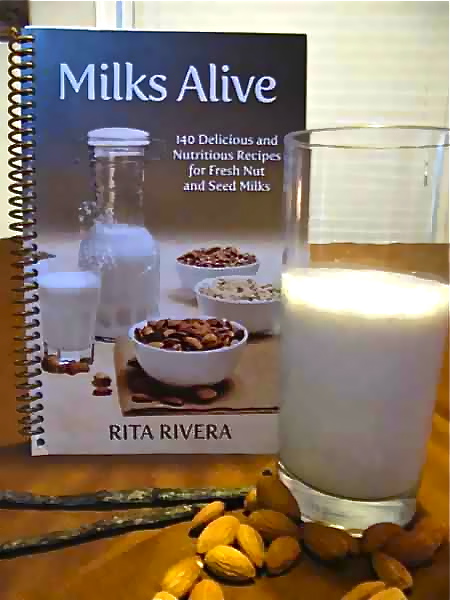 As a child growing up in the 1950s, the American Dairy Board advised parents of the importance of milk – a glass full at least three times a day. Our grades came inside a little folder with more information on the need for milk. The Dairy
Board even went one stop further by providing charts that showed our weight and height changes during the school year. The school nurse checked us three times during the school year; the results were proof of how milk was creating strong, healthy kids. Or not.
I didn't thrive with milk and there were lots of other kids who also didn't. I was a childhood asthmatic; milk made me wheeze and cough. Some kids couldn't digest it. But it was the 1950s, a boom time for new food lobbies and they convinced a lot of parents on how to raise healthy children.
These days my grandsons enjoy plant-based milk every day in their cereal and to wash down homemade, gluten-free cookies. We now know we don't need dairy to thrive, that for some of us, it keeps us from thriving. What a relief to now have viable options!!
It wasn't until a decade or so ago, however, that I first tasted fresh, unpasteurized, almond milk flavored with vanilla beans. I gasped with surprise at the burst of flavor in my mouth, the subtle sweetness of the almonds and vanilla, the richness of the milk and the delicate, lingering aftertaste. Even better, this milk was raw and contained enzymes that helped to digest it. I was stunned and hooked! I immediately purchased a quart of this new-to-me elixir and, in the process, made a new friend and got a new account for my business at the same time!
A New York transplant and professional dancer, Rita Rivera developed a plant-based company, Milks Alive in Santa Cruz, and opened the eyes of many of us along the Monterey Bay to the flavor and health benefits of raw plant-based milks. Now Rita has expanded her reach with a book by the same name.
Milks Alive contains detailed information about nut and seed milks and step-by-step directions on how to make, flavor and enjoy these nutritious beverages. Now we all can enjoy heart-healthy, cholesterol-free, satisfying milks that taste amazing and are energizing at the same time. What's not to like about that?
If you have never tasted fresh almond (or other nut and seed milks), I encourage you to purchase some fresh, raw almonds and try the following recipe(s). It is surprisingly simple to make these fresh milks at home and the flavor options are endless. Rita's book contains over 140 recipe options for using the basic milks. Here are the instructions for making Almond Milk and Vanilla Liquid. I made the almond milk this last week and poured glasses for everyone who stopped by to visit. I didn't make the Vanilla Liquid recipe; I opted instead for Rain's Choice Tahitian vanilla extract. The Vanilla Liquid is a great option for anyone who wants a liquid alcohol-free option. Here's the recipe for Vanilla Liquid.
I lightly sweetened my milk with maple syrup, but you can use agave, honey, stevia or whatever sugars you like. My suggestion is that you add sweetening sparingly and to taste. You can also keep the milk unsweetened if you prefer.
Almonds are a high source of vitamin E, calcium, magnesium and potassium. Additionally, they are a source of protein, are high in fiber and low in sugars. If you have an allergic reaction to nuts, Milks Alive has recipes for using seeds to make milk.
I have not followed the book's format. Instead I have excerpted the information that I feel is most useful and valuable for making making almond milk.
Almond Soak Time: approximately 8 to 10 hours. Use raw, unflavored almonds. If you soak your almonds longer than 10 hours, rinse the water after 10 to 12 hours.
* Soaking will increase bulk.
* All recipes call for a dry measurement of the nut, before soaking.
* Using more almonds produces a richer milk and also provides a stronger almond flavor.
* Recipes can be cut in half or doubled.
Soak nuts in a glass, ceramic or stainless steel bowl and rinse thoroughly. Rinse until the water runs clear. After soaking, discard soaking water, rinse almonds well and then add filtered water.
If the weather is very hot or for longer soaks, put the nuts in the refrigerator. Otherwise, you can leave them on your counter.
After soaking, rinse until the water runs clear. You are now ready to make milk.
Blending
Blending nuts with water creates a "slurry," and blending time will vary depending on the blend you are using. You want to create a slurry without any detectable pieces.
Almonds need about 50 to 60 seconds in a high-powered blender. With blenders with less than 2 horsepower, you may need to blend an additional 30 seconds.
Straining the slurry
After creating the slurry, place a nut milk bag or strainer lined with cheese cloth in a Pyrex measuring cup or a bowl. Pour the slurry into the bag or cheese cloth and let it drain. Squeeze out any liquid left after straining.
If the slurry produced by the blending of water and nuts is not properly strained, you will get bits of pulp, peel or a fine sediment in the finished product. To create a smooth texture without sediment, it's important to strain the slurry using a nut milk bag or cheese cloth.
Milk Storage and Shelf Life A glass jar with a tight-fitting lid is best. Refrigerate immediately and it should last for 3 to 5 days.
Without an emulsifying agent, the milk will naturally separate. No worries, just give it a good shake!
Caution: Plant-based milks may not be appropriate for infants.
Blenders: The most important kitchen appliance when making fresh nut and seed milks is a high-quality blender, with ideally 2 to 3 horse power. VitaMix and Blendtec are both excellent blenders. Other blenders can work, however you may need a longer blend time.
There are a wide range of proportions that you can use when making almond milk, and I encourage you to try a few different ratios.
Recommended Uses
Medium to full-bodied blends: for milk, custards, ice creams, vegan cheeses, savory sauces, foaming or pouring for coffee, tea and soda fountain creams. Use 4 cups filtered water and 1-1/2 -2 cups almonds. Blend well and strain.
Medium blends: for milk, custard, cereal, granola, oatmeal, smoothie bases, foaming or pouring for coffee, tea and soda fountain creams.
Light blends: for cereal, granola, oatmeal and milkshake bases. 4 cups filtered water and 1 to 1-1/4 cups almonds. Blend well and strain
Medium to light blends: 4 cups filtered water and 3/4 cup almonds. Blend well and strain. This is good for pouring over cereal or granola and as a base for milkshakes.
As you can see, it's really easy to make your own milks. Milks Alive has recipes for using almonds, coconuts, cashews, Brazil nuts, walnuts hazelnuts, peanuts, macadamia nuts, and hemp, sunflower, pumpkin chia and more. There are also recipes for incorporating fruits, grasses, vegetables and chocolate into the milks. It is a very comprehensive book with ideas that will tempt you into trying combinations you never would have imagined on your own.
As Rita says on the back cover, "My taste buds, my body and intuition said, 'Yes'… and after taking dairy out of my diet, lifelong sinus and digestive problems went away in weeks!"
It isn't necessary to have any food or dairy allergies or sensitivities to enjoy Milks Alive as the flavorful recipes can easily be applied to cow's milk. This book is a dream for vegetarians and vegans, and omnivores who want to cut back on unhealthy fats will find this book incredibly helpful and the recipes intriguing.
To purchase Milks Alive, visit www.milksalive.com.
Did you like this post?
"Like" it, and share your thoughts in the comments below!
Latest posts by Patricia Rain
(see all)