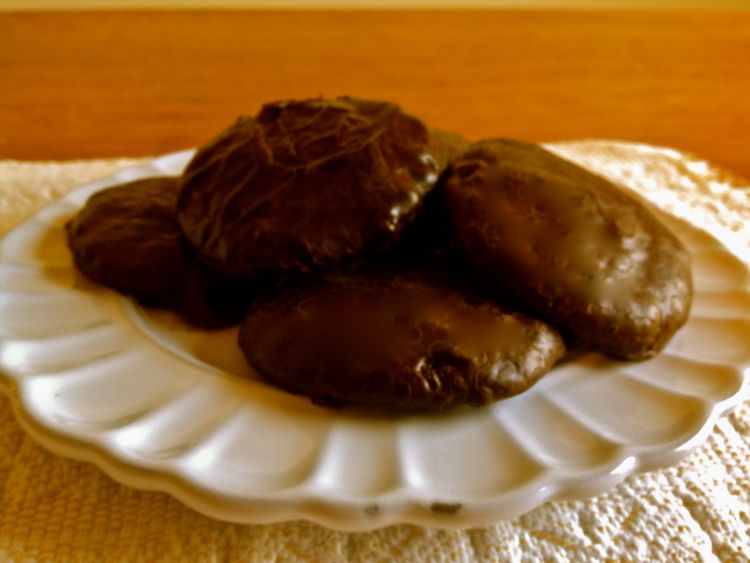 This time of year it's impossible to miss all the cute Girl Scouts selling their cookies on every corner, and no cookie sells better than the traditional Thin Mints. While the Girl Scouts are starting to offer gluten free options, not all of the girls carry them and they're not yet available in every variety of cookie. We think these Gluten Free Chocolate Peppermint Crisps, are a good runner up to this American classic, and when you make them at home you can enjoy them year 'round!
Print
Gluten Free Chocolate Peppermint Crisps
1/2 cup Rain's Choice Vanilla Sugar
1/2 cup firmly packed brown sugar
3/4 cup softened butter or vegetable shortening
2 eggs
2 cups gluten free flour (We like to use Bob's Red Mill or Pamela's)
1/4 cup unsweetened baking cocoa
1 teaspoon baking soda
1 teaspoon baking powder
1 pinch salt
1 teaspoon Rain's Choice pure Vanilla Extract
Dipping Chocolate
1 10-ounce package bittersweet chocolate chips
1 tablespoon butter or vegetable shortening
2 teaspoons peppermint oil
Instructions
Preheat oven to 350 degrees.
In a medium sized glass bowl, combine flour, baking cocoa, baking soda, baking powder and salt. Set aside.
In a large mixing bowl, cream together sugar and butter until fluffy.
Mix in eggs and vanilla.
Gradually stir the flour mix into the sugar mixture until well incorporated.
Scoop tablespoon size scoops of batter onto a parchment lined baking pan, and bake for 8-12 minutes. For a softer cookie, bake for a shorter period of time. For a crisp cookie, similar to the original "Thin Mint," bake for 12 minutes.
Remove from pan and cool the cookies on a baking rack.
Dipping Chocolate
Place chocolate chips and butter in a medium sized glass bowl, and melt on high in the microwave for 2 minutes, in 30 second increments, until smooth. Stir in the peppermint oil. Dip the cooled chocolate cookies into the melted chocolate, making sure they're completely covered, and then let set on a parchment lined cooling rack. It may take a couple of hours to completely set, depending on the temperature of your kitchen.
Makes about 24 cookies.
Latest posts by Serena Rain
(see all)