Cranberry Sauce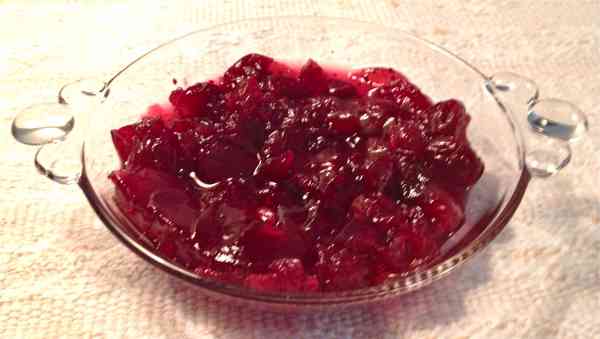 Cranberry Sauce is an essential side for any holiday meal. The addition of vanilla cuts the acidity of the cranberries, softening the tangy bite and enhancing the fruity flavors of this winter favorite.
Cranberry Sauce
2014-12-24 09:08:44
Ingredients
1 bag cranberries
3/4 cup sugar
1 cup water
2 teaspoons Rain's Choice vanilla extract
Instructions
Combine cranberries, sugar, and water in a medium saucepan and bring to a boil.
Reduce to a simmer and simmer cranberries until soft.
Add vanilla extract and simmer for five more minutes.
Remove from heat and cool.
Can be served warm, or stored in the refrigerator until ready for use.
Notes
For a more fruity flavor you can replace the water with orange juice or add frozen strawberries along with the cranberries.
https://vanillaqueen.com/
Look Delicious?
Pin it for the world to see!
Latest posts by Serena Rain (see all)
Tags: cranberries, Cranberry sauce, cranberry sauce recipe