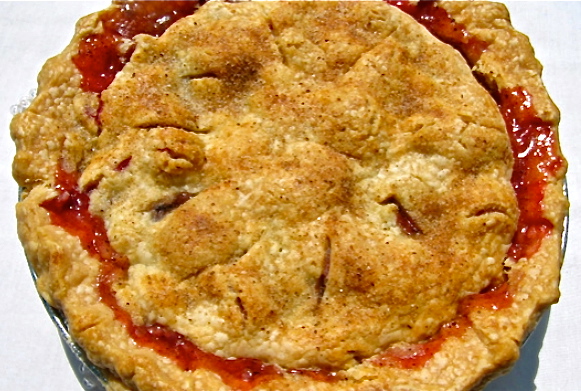 These days when we think of rhubarb, we think strawberry-rhubarb pie. It wasn't always that way, however. Rhubarb was a very popular vegetable, easy to grow and often served stewed with some sugar as a dessert. It was used so frequently in pies that it was referred to as the pie plant.
Growing up, pie was the standard dessert in my family. When it was our birthday, our mother would ask us what we'd like for our special meal. Each of us wanted pie instead of cake. My brother's favorite was rhubarb. I still make him pies but for the last several years I've included fresh strawberries as they start arriving at the farmers' markets around the same time as rhubarb. This year I gave him a choice. He decided it was time to once again try plain, full-on rhubarb. I made him his own pie and I made one for myself as well, and I'm really glad I did.
If you'd rather have a mix of rhubarb and berries, feel free. You should have roughly five cups of fruit for a 9-inch pie. Warm pie and ice cream are hard to beat, but you can also add a dollop of whipped cream or, use creme fraiche. Whatever you decide, it sure tastes like summer!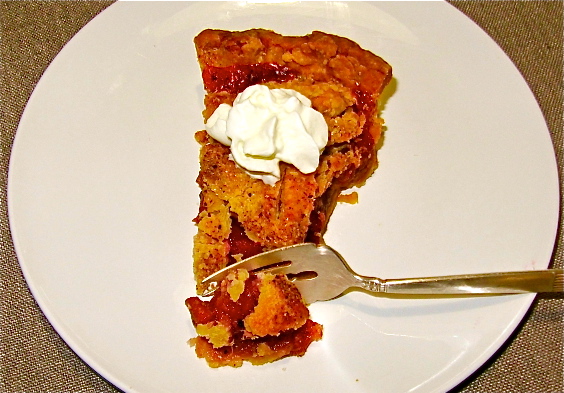 Print
Rhubarb Pie
Instructions
Prepare pie crust and chill for at least 1/2 hour before making the filling.
Mix rhubarb and all other filling ingredients except for butter in a large mixing bowl and stir until well blended.
Roll out the bottom pie crust and press into pan. Add the rhubarb blend and dot the top of the rhubarb mix with small pieces of butter.
Roll the top pie crust, place over the pie filling, and crimp into place. Cut steam vents around the pie.
With a pastry brush or your fingers, lightly wet the top of the crust then sprinkle sugar over the pie. Chill in the refrigerator for a minimum of 30 minutes before placing in oven.
While pie is chilling, heat the oven to 425 degrees F.
Place pie on a baking sheet to catch spills. Bake for 20 minutes at 425 degrees, then lower the heat to 350 degrees. The pie will need about 25 more minutes. If the edges of the crust get too brown, cover lightly with aluminum foil. The pie will be ready when the fruit is soft and juices begin to bubble up.
Cool pie on a cooling rack. Serve warm plain or with ice cream or whipped cream
Latest posts by Patricia Rain
(see all)