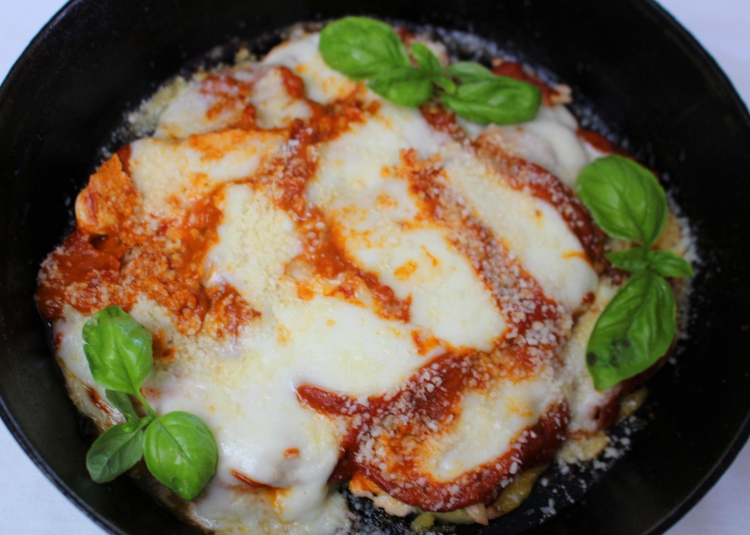 We all need something special, especially after a challenging day, whether we work from home, in an office, or especially if we're cooking for a family. Easy Weeknight chicken and Polenta takes advantage of Marcella Hazen's Three Ingredient Pasta Sauce. I keep a pint or two in my freezer for quick meals. Otherwise, keep a few bottles of your favorite store-bought pasta sauce in your pantry. Feel free to add minced garlic, herbs or whatever else you'd like to add more flavor and a dash of vanilla to soften the acidity.
If, by chance, you are unfamiliar with pre-made packaged polenta, it's shelf stable and usually with the pasta sauces. Here's a picture of a fairly common brand of packaged polenta.
It's actually a terrific shortcut. You can even saute it until well heated and crunchy, and serve eggs on top for a hearty breakfast.
Print
Easy Weeknight Chicken and Polenta
A tasty option for when you want something delicious but reasonably fast.
Instructions
Preheat oven to 400 degrees F
Place tomato sauce in a saucepan and heat to a high simmer.
Pat the raw chicken fillets dry with paper towels, salt lightly on both sides, and set aside.
Slice pre-made polenta into 1/3 – 1/2-inch rounds. If you're feeding a hungry family, you may want a second packet of polenta.
Heat 1 tablespoon of oil in a 10-inch cast iron skillet or Dutch oven and put on high heat until glistening. Place slices of polenta into the skillet, then turn down the heat to medium–to-medium high. Saute polenta slices for 3 – 4 minutes or until they're golden brown and have developed a crust. Flip the slices over and repeat. When both sides are browned, remove to a plate. Loosen bits of cornmeal and add to the plate.
Add another tablespoon of oil to skillet or Dutch oven, and heat oil.
Saute the chicken fillets until golden brown (about 4-5 minutes) then flip to sauté the other side. They do not need to be fully cooked. Set aside.
Put polenta slices back in the skillet, top with the chicken and any drippings. Add a splash of vanilla to the tomato sauce then pour sauce over chicken and polenta. Place slices of Mozzarella on top, spaced evenly.
Bake for 15-20 minutes, or until cheese is bubbling and melted, and the chicken is completely cooked through.
Sprinkle Parmesan over the top of the dish and serve extra at the table.
Latest posts by Patricia Rain
(see all)