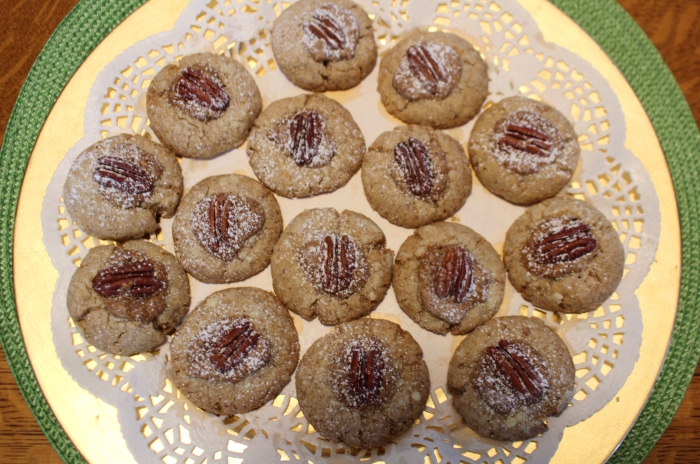 When it's cold or stormy outside, it's so nice to have a warm beverage and a few freshly baked cookies to enjoy while hunkering down and binging on Netflix or reading a book. Frankly, both Gina (our Contessa) and I enjoy having freshly baked cookies on hand whenever we're in for a long stretch of work on the computer. It's a nice incentive to keep going. So when I found this recipe for Double Pecan Thumbprint Cookies in the holiday issue of Bon Appetit, I knew it would be our new favorite. I made a batch for Gina's birthday in November, sending her over-the-moon.
There are two things that make this cookie unique. The first is the Frangipane blend that fills the "thumbprint." The second, is the technique of adding powdered sugar to the cookies before baking them as it adds an appealingly crunchy, glossy surface. Bon Appetit hit a home run on this one and I think you'll agree.
Print
Double Pecan Thumbprint Cookies
Frangipane
2 cups pecan halves*
1/3 cup granulated sugar
1 large egg white
2 tablespoons unsalted butter, room temperature
2 teaspoons espresso powder (can use instant coffee)
¼ teaspoon sea salt
¼ teaspoon Almond Extract
¼ teaspoon Rain's Choice pure Vanilla Extract
Dough and Assembly
1-1/4 cups all-purpose flour
½ teaspoon sea salt
½ teaspoon baking powder
¾ cup (1-1/2 sticks unsalted butter, room temperature
¼ cup granulated sugar
¾ cup powdered sugar, divided; plus more for serving (optional)
1 egg yolk
1–1/2 teaspoons Rain's Choice pure Vanilla Extract
Instructions
Frangipane: Preheat oven to 350 degrees. Lightly toast pecans on a rimmed baking sheet, tossing halfway through, until slightly darkened in color and fragrant, 6–8 minutes. Let cool; set 1-1/4 cups pecans aside for making dough.
Pulse granulated sugar and remaining ¾ cup pecans in a food processor until nuts are very finely ground (be careful to stop before they become a paste), 30-60 seconds. Add egg white and pulse just to blend, then add butter, espresso powder, salt, and almond extract. Pulse just until mixture is smooth and combined. Scrape frangipane into a small bowl and chill at least 30 minutes before using.
Do Ahead: Frangipane can be made 3 days ahead. Cover and keep chilled. You will have more than you need. You can spread it on toasted bread, brioche or croissants, then bake until lightly browned. Or you just eat it with a spoon like I did.
Dough and Assembly: Pulse flour, salt, baking powder, and 1 cup reserved pecans in a clean food processor until nuts are very finely ground, about 1 minute.
Beat butter, granulated sugar, and ¼ cup powdered sugar in the bowl of a stand mixer fitted with paddle attachment (or use an electric hand mixer with regular beaters) on medium-high speed until light and fluffy, about 4 minutes. Add egg yolk and vanilla and beat until combined and no streaks remain.
Reduce speed to low and add dry ingredients. Beat just until incorporated, about 1 minute. Cover bowl with plastic wrap or wax paper and chill dough until it's firm enough that you can scoop it and it will hold its shape, 30-45 minutes.
Place racks in upper and lower thirds of oven; preheat to 350 degrees. Place ½ cup powdered sugar in a shallow bowl. Working in batches, scoop out tablespoonfuls of dough and roll into balls between your hands, then roll in powdered sugar, knocking off any excess. Transfer to 2 parchment-lined baking sheets as you work, spacing 2" apart.
Bake cookies until puffed but edges are still soft, 6-8 minutes. Carefully remove from oven and make an indent in the center of each cookie with the handle end of a wooden spoon or a similar heatproof object. Spoon a heaping ½ teaspoonful of frangipane into each and top with a pecan half from reserved ¼ cup. Return cookies to oven and continue to bake until edges are sent and very lightly browned 6–8 minutes longer. Let cool on baking sheets.
Just before serving, dust cookies with more powdered sugar if desired.
Do Ahead: Cookies can be baked 5 days ahead. Store airtight at room temperature.
Notes
*If your pecan halves include lots of broken pieces, set 25 – 30 halves aside to put on the top of the cookies and grind the balance as directed, adding a little additional pecans if needed.
Keywords: Double Pecan Thumbprints, Double Pecan Thumbprints with Frangipane filling
Latest posts by Patricia Rain
(see all)