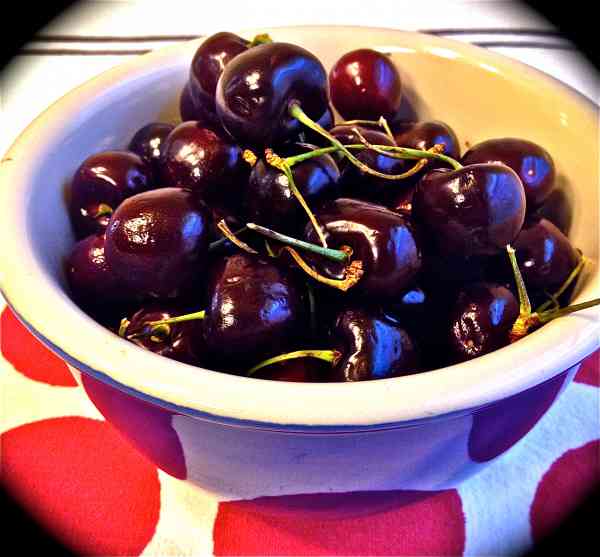 Cherries are one of life's very special gifts, at least that's how I view them. As a child I patiently waited for cherries to arrive in our small town's grocery. My mother usually took me shopping with her, so when cherry season arrived, I'd beg her to buy them. I then would forfeit as much allowance as necessary to buy my own personal stash of cherries, which I hoarded in the back of the refrigerator as my brother made frequent visits to the refrigerator throughout the day and inhaled whatever he could find.
Fast forward to the 1970s. My most memorable moment of cherry gluttony was in early June. I was eight months pregnant and enormous (my daughter weighed nine pounds; I was less than 5′ 2″). Some friends had a fruit orchard and we went to pick Bing and Royal Anne cherries. My husband boosted me into a tree and I balanced myself between the trunk and a limb, eating as many cherries as I could manage, thrilled beyond belief that there were far more than I could possibly consume, the ultimate cherry addict's dream.
A childhood fantasy of mine was to have cherry trees. Unfortunately, I live too close to the Monterey Bay to grow them, but we now have so many varieties to choose from in our farmers markets, starting in late May, that we can eat California cherries for more than a month. Then cherries start arriving from Washington in early July and last another six weeks. I have no doubt that I am a major financial contributor to the California and Washington cherry industries. Really.
Because they're so expensive and have such a short season, I eat cherries plain, especially at first. As the season progresses, I'm ready to pit them to make Summer Cherry Cake, a buttery single-layer cake studded with whole red cherries and spiked with Kirschwasser. I soak the cherries overnight or longer in the fiery liqueur so that the juices blend together with the alcohol, mellowing it a bit. It's a wonderful cake for brunch or afternoon, served with tea, either hot or iced, or after a summer dinner and walk in the lingering light. Summer Cherry Cake.
I found the recipe in a Sunset magazine article that declared the cake to be similar to the French clafouti. Actually, I suspect that the recipe was actually a cross between clafouti and something else and I forgot the "something else." I say this as years ago I ghost-wrote a recipe book for a family of cherry and apricot growers in the Santa Clara Valley. They wanted a clafouti recipe so I used my Summer Cherry Cake recipe, long since adapted enough to consider it my own. The woman had attended a French cooking school and was mortified that I used this recipe as it was definitely not clafouti. It was an honest mistake on my part as I'd never had clafouti.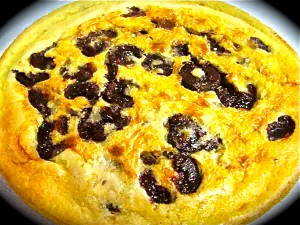 As a result of this error, I have intended to make clafouti ever since, which can actually be made with any stone fruits but most frequently with cherries. The reality, however, is that I really like the cake I make. Finally, after reading one more rave review about clafouti I decided to try my hand at it. I pitted beautiful, ripe Bing cherries and used organic eggs, sugar, milk and vanilla, certain that this was going to be my new favorite. It wasn't.
It's not to say that clafouti isn't good. It is. But it is big on eggs and short on butter. In fact, the clafouti recipe I used had no butter included. It reminded me of a slightly sweet fruit omelet. I grant you, I've only tried one recipe. There may well be better recipes that would sweep me away. If you prefer eggs to butter, you will likely prefer this recipe over the other. But for me, I'll take my rich, slightly alcoholic cake over this altogether delicious Cherry Clafouti.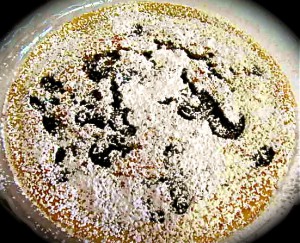 Unfortunately, summer got away from me this year and I'm posting these recipes too late in the season for you to scare up fresh cherries. However, frozen cherries will work. My suggestion with the clafouti is to keep them slightly frozen. With the cake, they can be placed into the Kirschwasser or cherry brandy frozen but allow them to soak for a day or two before making the cake. Or save the recipes for next year if you prefer. After all, it's apple season now and a raft of recipes vie for our attention. Actually, my next blog will be about apples and Murbe Teig, so the choice is yours.
Did you like this post?
"Like" it, and share your thoughts in the comments below!
Latest posts by Patricia Rain
(see all)