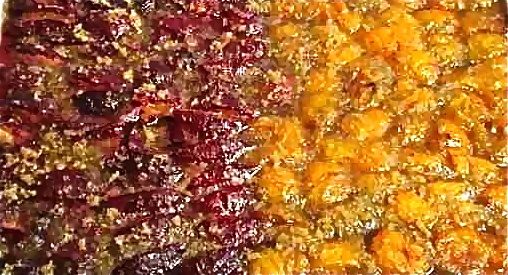 This outstanding fruit dessert recipe was sent to my mother by my Aunt Maggie at least 45 years ago. For reasons lost on me, they called it "Apple Dumb." When they used plums, it was "Plum Dumb." This was standard with them — they loved good food and silliness in equal measure.
This is a wonderful recipe to make with stone fruits. Each year I make one with the Santa Rosa plums and Blenheim Apricots from trees I planted in my backyard. The combination of the sweet apricots and tart-sweet plums is exceptional, so earmark this recipe for early summer and revive it again in the fall. It's a very dramatic looking dessert, with the apples layered on the crust and the streusel melted over them.
When my daughter was born and we lived in Sebastopol, my mother made sheets of Apple Dumb from Red Gravensteins for visitors coming to see the new baby. I like it served warm with lots of whipped cream.
Despite making Murbe Teig for years, I had no idea where it originated or what it meant. Turns out it's German and it actually means something like pie crust. It's basically the same ingredients as pate sucree (sweet pastry crust), and in Germany they use it for pies, tarts and cookies. So technically it should be called Apple Murbe Teig or Plum Murbe Teig though Apple Dumb and Plum Dumb work for us.
The finished pastry is spectacular looking as it's baked in a half sheet (a big cookie sheet with edges works perfectly). The fruit is layered onto the dough before baking. You don't need to be too concerned about making perfect rows as the streusel will cover the fruit.
I bake the crust some before adding the fruit. This is especially helpful if you're using plums, peaches, apricots or nectarines as their juices will make the crust soggy the day after baking (assuming you have any left). So suit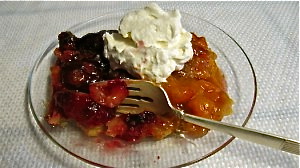 yourself on this minor detail. Murbe Teig
Murbe Teig, whether made with stone fruits or apples, with its streusel topping, caramelized fruits and and tender crust knocks me out. I suspect you'll agree.
Did you like this post?
"Like" it, and share your thoughts in the comments below!
Latest posts by Patricia Rain
(see all)