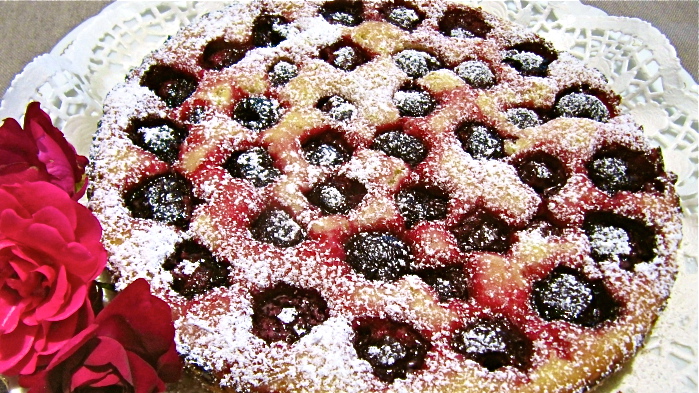 This delicious summer cake is a hybrid cross between a classic French clafouti and a coffeecake. It has a very moist, dense crumb due to the high butter and eggs and low flour ratio. It is a perfect afternoon dessert to serve with tea as well as a brunch or dinner dessert, especially as it can be made a day ahead of time. I always make at least one of these cakes during cherry season though I eat so many cherries that I often use up the ones earmarked for the cake and need to buy more. However, there are sometimes cherries that get soft before I have polished them off and they end up in the cake, enjoyed in a new incarnation, so to speak.
Print
Cherry Vanilla Cake with Kirschwasser
3 cups Red or Rainier cherries or a mixture
2 tablespoons lemon juice
3 – 5 tablespoons Kirschwasser or cherry liqueur (you can use cherry juice)
1/2 cup butter
1/2 cup sugar
2 teaspoons Rain's Choice pure Vanilla Extract
1/4 teaspoon nutmeg
zest of 1 lemon (optional)
3 eggs
1 cup unbleached white flour
Powdered Sugar
Instructions
Preheat oven to 350 degrees. Grease and dust with flour a 9-inch cake pan or tarte pan with removable bottom. Shake off any additional flour.
Pit the cherries, then blend in a bowl with lemon juice and cherry brandy (or juice) and let stand at least 30 minutes, stirring occasionally.
Cream the butter and sugar, lemon peel, nutmeg and vanilla until fluffy, then beat in eggs, one at a time. Add flour. Pour into pan and spread batter evenly.
Lift cherries from juices with a slotted spoon and distribute over batter, rounded sides up. Drizzle cherry juices over fruit.
Bake until cake around fruit springs back firmly when lightly touched, about 30 minutes. Let cool, then serve slightly warm or at room temperature, sprinkling with powdered sugar before serving if you wish. Cake is best served 1- 2 days after baking as the flavor mellows and intensifies. This cake freezes well.
Look Delicious? Pin it for the world to see!
Latest posts by Patricia Rain
(see all)