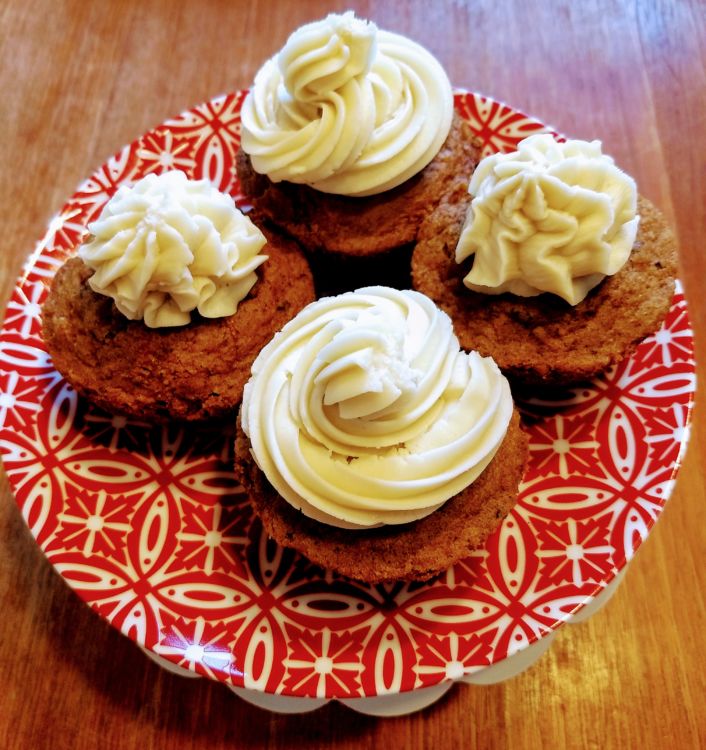 These moist, nutty, carrot cake cupcakes are a family favorite, both for birthdays or for an everyday treat. This recipe makes 1 1/2 dozen cupcakes, for easy individual servings, but can also be made into a 2 layer cake. Made with coconut sugar, if you choose to eat them as muffins, without the cream cheese frosting, they make a tasty, low-glycemic addition to brunch.
Print
Carrot Cake Cupcakes with Vanilla Cream Cheese Frosting
Carrot Cake
1 cup coconut sugar
1 cup avocado oil
4 eggs
1 teaspoon Rain's Choice vanilla extract
2 cups all purpose or gluten free flour
2 teaspoons cinnamon
2 teaspoons baking powder
1 teaspoon baking soda
2 cups lightly packed shredded carrots
1 cup coarsely chopped walnuts
Vanilla Cream Cheese Frosting
1 – 8 oz package cream cheese
1/2 stick butter
2 1/2 cups powdered sugar
2 teaspoons Rain's Choice vanilla extract
Instructions
Carrot Cake
Pre-heat oven to 350 degrees.
Grease, or line cupcake pan with wrappers. Set aside.
In a small bowl sift flour together with cinnamon, baking soda and baking powder. Set aside.
In a medium sized mixing bowl whisk together coconut sugar, oil and eggs – adding one egg at a time until thick and viscous. Add vanilla.
Mix the dry ingredients in with the sugar mixture. Stir until wet. Add carrots and nuts. Stir to blend.
Pour the batter into the baking cups.
Bake for 20-25 minutes, or until lightly browned. Test with a toothpick – if toothpick comes out clean they are done.
Cream Cheese Frosting
Soften the cream cheese and butter until they are room temperature. In an electric mixer or with a hand mixer, gently blend until creamy. Gradually mix in powdered sugar until fluffy. Blend in vanilla.
Spread or pipe frosting onto the cupcakes and serve.
Latest posts by Serena Rain
(see all)