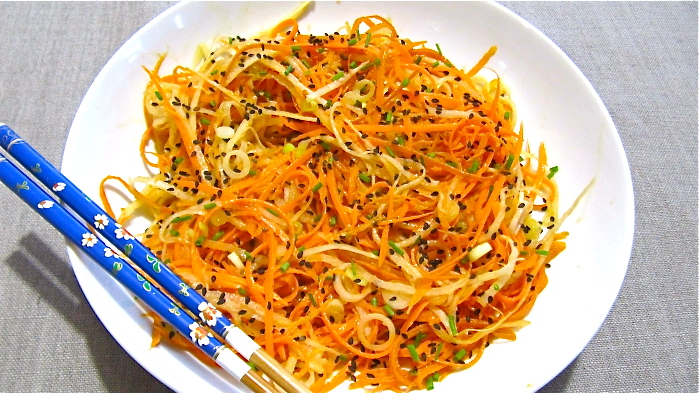 This is a favorite salad of mine. For some reason I haven't made it in a very long time but I wanted to post a picture of it and am so happy I did as it's like discovering it all over again. Delicious!
I decided to use my "noodle peeler" to make the salad, but you can use a grater or even a mandolin if you want. Noodle peelers are very inexpensive, however, and the carrots and daikon "noodles" relax in the dressing.
If you aren't familiar with daikon radishes, they look a little like hefty albino carrots. They have a delicate radish flavor and are delicious in salads, soups or stews. If you can't find daikon radishes, you can substitute fresh, young turnips.
Print
Carrot and Daikon Salad
2 teaspoons grated fresh ginger
1 teaspoon toasted sesame oil
1 tablespoon olive oil
1 tablespoon rice vinegar
1 teaspoon tamari or other soy sauce
1 teaspoon agave or honey, or to taste
1/2 teaspoon Rain's Choice pure Vanilla Extract
pinch or white or black pepper
4 large carrots, peeled
1 daikon radish, peeled (2 peeled turnips can be substituted)
2 scallions sliced thinly
1 tablespoon black or white sesame seeds
Instructions
In a small bowl, combine ginger, oils, vinegar, soy sauce, agave, vanilla and pepper. Whisk to blend.
Shred carrots and radish or turnips in a large bowl. Add dressing and mix well. This salad can be made several hours ahead of serving. Before serving, add sesame seeds. Serve at room temperature.
Latest posts by Patricia Rain
(see all)