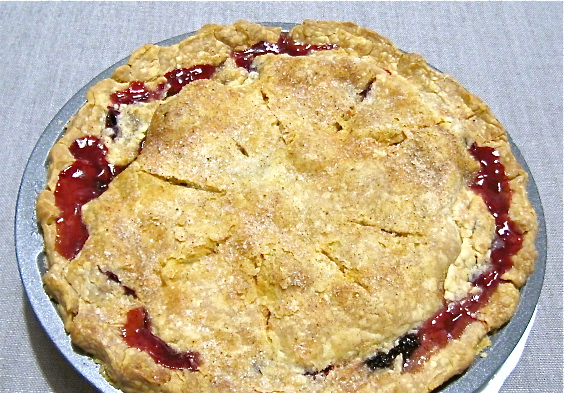 Those of us crazy about fruit watch the farmers markets and stores like hawks, waiting for the first berries to arrive as the signal that yes, summer is coming! Similarly, we know that summer is in full swing before blackberries are ripe on the vines and ready to harvest though technically they're available somewhere in the States between mid-June and early September.
I learned something this week while up in the Santa Cruz mountains. The Native Americans periodically burned the understory of the redwood forests to encourage blackberry growth as berries were one of their primary sources of fruit in California. No need these days for drastic measures to score berries, as blackberries grow abundantly on the coast and inland and Oregon makes sure the country has a surplus so we can even get them frozen in the winter.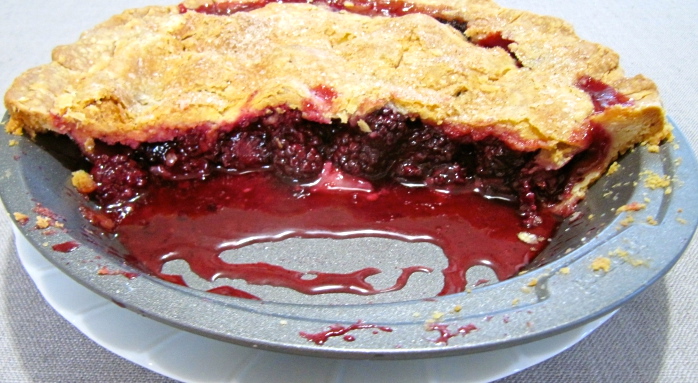 My personal favorites are ollalieberries, marionberries, loganberries and boysenberries, all of which fall into the category of blackberries. Sadly, the latter two are increasingly difficult to find as they're no longer grown commercially but I'll happily take any version of the blackberry for a juicy summer pie.
If you are using frozen berries for pie making, allow them to thaw just until they are no longer frozen, then drain off the juices to blend with other juices or for making smoothies, before using the berries for pie.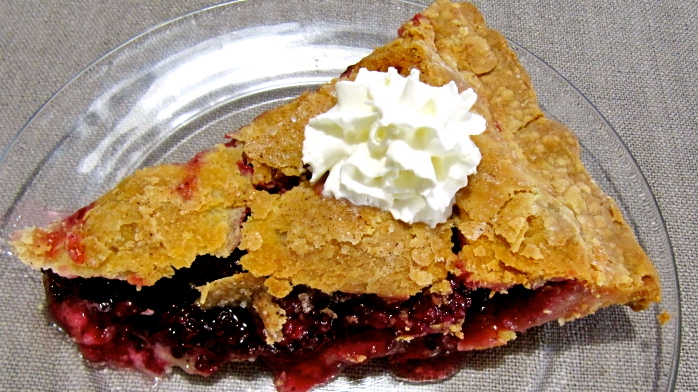 If making your own pie crust feels intimidating, check out The Vanilla Queen's Pie Crust
Print
Blackberry-Vanilla Pie
5–6 cups blackberries (if frozen, thaw and drain juices for other use)
2/3 – 3/4 cup sugar to taste
1 teaspoon lemon zest
4–1/2 tablespoons tapioca starch*
1/2 teaspoon Rain's Choice ground Vanilla Bean Powder or 1 teaspoon Rain's Choice pure Vanilla Extract
2 teaspoons lemon juice
1 – 1-/2 tablespoons butter cut into small pieces (optional)
Rain's Choice Vanilla Sugar for dusting pie crust
Instructions
Prepare either the Vanilla Queen's pie crust or use your favorite pie crust.
Mix sugar, tapioca starch and vanilla bean powder, if using, in a medium-bowl and whisk to blend well.
Place cleaned blackberries into a medium bowl, add sugar mixture and blend well, being careful not to bruise or crush berries. Add lemon zest, lemon juice and extract if using, and gently blend all ingredients.
Roll out bottom crust and fit into pie pan. Add the fruit mixture, dot fruit with butter, if using, then top with the upper crust. Cut at least six vents in the crust. Put into the refrigerator and chill for at least 30 minutes or overnight.
Heat oven to 425 degrees.
Using a pastry brush and fresh water, paint the upper crust with water and then dust with Rain's Choice Vanilla Sugar.
Place pie on a baking sheet, and place in oven. Drop the heat to 400 degrees and bake for 20 – 25 minutes. Check at 20 minutes to make sure it hasn't browned too much. If necessary, drop the heat to 350 at that point, otherwise drop it at 25 minutes. The pie will need to bake another 20 – 25 minutes or until crust is evenly browned and fruit is tender.
Place pie on cooling rack and allow to rest until ready to serve.
Serve with lightly sweetened whipped cream, ice cream or creme fraiche.
Notes
You can substitute 2 tablespoons corn starch, 4 tablespoons flour or 3 tablespoons quick cooking tapioca for the tapioca starch in this recipe.
Latest posts by Patricia Rain
(see all)