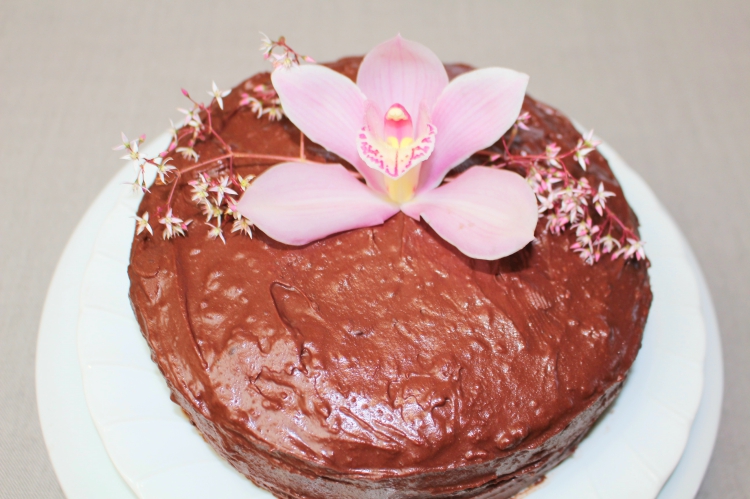 Recently I made "A Perfectly Delicious Chocolate Cake" as a birthday gift for a friend. One of the recipients of a slice of cake was completely taken by it and wanted to make it for his partner's birthday. The problem was it needed to be vegan. I suggested that I would experiment to create a foolproof recipe for a really good vegan cake. He agreed.

I looked up a cake I made for a birthday party for my grandson several years ago. Attending the party was a boy with serious food allergies. He couldn't have dairy, eggs, or gluten…but he could have chocolate. My daughter asked if I could bake a separate cake so the child wouldn't be left out.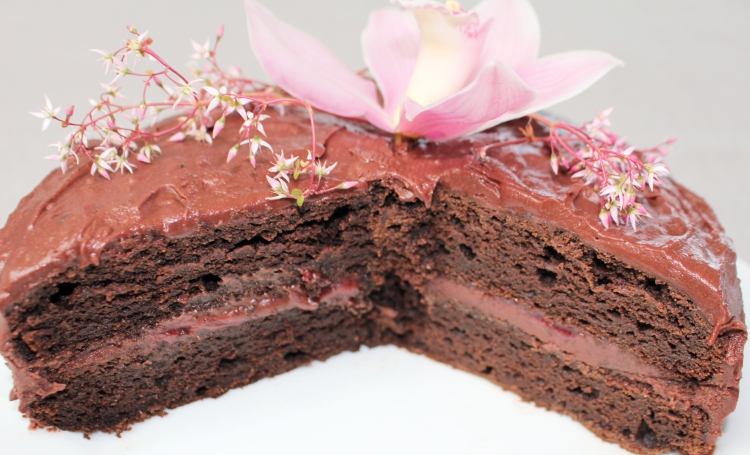 The plan was to have a slice of cake decorated with a dino for the child. I made a simple chocolate cake with a frosting similar to the volcano cake. We were sure we'd be eating chocolate cake for two weeks. However, the child and the grownups attending the party ate my cake and the other kids, of course, devoured the decorated one. Both cakes were a big hit and we had just a few slices left at the end of the day.
Since then, Miyoko's came out with an excellent vegan butter, a far cry from Earth Balance, the old vegan standby (which will work in a pinch). My concern was whether the truffle frosting would hold up with a coconut-oil based "butter." I'm here to tell you that it did and it was fabulous!
For the non-vegan version of this cake, go to A Perfectly Delicious Chocolate Cake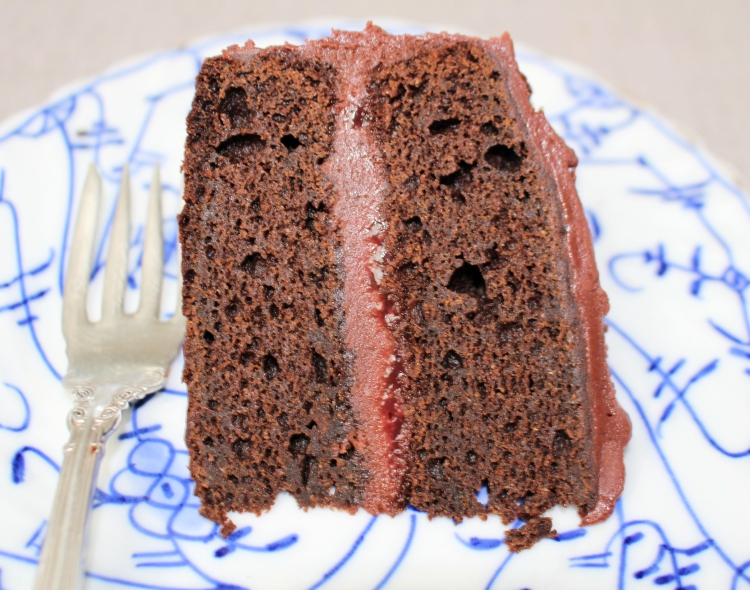 Print
Best Ever Vegan Chocolate Cake
2 1/4 cups all-purpose flour or gluten-free powder of choice
1/3 cup unsweetened cocoa powder
3/4 cup granulated sugar or coconut sugar
1 1/2 teaspoons baking powder
1/2 teaspoon baking soda
1/2 teaspoon kosher salt
1 1/2 cups unsweetened non-dairy milk (can also use 1 cup non-dairy milk and 1/2 cup coffee cooled to room temperature to accentuate chocolate)
1/2 cup vegetable oil
2 teaspoons pure vanilla extract
Frosting
1 cup coconut cream (available in many supermarkets)
1 cup granulated sugar
4 ounces unsweetened chocolate, chopped
1/2 cup Miyoko's butter (1 cube) or other vegan "butter" cut into four pieces
2 teaspoons Rain's Choice pure Vanilla Extract
1/2 – 3/4 cup raspberry jam (optional)
Instructions
Preheat the oven to 350 degrees F.
2 8-inch cake pans
Vegetable oil for greasing cake pans + parchment paper cut to fit cake pans, also greased.
Whisk together the flour, cocoa powder, granulated sugar, baking powder, baking soda and salt in a medium bowl. Whisk together the non-dairy milk, brown sugar, oil and vanilla in another medium bowl. Add the non-dairy milk mixture to the flour mixture and gently fold until just combined (it's OK if there are lumps). Divide the batter evenly between the two cake pans.
Bake the cake until cake is firm when pressed and a toothpick inserted in the center comes out clean, 20 to 30 minutes depending on oven. Let cool in the pan for a few minutes, then transfer to racks to cool completely.
While the cake bakes, place coconut cream and sugar in a heavy medium saucepan and bring mixture to a boil. Reduce to a simmer and cook for 8 minutes. Remove from heat and add chocolate and butter. Mix well. Blend in a pinch of salt and vanilla. Place in the refrigerator until mixture has cooled and thickened but is not yet firm.
Using a mixer or heavy whisk, beat until the mixture becomes light and fluffy.
To assemble the cake: Place one layer of cake, top down, on a serving plate. If you like fruit and chocolate together, spread the layer with a hefty spoonful or two of raspberry jam. Top with a large dollop of frosting to the first layer. Top with the second layer, top up. Add a thin crumb coat of frosting around the outside of the cake then place in refrigerator to chill and let frosting set, about 15 minutes. Finish frosting cake and decorate however you'd like.
Notes
Keep cake refrigerated until 10 minutes before serving so that the frosting remains firm.
Latest posts by Patricia Rain
(see all)