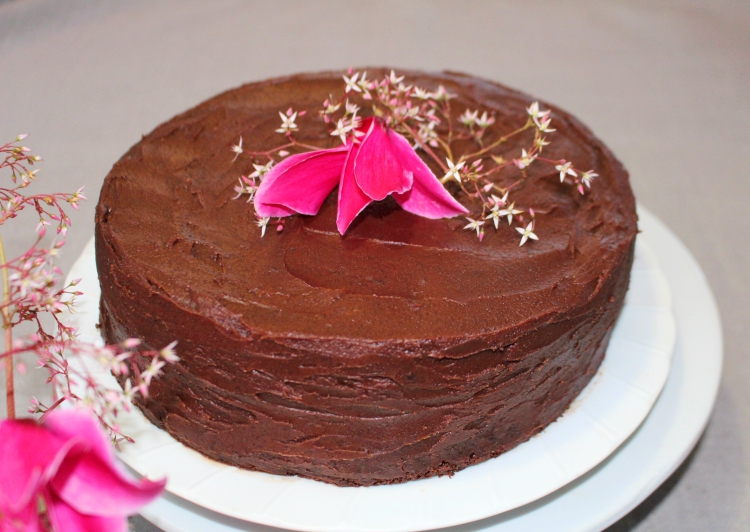 We probably can never have enough good, "straight ahead," recipes in our collections. I have been wanting a good chocolate cake recipe for a while. You know, the kind you can whip up for a birthday or a rainy day or even a potluck. One that's not complicated and you know will be good.
Recently Food 52 posted this cake under something like, Great recipes off the back of a box. Posie Harwood submitted it; it's from a Hershey's cocoa container. And you know what? It's perfectly delicious! The frosting, however, was the classic butter, cocoa, milk and a ton of powdered sugar. While there's nothing wrong with this, I prefer a less sweet, more delicate and delectable frosting. Voila, I used what I call, Truffle Frosting, a recipe I discovered in the 1980s though I haven't a clue where it came from.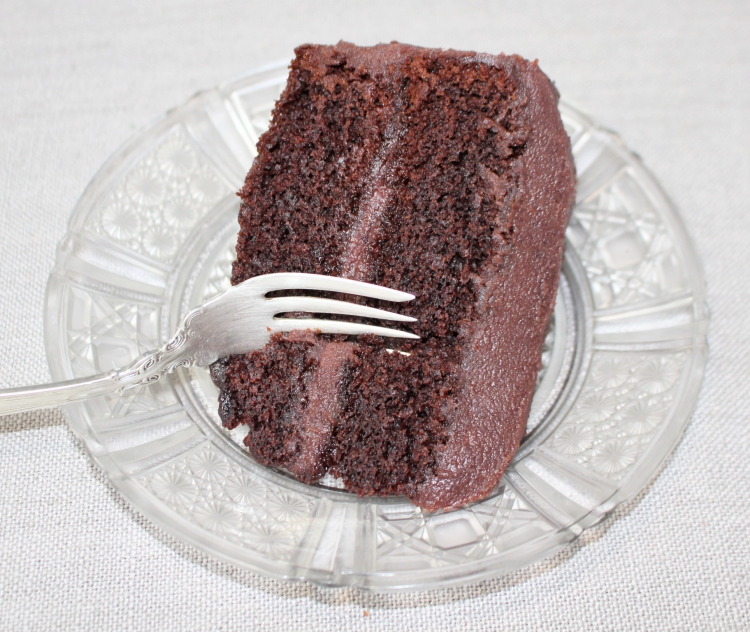 Additionally, I have a quirky love for a little jam between layers. My mother and aunts always added strawberry jam to chocolate cakes. I prefer raspberry, but you can use whatever you like or skip it if you prefer. What I will say is that I suspect you'll think this cake is perfectly delicious too!
Print
A Perfectly Delicious Chocolate Cake
Cake
2 cups sugar
1 3/4 cups flour
3/4 cup cocoa
1–1/2 teaspoons baking powder
1–1/2 teaspoons baking soda
1/2 teaspoon salt
2 large eggs
1 cup milk
1/4 cup vegetable oil or butter, melted
2 teaspoons Rain's Choice pure Vanilla Extract
1/4 cup boiling water
Truffle Frosting
1 cup heavy cream
1 cup granulated sugar
4 ounces unsweetened chocolate, chopped
1/2 cup butter (1 cube), cut into four pieces
2 teaspoons Rain's Choice pure Vanilla Extract
1/2 – 3/4 cup raspberry jam (optional)
Instructions
Preheat the oven to 350° F. Butter two 8-inch round cake pans, line with parchment, then butter again. You can also make this in two 9-inch cake pans — the layers will be slightly thinner.
In a large bowl or the bowl of a stand mixer, whisk together the sugar, flour, cocoa, baking powder, baking soda, and salt. Add the eggs, milk, oil (or butter), and vanilla and mix on medium speed for 2 minutes. Add in the boiling water and mix to incorporate.
Divide the batter into the prepared pans. Bake for 30 to 35 minutes (start checking after 30). The cake is ready when it starts to pull away from the edges and a tester inserted into the middle comes out clean. Let cool for 10 minutes in the pan before turning the cakes out onto a rack to cool.
While the cake bakes, place cream and sugar in a heavy medium saucepan and bring mixture to a boil. Reduce to a simmer and cook for 8 minutes. Remove from heat and add chocolate and butter. Mix well. Blend in a pinch of salt and vanilla. Place in the refrigerator until mixture has cooled and thickened but is not yet firm.
Using a mixer or heavy whisk, beat until the mixture becomes light and fluffy.
To assemble the cake: Place one layer of cake, top down, on a serving plate. If you like fruit and chocolate together, spread the layer with a hefty spoonful or two of raspberry jam. Top with a large dollop of frosting to the first layer. Top with the second layer, top up. Add a thin crumb coat of frosting around the outside of the cake then place in refrigerator to chill and let frosting set, about 15 minutes. Finish frosting cake and decorate however you'd like.
Notes
Loosely Adapted from Hershey's Chocolate Cake Recipe
Look Delicious? Pin it for the world to see!
Latest posts by Patricia Rain
(see all)