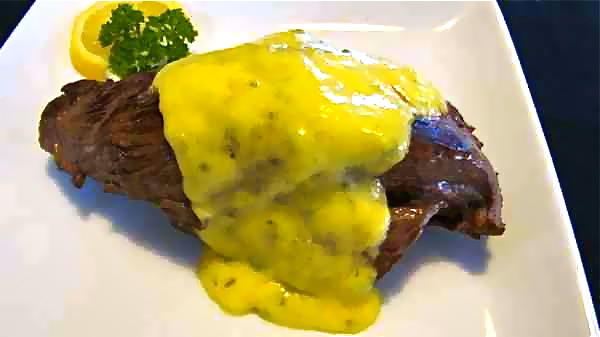 If you're looking for an entree that pops to serve at a small dinner party or a romantic meal for two, a flavorful steak with a traditional French sauce will do the trick assuming you're cooking for omnivores. The issue is timing. You don't want to spend twenty-five minutes making a sauce at the last minute while also grilling or pan-searing steaks.
The solution lies in making the sauce in two steps, which is imminently more doable. You make the white wine and vinegar reduction while you're prepping the vegetables and set it aside. When the steaks are cooking you combine the final ingredients in a blender. Why add the vanilla? It softens the acidity and provides delicately sweet notes that are hardly perceptible. The sauce can rest for a short period before serving without a problem. If it does separate, add a small spoon of hot water at a time either while the sauce is in the blender or in a bowl, and it will come back together again. This is all very doable and you will be considered a genius, gourmet cook. Nothing wrong with that! And, if you would like some tips on making the perfect steak, here you are.
Look Delicious?
Pin it for the world to see!
Print
Bearnaise Sauce
1/4 cup chopped fresh tarragon leaves or 2–1/2 teaspoons dried tarragon leaves, crumbled
2 shallots minced or 1 shallot and 1 teaspoon fresh chives finely cut
1/4 cup champagne or regular white vinegar
3 egg yolks
1 cube butter (1/4 pound), melted
1/2 teaspoon Rain's Choice pure Vanilla Extract
sea salt and freshly ground pepper to taste
Instructions
In a small saucepan, combine the tarragon, shallots, vinegar and wine over medium-high heat. Bring to a simmer and cook until it has reduced by half. Remove from heat and set aside to cool.
In a blender, pulse the yolks and Bearnaise reduction together. While the blender is running, add 1/3 of the butter in a slow steady stream. Once it emulsifies, turn the blender speed to high and add the remaining butter. Add vanilla and chives, if using, and season with salt and pepper. Pour into a slightly warmed bowl and set aside in a warm place until ready to serve. You can make this sauce in a warm bowl with a hand-held whisk if you prefer. It's a little more work but not significantly so.
Latest posts by Patricia Rain
(see all)