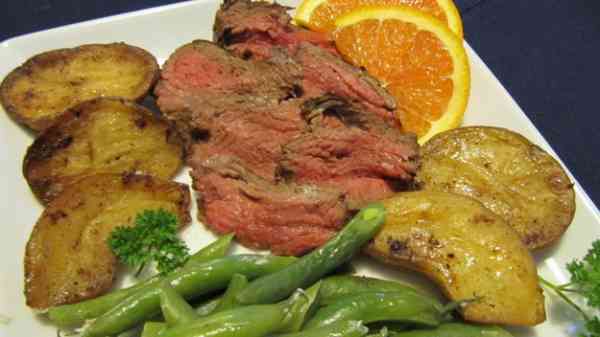 A few years back I ran a special food program at a local community market. I was asked to feature steak one weekend. Although I hadn't cooked steak in years, my grandmother ran a restaurant in the 1930s and was an expert at cooking steaks and roasts. My father learned to make perfect steaks and roasts from his mother and I learned from him.
I was relieved that I suddenly remembered exactly how to prepare perfect steaks. What I hadn't anticipated was the excitement on the part of customers at the store. After making this dish nearly daily customers asked me how to make the perfect steak. After a while I moved on to roasts and pot roasts. When the job was finally dissolved, a whole generation of customers had learned how to cook healthy, free-range meats. So now I'll share the secrets with you!
First, always cook your meats at room temperature. Let the meat sit out for 30 minutes to an hour before cooking for best results. I recommend using a meat thermometer so that your steaks turn out the way you like them. If you want your steak medium rare, pull it as soon as the thermometer reads 125 degrees and let it sit on a platter for 5 – 10 minutes, lightly covered. It will cook another 5 degrees while it sits. This is an optional but nice touch — place a pat of butter on the steak while it's resting. Even if you don't do this, the rest is critical as the meat relaxes and becomes more tender and the juices distribute more evenly.
You don't need really expensive cuts of meat for a flavorful steak. In fact, hanger steak, skirt steak, petite fillets and tri-tip are often more flavorful than the expensive cuts. You need to slice them against the grain for them to be tender.
Herbs should be well blended before rubbing into steak. I have cut open the steak on the grill pan for this photo. When you make the steak, let it rest for 5 to 10 minutes before cutting it open.
Print
New York Steak with Aromatic Herbs
1 1/2 teaspoons kosher salt
1 1/2 teaspoons paprika
1 1/2 teaspoons ground cumin
1 1/2 teaspoons ground coriander
1 teaspoon black pepper
1 teaspoon ground cinnamon
1/2 teaspoon Rain's Choice fresh Vanilla Bean Powder
Pinch of ground cloves
4 tablespoons olive oil, divided use
2 to 2 1/4 pounds New York or other steak, about 2 or 3 small steaks
Instructions
Stir together spices in a bowl. Pat steak dry, then brush with olive oil.
Pat the dry rub over steak on both sides. Allow to rest at least one hour or longer if desired. Refrigerate if not using immediately and bring steak to room temperature for at least 30 minutes before cooking.
Grill steak on lightly oiled grill rack, uncovered,turning over once, about 4 to 6 minutes total for medium-rare.
You can also pan sauté steak. Put 2 tablespoons olive oil in large sauté or grill pan on medium-high.
Cook roughly 1 – 2 minutes each side depending on thickness of steak, then place in oven at 350 degrees until desired doneness, keeping a close eye on it so it doesn't overcook. If you prefer, after searing the steak on each side, turn down heat and cook to preference on the stovetop. Once steak is cooked, let it sit for 5 to 10 minutes before slicing. Melt a little butter on steaks for additional flavor if desired.
Notes
Serve leftover steak over baby greens with ripe pears, grapes or stone fruits in season, red onions and candied pecans, or make sandwiches on fresh, warm ciabatta with pear slices, caramelized onions and pea shoots.
Look Delicious?
Pin it for the world to see!
Latest posts by Patricia Rain
(see all)