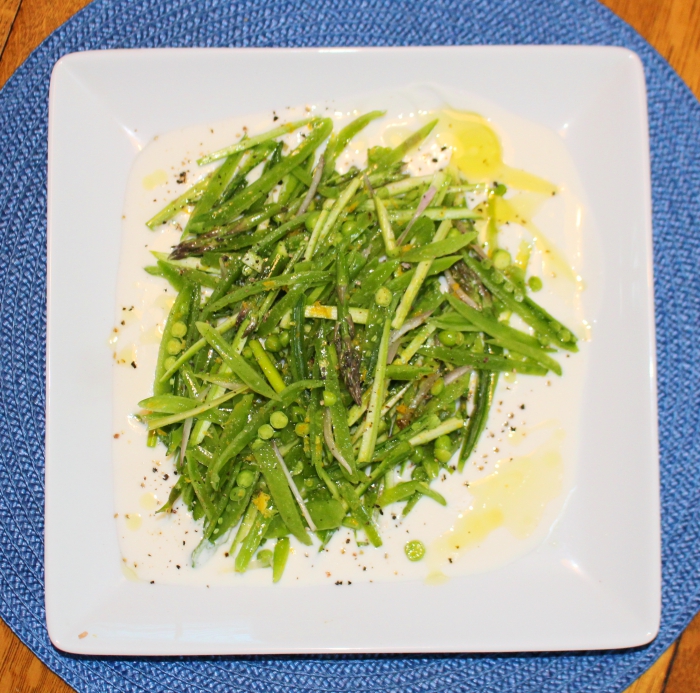 Is it even possible to have too many salad recipes? Possibly if you hate fruits and vegetables, but then you wouldn't be reading this recipe, right? The options are limitless, especially if you're willing to experiment. So when I read a recipe featuring only sugar snap peas, I paid attention. They grow well on the California Coast, so we eat them with dips, cut into chunks in salads, and of course a stir fry, but it never occurred to me to use them as a single ingredient salad.
Three days later, I attended a demo of a chef who works at a high-priced restaurant. He made a shaved salad of artichoke hearts and asparagus tossed with a very complex dressing. I loved the salad but I'm not about to purchase truffle oil (pricey and rarely contains much truffle) and fresh artichoke hearts are hard to find and time-consuming to prepare unless you have a live-in sous chef.
Over the next week my mind revisited the recipes. I wanted to keep it simple but a little more interesting than just one vegetable. I ended up with three ingredients: the peas, thin asparagus and shallots. If you disagree, then choose the sugar snaps, the younger the better. I liked the salad dressing in the first recipe, which uses buttermilk as the base. Given most of us don't usually have buttermilk in the fridge, a whole-milk European style yogurt, which is tarter and thinner than Greek yogurt, would work. Use whichever you'd be most likely to use up or go for the buttermilk and make buttermilk pancakes or ice cream with the rest. Really. Here's my version; feel free to adapt it. Also, although I've listed 6 ounces of asparagus and 6 ounces of snap peas, there's leeway here. Go by how much of each you want give or take a few ounces.
This is definitely a bright spring day or a hot summer night recipe — light, refreshing and you can assemble the ingredients ahead of time and finish it just before eating or while a steak or portabellas are on the grill. I can assure you that the ingredient holds up and stay crisp for a day or two if you don't eat it all in the first sitting.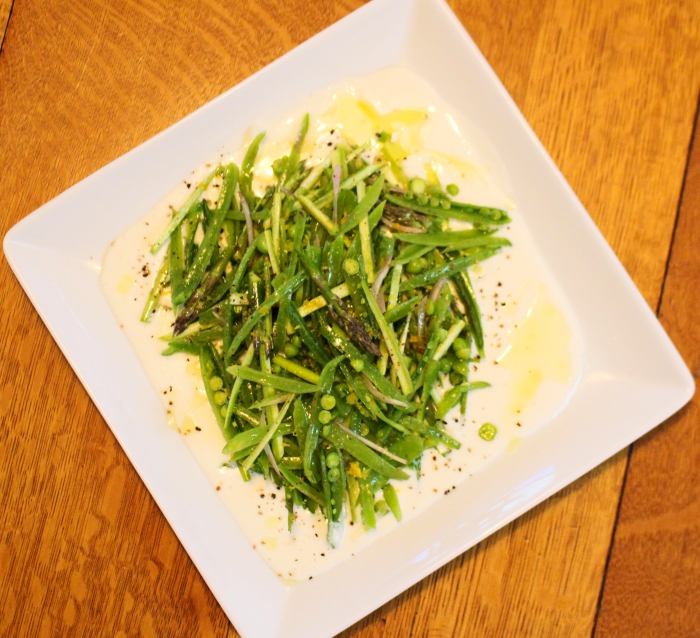 Print
Asparagus and Sugar Snap Pea Salad
6 ounces sugar snap peas, strings removed and very thinly sliced lengthwise
6 ounces asparagus, ideally thin, ends removed if necessary and sliced very thinly lengthwise, then in 3 or 4 pieces width-wise.
1 small shallot, peeled and very thinly sliced lengthwise, segments separated
2 tablespoons extra virgin olive oil
2 teaspoons lemon zest, divided use
3/4 cup buttermilk
3 tablespoons whole milk or 2% Greek yogurt
2 tablespoons fresh lemon juice, ideally Myers's lemon
1 garlic clove, minced or pressed
1/2 teaspoon sugar or honey to taste
1/2 teaspoon Rain's Choice pure Vanilla Extract
sea salt and freshly ground pepper
Additional olive oil and finely chopped chives for topping salad
Instructions
In a medium bowl, place thinly sliced peas, asparagus and shallot. Add 1 teaspoon lemon zest and olive oil and blend until all vegetables have a light coating of both ingredients. Season with sea salt and pepper and toss again.
In a separate bowl whisk together buttermilk, yogurt lemon juice, garlic clove, sea salt, sugar or honey and vanilla.
Pour most of dressing into a shallow bowl or a plate with upturned sides. Carefully place peas, asparagus and shallots into the center of the plate on top of dressing. Drizzle with more olive oil, then scatter1 teaspoon lemon zest over vegetables, add a bit more salt and pepper, then sprinkle chives over all.
Latest posts by Patricia Rain
(see all)