Asparagus and Sugar Snap Pea Salad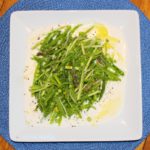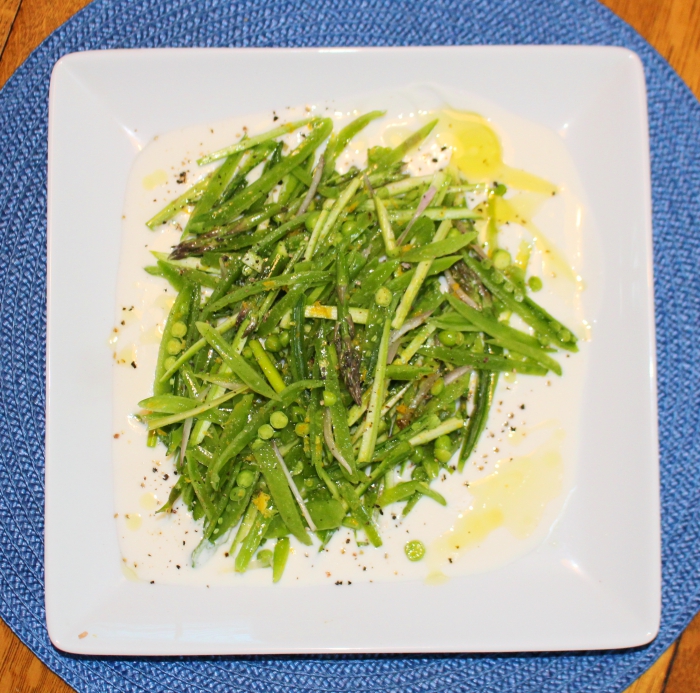 Scale
Ingredients
6 ounce

s sugar snap peas, strings removed and very thinly sliced lengthwise

6 ounce

s asparagus, ideally thin, ends removed if necessary and sliced very thinly lengthwise, then in 3 or

4

pieces width-wise.

1

small shallot, peeled and very thinly sliced lengthwise, segments separated

2 tablespoon

s extra virgin olive oil

2 teaspoon

s lemon zest, divided use

3/4 cup

buttermilk

3 tablespoon

s whole milk or

2

% Greek yogurt

2 tablespoon

s fresh lemon juice, ideally Myers's lemon

1

garlic clove, minced or pressed

1/2 teaspoon

sugar or honey to taste

1/2 teaspoon

Rain's Choice pure Vanilla Extract
sea salt and freshly ground pepper
Additional olive oil and finely chopped chives for topping salad
Instructions
In a medium bowl, place thinly sliced peas, asparagus and shallot. Add 1 teaspoon lemon zest and olive oil and blend until all vegetables have a light coating of both ingredients. Season with sea salt and pepper and toss again.
In a separate bowl whisk together buttermilk, yogurt lemon juice, garlic clove, sea salt, sugar or honey and vanilla.
Pour most of dressing into a shallow bowl or a plate with upturned sides. Carefully place peas, asparagus and shallots into the center of the plate on top of dressing. Drizzle with more olive oil, then scatter1 teaspoon lemon zest over vegetables, add a bit more salt and pepper, then sprinkle chives over all.