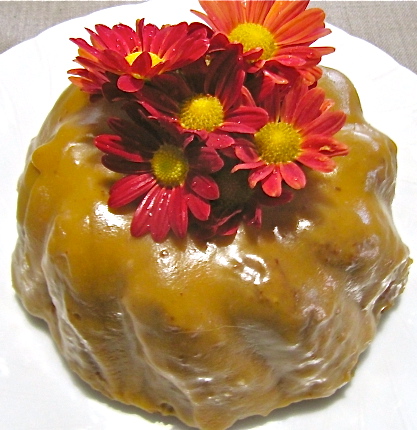 This is an adaptation from a recipe off of one of my favorite blogs, Food 52 – Terrific for an autumn day like today when a storm is rolling in. It's especially good with homemade applesauce, but this isn't a requirement. Given most people don't bake these days, I'm finding people are overjoyed to have fresh, homemade desserts and fancy is not necessary. In fact, recipes that bring up childhood memories seem to be the most appreciated.

This recipe calls for a 12 cup Bundt pan. I don't have a 12 cup pan, so I made it in two smaller pans, which is actually ideal as you can freeze one or give one away as a gift. You can also turn this into a sheet cake. If you want to be especially clever, using a glass, cut the sheet cake into as many rounds as possible. Drizzle them the glaze over each one or skip the glaze and put a big poof of whipped cream on each round, and serve them individually. Easy way to serve dessert at a party.
I doubled the glaze recipe to make sure I had enough to cover both cakes. If you do this and have some left over, use it over ice cream or on cookies, or freeze it for when you need a little caramel goodness.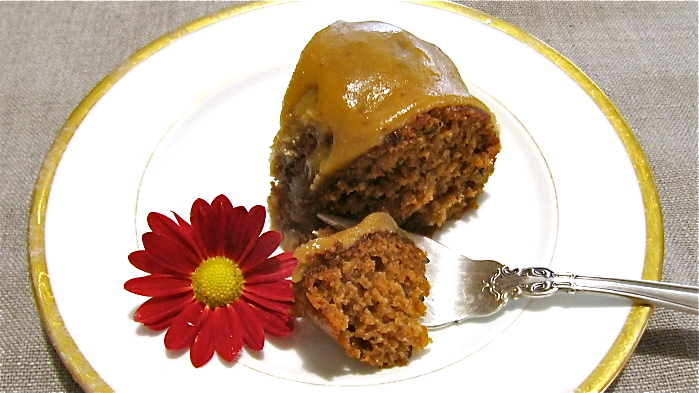 Print
Applesauce Cake with Caramel Glaze
Cake
2 cups all-purpose flour
1–1/2 teaspoons baking soda
1 teaspoon salt
1/4 teaspoon finely ground black pepper
2 teaspoons cinnamon
1 teaspoon ground ginger
1/4 teaspoon ground allspice
3/4 cup chopped, toasted walnuts or pecans (optional)
2 large eggs
1 cup sugar
1/2 cup light brown sugar
1–1/2 cups unsweetened applesauce (The Queen's Kick-Ass Applesauce)
2/3 cup non-gmo vegetable oil (I use grapeseed oil)
2 teaspoons Rain's Choice pure Vanilla Extract
For the Caramel Glaze
4 tablespoons butter, cut into chunks
1/2 cup packed brown sugar
1/3 cup heavy cream
1 teaspoon Rain's Choice pure Vanilla Extract
3/4 – 1 cup sifted confectioners sugar
Instructions
Heat the oven to 350 degrees.
Butter and flour a 12-cup Bundt pan. Sift together the flour, baking soda, salt, pepper.,spices and nuts and set aside.
In a large mixing bowl or the bowl of a standing mixer, beat the eggs with both sugars until light. Mix in the applesauce, oil and vanilla until smooth.
Using a spatula, fold in the dry ingredients, being careful not to over-mix. Pour the batter into the prepared pan and bake for about 45 minutes, until a cake tester inserted in the center of the cake comes out clean.
Cool the cake for 10 minutes in the pan on a rack before turning it out and cooling completely on the rack. Make sure the cake has cooled completely before you apply the glaze.
Put a piece of foil or paper under the cooling rack to catch any drips before you start the glaze. Put the butter in a medium saucepan with the brown sugar, cream and salt and set over medium heat. Bring to a full rolling boil, stirring constantly. Boil for one minute exactly, and then pull it off the heat.
Let the saucepan cool for a couple of minutes, then add the vanilla extract. Now gradually whisk the powdered sugar into the caramel mix through a sieve until you have a thick, but pourable consistency (you may not need all the sugar). If the mixture seems too thick, just add a splash of cream to thin it out a little. Immediately pour the glaze over the cake, moving slowly and evenly to cover as much surface area as possible. Let the glaze set before serving the cake.
Look Delicious?
Pin it for the world to see!
Latest posts by Patricia Rain
(see all)