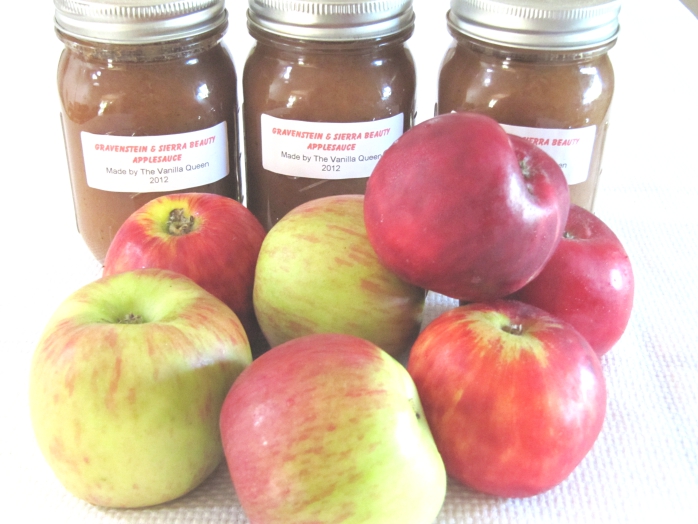 Anyone with a stove, a pot and apples can make applesauce. But, really good applesauce? Use heritage apples and a few special ingredients and you've got yourself a kick-ass good dessert!
In 1969 I moved to a ridge along the Mendocino coast. Through serendipity I ended up in the second oldest farmhouse on the Coast and it came with 29 heritage apple trees! Needless to say, we had apple everything from early autumn until spring. Apple pie, apple crisp, apple cookies, apple cake, baked apples, candied apples and a whole lot of applesauce.
Amazingly enough, I still look forward to autumn for the apples. Let's face it, there's nothing quite like the snap of biting into a crisp apple and feeling and tasting the juices flood your palate!
First, if you want memorable applesauce, you need memorable apples. I'm not talking Red Delicious apples from the supermarket. I'm talking farmers market or roadside fruit stand apples. Places where the apples are freshly picked, where there are varieties that you may never have heard of and where you can have sample bites before making your selection. Jonagold, Macintosh, Yellow Banana, Pink Pearl, Gravenstein, Wagner, Bellflower, Sierra Beauty, Yellow Delicious, Newtown Pippin. An amazing choice of apples are out there that will give you a bouquet of flavors.
As recently as the 1920s we had thousands of apple varieties in the US. Many of them were not "keepers," meaning they didn't ship well or went soft quickly. As supermarkets replaced family general stores, a lot of apples were lost forever. Fortunately, with the current renaissance of heritage fruits and vegetables, many apple varieties that were grown on family farms have been revived and are once again available.
Whether you are making applesauce or apple pies, choose at least one variety that has a complex flavor profile, is juicy and has some body. If the apples you've chosen are tart, add a few sweet ones and vice versa.
While it's fine to use water, if you want an intense apple flavor, cook the apples in juice. I buy fresh apple juice from a local farm. It's sweet enough to bring balance to my tart Sierra Beauty apples. If you are using sweet apples, throw in some raspberries for color and tartness. I put enough juice in to cover about half of the apples, and then I add more as needed. This way you don't end up with a sauce that's thin and watery. If you like the fragrant bouquet of vanilla beans, split a bean lengthwise or cut it into pieces and add it to the apples and liquid now. Leave the bean in until you serve the applesauce.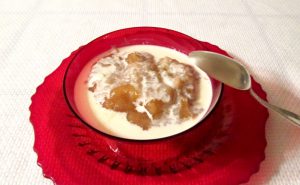 If the skins are thin, you can leave them on. However, skins can also be tough or give a stringy texture to the sauce. I cut my apples in small chunks to speed up cooking time. However, if you like chunky apple sauce, go for it. If you like your sauce smooth, use an immersion blender once the apples are thoroughly cooked.
Now, get creative. For warm notes add Rain's Choice Tahitian vanilla extract, cinnamon (or our Rain's Choice Cinnamon Spice Sugar), freshly grated nutmeg, cloves, allspice or cardamom. If you want citrus notes add lemon or lime zest or add lemon verbena leaves or lemon grass to the apples and remove after cooking, then add a little Rain's Choice Mexican vanilla extract. This is especially good served with pork chops or tenderloin. Crystalized ginger adds pungent notes. A grind or two of black pepper or a dash of cayenne along with freshly grated ginger will help to stop an incipient cold or warm you up if you've been out in the snow.
For a chilly or rainy night dessert, warm up the apple sauce and add a drizzle of honey or maple syrup and some heavy cream. And for special occasions, a splash of Calvados, Brandy or dark rum takes this childhood favorite over the top! Believe me, this makes for a real kick-ass applesauce!
If you are fortunate enough to have plenty of apples, put up jars of sauce for the winter months. Give
them as gifts and maybe even include this recipe for Applesauce cake.
Another absolute favorite apple dessert are my Applesauce Muffins made from my applesauce. These are addictively delicious and exceptionally moist.
One More Thing…
Think like the Pennsylvania Dutch: Continue to cook the applesauce over low heat until most of the moisture has evaporated and the apple chunks have melted into sauce. Using an immersion blender (or a regular blender), blend until very smooth to make apple butter. Spice it up, add a dash of apple cider vinegar and throw in a little butter if you'd like. Spread it on thick slices of warm bread, cornbread or even gingerbread.
Did you like this post? "Like" it, and share your thoughts in the comments below!
Latest posts by Patricia Rain
(see all)