One of my favorite things about travel, actually about life itself, is how every so often, something both unanticipated and delightful pops up when we least expect it. You're going along with nothing special on the horizon, and then, out of nowhere you receive unexpected money, you are given a free ticket to a special concert, you make a wrong turn on a road trip only to discover a magical forest, a castle, a large discount outlet or some other random treasure.
The word serendipity comes to mind. A happy accident or pleasant surprise. I like the sound of serendipity, the mouth-feel when you say it, the experience when it happens.
This happened to me in early September when I visited my friend Sandra who lives in St. Johnsbury, Vermont in what is known as The Northeast Kingdom. It's beautiful there. Mixed conifer and hardwood forests. Large streams and rivers. Norman Rockwell villages. Barely any traffic on the interstate highways. And an annual snowfall of 11-1/2 feet, which is why it is still so isolated, beautiful and sparsely populated!
I took the bus from Boston to Lebanon, New Hampshire, where Sandra met me on a sun-drenched weekday morning. As we pulled out of the parking lot she said, "We're having lunch at King Arthur Flour." Lunch? I didn't know that a mail-order business served lunch.
I've used King Arthur flours for years until we realized that my daughter and her entire family are gluten-intolerant as is my sister-in-law and nearly her entire family. I have been wheat allergic my entire life but attempted to ignore it unless I ate too much and needed my inhaler. Now that I'm nearly 100% wheat-free, I've either made my own flour blends or used pre-made blends. Nevertheless, I knew that a visit to King Arthur Flour would be interesting at the very least, especially as I promote their flours at the market where I work.
King Arthur Flour is located in Norwich, Vermont. I'm sure there is a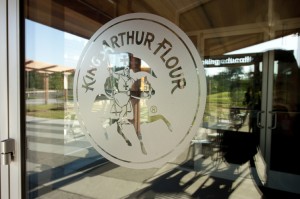 village of some sort in Norwich, but King Arthur Flour's headquarters sits in the middle of gently rolling green hills surrounded by farmland. I assumed we were visiting their production facility, so I was quite surprised and delighted when I learned that it is much more than this.
In the front of the new single-story wooden and glass headquarters, there are picnic tables tucked in the center of the U-shaped building. The main entrance and dining and bakery area, the Educational Baking Center and their exceptional retail store comprise the three wings of the building. In fact, the entire facility is so new, they hadn't yet had their grand opening.
We chose from a creative selection of sandwiches, soups and salads, then returned to peruse the bakery's abundant offerings of pastries, sweet rolls, cookies and cakes. I ordered a half-sandwich, which was delicious, with tender roast beef, blue cheese aoli perfectly caramelized onions and arugula. I also ordered a Tuscan bean salad as I knew I could only eat a couple of bites of the excellent whole-grain bread. Sandra had the roasted portabella sandwich with with artichoke tapenade, sundried tomato jam, and baby spinach. We ate our lunch on the back terrace in the warm midday sun. A peaceful and pleasurable dining spot.
My passion for dessert is where I am most often stray and eat wheat. However, their most popular cookie, the Amaretti Bianchi, is made with almond paste and is
gluten-free. Woo-hoo! I bought a half-dozen of them immediately and bought another half-dozen on our return trip to the bus eight days later. I was beyond thrilled when I was given the recipe for Amaretti Bianchi. If you love almond flavor, put these delicate morsels on your to-bake list for the holidays!
Another deadly-but-delicious offering is the bakery's version of cinnamon rolls. There's nothing redeeming about them but their flavor and boy is it worth it! Unfortunately, the web media coordinator didn't have the recipe for these killer rolls, but there is a list of about 24 cinnamon rolls in the King Arthur recipe base.
We spent time browsing the retail store, a baker's paradise. In addition to their flours (and gluten-free flours), they have an enormous selection of mixes, and an extensive selection of chocolate, flavors, extracts, spices, seasonings and oils. There are an amazing number of baking pans, proofing bowls for breads, bread makers, including a bread maker designed for gluten-free baking and other baking tools. The list goes on and on. You can order a catalog or go online to see what's available.
Of the many things I didn't know before visiting King Arthur Flour's headquarters, was that they are a B Corporation (third party certification for Social Responsibility), and a 100% employee-owned company.
They have free traveling baking demos, a year-round baking hotline, and a Life Skills Baking Program. You can learn much more about all of this at King Arthur Flour's Website.
I was impressed by the caring, friendly service we received on our two visits. No
wonder — the employees have a vested interest in their business. If only for the 11-1/2 feet of snow and the distance from my family, I could well imagine working at King Arthur Flour!
For your enjoyment: Salty and Sweet Butterscotch Cookies.
I highly recommend that you visit the King Arthur website and, if you find yourself heading to the Northeast Kingdom of Vermont, make a point of stopping in for a meal and dessert. Just writing this blog makes me want some cookies right now!
Did you like this post?
"Like" it, and share your thoughts in the comments below!
Latest posts by Patricia Rain
(see all)