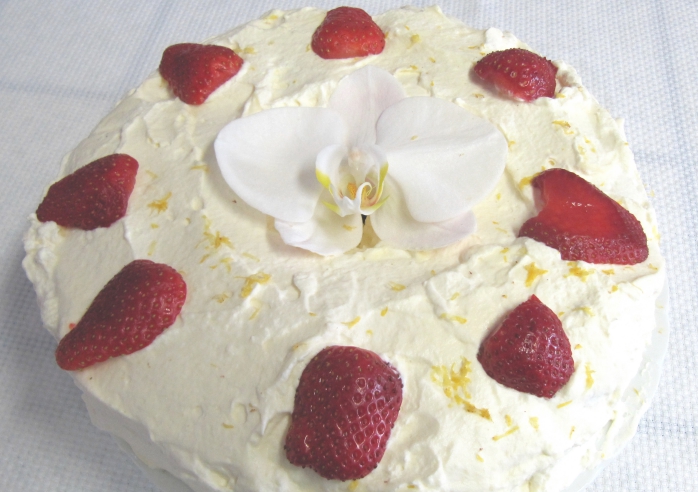 Spring weather is so fickle. Balmy and beautiful one day, windy and wild the next. But here on the California Coast, the organic strawberries are being picked on our local farms and are oh, so welcome, and begging to be included in dessert.
When I think spring and summer cakes, I think angel food, sponge or chiffon. Light, airy, the perfect foil for berries and other summer fruits. I decided on chiffon.
My friend and colleague Shirley Corriher, has this to say about chiffon cakes in her book, BakeWise :
"General Mills touted their Chiffon Cake, which used vegetable oil in place of shortening, as the first truly original cake in 100 years. Harry Baker, a Los Angeles insurance agent who baked cakes for the movie stars, invented the Chiffon Cake in 1927. For 20 years, he carefully guarded his recipe and baked the cake only for the famous in Hollywood at the Brown Derby Restaurant. Finally, in 1947 he sold his recipe secret to General Mills for the women of America.
"In the May 1948 Better Homes and Gardens magazine, General Mills presented the recipe with its secret ingredient — vegetable oil — to the world."
So there you have it. The secret to a very light crumb is vegetable oil! You can use any neutral flavored vegetable oil but I strongly recommend against using canola oil. I personally like Spectrum oils because they are very clean and lately have been using avocado oil a lot as it's neutral and also has important fats and nutrients.
The other secret to the lightness of chiffon cakes is a combination of both firmly whipped egg whites and baking powder. This is a built-in protection in case the egg whites don't hold their lightness as well as they should when the flour is added.
And my "personal secret" that gives this cake a rich vanilla flavor is Rain's Choice vanilla paste. Despite the lemon curd blended into the whipped cream, you can taste the vanilla, which makes this a signature vanilla cake, one that friends will want for their own recipe files.
Many chiffon cake recipes use up to eight eggs. I wanted a slightly smaller cake and I also had a limited number of eggs and didn't want to run to the store one more time.
When I made lemon curd earlier the day before, I had two egg whites left over. I substituted the whites for one egg in this recipe. While I don't recommend wildly straying from recipes when you're baking, there are times when you can be a little sneaky. And, because my family and I are gluten-intolerant, I made the cake with gluten-free flours. My experience is that there isn't a flavor difference when you substitute gluten-free flours, but cakes are usually a little lighter.
Print
A Vanilla Chiffon Cake to Celebrate Spring
1 cup sifted unbleached flour or
1 cup gluten-free flour blend
1/2 cup granulated cane sugar
1–1/2 tsp. baking powder
1/4 teaspoon salt
4 large eggs, separated, room temperature
1/4 cup neutral-flavored vegetable oil
1/4 cup water
1–1/2 teaspoons Vanilla Bean Paste
1/2 teaspoon cream of tartar
1/2 cup granulated sugar
Instructions
Combine flour, 1/2 cup sugar, baking powder and salt in small mixing bowl. Make a well in center; add egg yolks, oil and water and vanilla. Beat at high speed for 5 minutes or until satiny smooth.
Combine egg whites and cream of tartar in a large metal mixing bowl. Beat until soft peaks form. Add 1/2 cup sugar, 2 tablespoons at a time. Beat about 4 minutes at medium speed until very stiff peaks form. Peaks should stand straight up when beaters are lifted.
Note: If you wipe the bowl with lemon juice or vinegar just before starting to beat the whites, you will find that the whites will more easily come together. Be sure the bowl is very clean and the eggs are at room temperature. A pinch of cream of tartar helps to stabilize the eggs. It's important, in this recipe, that no egg yolk be mixed in with the egg whites or on the bowl or beaters.
Pour egg yolk mixture in a thin stream over entire surface of egg whites, gently folding mixture, into whites. Pour batter into ungreased 10″ tube pan, spreading batter evenly with spatula.
Bake at 325°F for 1 hour or until cake springs back when touched lightly.
Remove from oven, invert cake while still in pan, and cool completely upside down before removing from pan. This helps the cake to gently detach from the pan while cooling.
If at all possible, bake the cake the day before assembling. If this isn't an option make certain to allow the cake to cool completely and set before filling and frosting.
Notes
* I used Pamela's Bread and Baking Mix. Use a 1 – to- 1 gluten-free baking mix you are comfortable with.
This cake is tender and delicious on its own. You can sift powdered sugar over it once is cool, then slice and serve with whipped cream and berries or with ice cream or sorbet. You can drizzle a glaze over it, serve it with a pitcher of warm caramel, chocolate or raspberry sauce, or frost it with cream as I did.
I used whipped cream with lemon curd folded into it. You can purchase premade lemon curd if you want. I think fresh is best, but I live in "lemonlandia" where we always have an abundance. Here's my recipe for lemon curd. One of the great advantages of whipped cream is you can build up a section of cake that might be a little lower than the rest, either due to a slight unevenness in the oven or because it didn't cut quite evenly when you cut the cake in half. I mention this because whether you are a newbie baker or have been baking forever, life happens. Good ingredients and a little ingenuity are what matter most.
I used 1 pint of organic whipping cream with about 1 tablespoon of powdered sugar. When the cream was firmly whipped, I carefully folded in roughly 3/4 cup of lemon curd. Taste the frosting to adjust sweetening or to add a little more lemon curd.
Slice the cake in half and fill cake with about 1/4 of the cream mixture. You can add cut berries on top of the cream if you'd like. Carefully add the top layer of the cake and use the balance of the cream frosting to finish the cake. Add berries or flowers to the top of the cake. If you've used lemon curd in the frosting, grate a little fresh lemon zest over the cake for additional color and flavor.
How good was this cake? Everyone had seconds despite a large meal beforehand; my brother had thirds.
Did you like this post?
"Like" it, and share your thoughts in the comments below!
Latest posts by Patricia Rain
(see all)