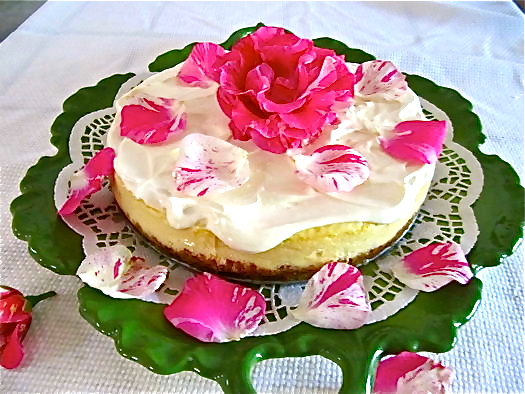 Isn't it fun to look at gorgeous pastries and desserts and fantasize about making (and eating) them? When it comes down to it, though, how often do you do it? Really, except for when I want to dazzle someone with a gift or it's a holiday, I nearly always opt for simple.
I gave my daughter some choices for Mother's Day. Yes, I know, you're thinking that she should have been making dessert for me. However, she cooks for a family every day — I don't. I really love making desserts. And, I need pictures for my site recipes so I volunteered. She chose cheesecake, and I'm so glad that she did as it's fast and easy to make but so delicious, especially with fresh berries or stone fruits on the side. You can also add citrus zest, infusions and toppings by using a basic recipe and getting creative! What's not to love about that?
There seem to be at least two camps regarding what makes a great cheesecake. There is the tall, drier cake, often made with ricotta or farmer's cheese and served with whipped cream, and then there are the really creamy cheesecakes — some baked, some not– that melt in your mouth. My preference is the super-creamy variety, which is why I love Stephany Buswell's, Mom's Favorite Cheesecake.
I made some changes to the recipe that made it over-the-top creamy. As my family has gluten issues, I made the crust using Vanilla Honey Graham cookies by Enjoy Life Foods. I used fewer cookies and less butter than the recipe calls for and more chopped walnuts as I wanted a subtle, light crust.
For the filling I used one package of Neufchatel cheese and one regular cream cheese. Don't use the bulk cream cheese that comes in a roll as it may make this recipe so creamy that it won't hold together well. I realized that I was 1 cup short on sour cream (it calls for 3 cups), so I substituted plain Greek yogurt for the extra cup. Using Neufchatel (just use one, not two packages) and the Greek yogurt, helped to cut down the fat without messing with the texture or flavor, though I would have used the sour cream if I'd had it.
Pay attention not to overbake the cake if you want it super creamy. It won't look as if it has baked long enough, but it sets up as it cools.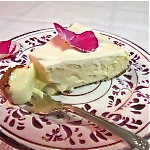 Stephany's recipe calls for putting the balance of the crumbs from the crust over the top. This gives the cake a nice, polished finish, but I would rather have a creamy topping, so I skipped that step. Instead, I mixed a half cup of creme fraiche with 1/2 cup Greek yogurt and a little more than a teaspoon of powdered sugar. I needed to use up the creme fraiche, and would have added sour cream except that, as I mentioned above, I didn't have any. You can use all creme fraiche, all Greek yogurt or, if you're more diligent about buying all the ingredients, use the balance of the second container of sour cream!
I applied the topping with a flat decorating spatula, then added one of my favorite roses with additional petals spilling off of the cake. Unfortunately, I didn't have any rosewater. Next time I want to add a few drops to the topping.
As it was, my two grandsons have never had cheesecake, but they knew it must be worth eating given the grownups were watching every move I made. Their assessment? A little sweet, a little tart and, "May I have seconds please?"
Trust me, you'll want seconds too!
Print
A Simple Cheesecake Makes a Sophisticated Dessert
Cheesecake Filling
3 well beaten eggs
2 – 8 ounce packages of cream cheese, softened to room temperature
1 cup sugar
1/4 tsp salt
1 tablespoon Rain's Choice vanilla extract or
2 teaspoons Rain's Choice vanilla paste
3 cups sour cream or blend of Greek yogurt and sour cream
Graham Cracker Crust
Combine 1–1/2 cups fine graham cracker crumbs
1/4 cup finely chopped walnuts
1/2 teaspoon cinnamon
1/4 teaspoon Rain's Choice vanilla bean powder (optional)
1/3 cup melted butter
Instructions
Using a food processor and hand mixer, cream the cheese with the sugar. Add the eggs, one at a time, making certain that cream cheese is smooth before adding the second egg. Add vanilla extract or paste and salt.
Blend in the sour cream or blend but do not over mix.
Press the Graham cracker crust onto the bottom and sides of a 9-inch spring-form pan. Bring crust only about 2-1/2 inches up the sides.
Pour mixture into the prepared crust.
Bake in moderate oven between 300- 325 degrees for 35- 45 minutes or until just barely set. Cool slowly at room temperature.
Notes
Chill for several hours or overnight is best. The filling will be soft. It's a very creamy cheesecake.
Here are detailed instructions on making a perfect cheesecake.
Did you like this post?
"Like" it, and share your thoughts in the comments below!
Latest posts by Patricia Rain
(see all)