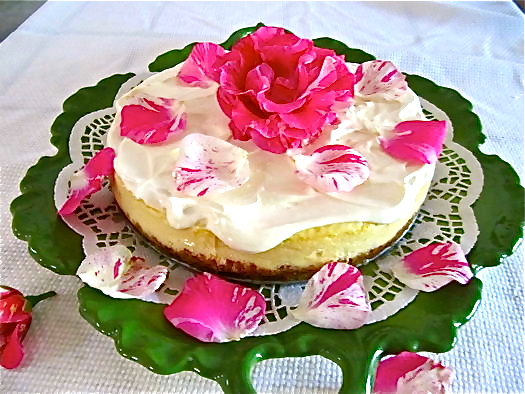 Courtesy of Chef Stephany Buswell: www.chefany.com
Stephany says about this recipe: "When I was a child my mom made this cheesecake for every holiday or special occasion. My mom died when I was 17 and I forgot about her cooking until I became a serious baker in my 20s. I began searching for a recipe like the one my mother had made but could never duplicate the recipe.
"Fifteen years later, while sorting through a box of crystal, there was my mom's recipe box and…the cheesecake recipe! It is like no other and, of course, one of the things that makes it so special is the use of a high quality vanilla!"
Print
Mom's Best Cheesecake
Cheesecake Filling
3 well beaten eggs
2 – 8 ounce packages of cream cheese, softened to room temperature
1 cup sugar
1/4 tsp salt
1 tablespoon Rain's Choice pure Vanilla Extract or 2 teaspoons Vanilla Bean Paste
3 cups sour cream or blend of Greek yogurt and sour cream
Graham Cracker Crust
Combine 1–1/2 cups fine graham cracker crumbs
1/4 cup finely chopped walnuts
1/2 teaspoon cinnamon
1/4 teaspoon Rain's Choice ground Vanilla Bean Powder (optional)
1/3 cup melted butter
Instructions
Using a food processor and hand mixer, cream the cheese with the sugar. Add the eggs, one at a time, making certain that cream cheese is smooth before adding the second egg. Add vanilla extract or paste and salt.
Blend in the sour cream or blend but do not over mix.
Press the Graham cracker crust onto the bottom and sides of a 9-inch spring-form pan. Bring crust only about 2-1/2 inches up the sides.
Pour mixture into the prepared crust.
Bake in moderate oven between 300- 325 degrees for 35- 45 minutes or until just barely set. Cool slowly at room temperature.
Notes
Chill for several hours or overnight is best. The filling will be soft. It's a very creamy cheesecake.
Look Delicious? Pin it for the world to see!
Latest posts by Patricia Rain
(see all)