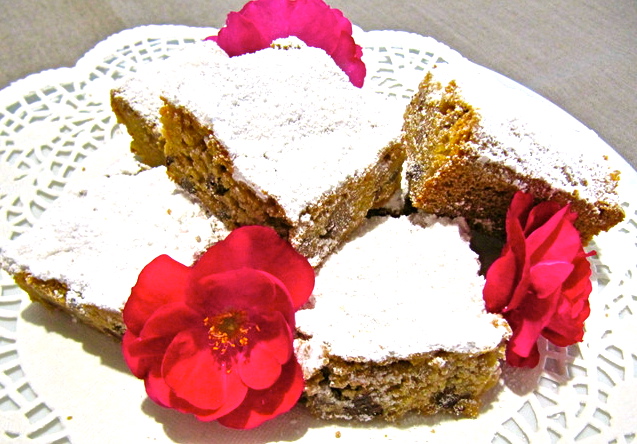 Move over brownies. The World's Best Blondies are gaining popularity one bite at a time! A meringue-like top, chewy bottom and really delicious!
I first had these chewy cake-like Blondies at a retreat center over twenty years ago. I always wondered how I could get the recipe; I had inquired about it but no one ever got back to me. Then I attended a yoga weekend at the center and the center's baker was in attendance. She immediately said yes to the recipe (she had gotten it from her mother), and I'm so happy she did, as they're very, very good.
I have changed the recipe slightly. I felt it was a bit sweeter than it needed to be so I cut both the granulated and the brown sugars by 1/4 cup each. If you like really sweet, feel free to add the half-cup of sugar back in. I also added more vanilla, which was a plus as well.
You can use chocolate in Blondies if chocolate isn't an issue. I like chopping chocolate from a large bar and include all the little pieces as they melt into the dough, though chips work fine as well. You can substitute butterscotch chips, peanut butter chips, even chopped Heath bars (if they're even available these days. Or, keep it simple and just use chopped nuts. If you are adding chips, however, you may or may not want a whole cup of toasted nuts — it's your call.
Print
The World's Best Blondies
2–1/4 cups unbleached all-purpose flour
2–1/2 teaspoons baking powder
3/4 cup softened unsalted butter
1/4 teaspoon salt
1–1/2 cups granulated sugar
1–1/4 cups packed brown sugar
1 tablespoon Rain's Choice vanilla extract
3 large eggs
8 ounces Guittard chocolate chips or 55 – 65 % chopped semi-sweet chocolate
3/4 to 1 cup chopped toasted walnuts or pecans
Instructions
Preheat oven to 350 degrees.
In a small mixing bowl, combine flour, baking powder and salt and set aside.
In a large mixing bowl beat butter, sugars, and vanilla until creamy. Add eggs, one at a time, beating well after each addition. Gradually beat in flour mixture. Stir in chocolate and nuts.
Spread evenly into well-greased 10″ x 10″ x 1″ pan (an 8 " x 13″ x 2″ will work fine).
Bake for 35-40 minutes, or until toothpick inserted comes out with just a few crumbs.
Cool on a rack until room temperature.
Slide knife around sides of the pan and invert onto a cutting board. Cut into desired sized pieces.
Chill the Blondies before cutting for cleaner edges.
Look Delicious?
Pin it for the world to see!
Latest posts by Patricia Rain
(see all)