Will the 2017 Vanilla Crop Bring Lower Prices?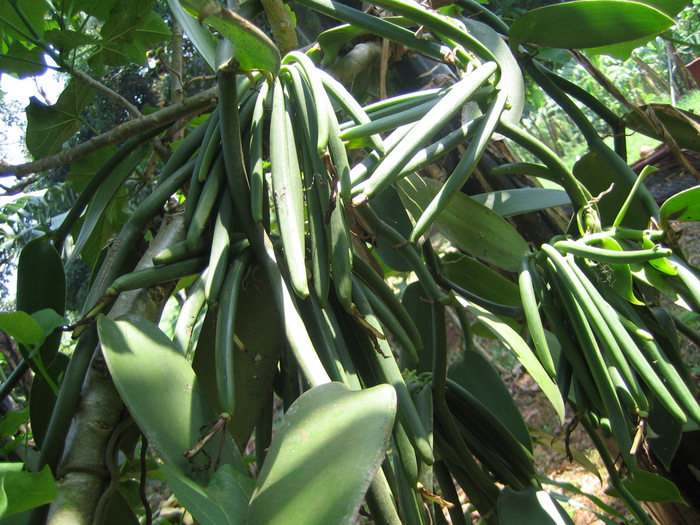 In late February of 2017, a market report was released by a European company that has been in the vanilla business for more than 100 years and is known for their honest and reliable industry assessments. The report addressed the chaotic conditions on the ground in Madagascar. It also provided a clearer picture of what to expect when the 2017 crop is harvested in May/June and what to anticipate in November when the beans are ready to be sold on the wholesale market.
The Crisis
As most of you already know, the crisis we are dealing with was largely man made and not caused by cyclones, fire or drought. In 2015 Madagascar experienced poor flowering and a very small vanilla bean crop. Buyers quickly purchased the last of 2014 crop, knowing prices would go up. Then, when the green beans were harvested in May/June, multi-national speculators went in the newer vanilla producing area south of Sambava, the traditional growing region. Using money gained from the sale of illegally harvested rosewood, they outbid all buyers of the just harvested green vanilla beans. As it was a short crop to begin with, by holding the beans off the market, the speculators forced the prices up further. The beans were only cured (fermented) for a few days, then vacuum-packed to complete the process later. This technique creates very poor quality beans with a low flavor profile. Because so few beans were available, however, they had a ready market with extract manufacturers who paid ridiculously high prices for the beans in order to fulfill their contracts with companies.
The government steps in
The Madagascar government attempted to curb the cheating and poor curing practices by banning the sale of green beans during the harvest as well as outlawing vacuum-packed beans. Unfortunately, there isn't the infrastructure or the will to consistently enforce the rules and most middlemen ignored them in the rush to sell the green beans. The green beans sold for as much as $80 a kilo, a huge boon for some farmers and the middlemen who normally make this much money in six months.
What it meant, however, was that the cured and dried beans reached untenable prices in the same way as the last crisis (caused by storms) in 2001 – 2004, when prices of cured and dried beans to the traders were in the range of $500 a kilo at source In fact, in less than three years market prices increased 1500%. Three years ago, cured, dried beans of good quality cost as little as $20 a kilo at source, which means that the farmers and middlemen who gather the beans in rural areas and bring them into cities or to the packing houses barely made a living.
Not enough vanilla?
Roughly 1600 metric tons of vanilla from Madagascar came onto the market in November, 2016. Much of it was not good quality. However, Indonesia and Papua New Guinea have ramped up their production, which helped boost the total crop considerably. A fair percentage of the beans beans are better quality than what came in from Madagascar. News travels quickly via the Internet, however, and vanilla prices from these countries are understandably very high as well. It is during times like this that farmers can earn a lot of money if they have decent quality beans to sell. While it may appear that the market will continue like this indefinitely, the reality is that the market will collapse. We just don't know when.
When prices are extremely high and the extract makers tell their clients the price for pure vanilla extract, the clients, who are primarily frozen dessert and dairy manufacturers, can choose from a variety of natural flavors not made from vanilla beans. The flavors are extremely inexpensive, enough so that when a crisis like this occurs, many companies don't go back to using pure vanilla when the prices collapse.
Short term expectations
The highly anticipated market report indicated that prices would very likely surpass those of 2003/2004 when prices reached $500 a kilo at source. This concern was tempered as other vanilla-producing countries, most especially Indonesia and Papua New Guinea, are now in full stride and the Madagascar flowering in January of this year was excellent. Prices appeared very likely to start dropping as demand is met and the market stabilizes.
Of far greater concern is the quality of the Madagascar vanilla. Because prices are so high, flavor companies are strongly encouraging the quick curing process, which takes weeks instead of months. Before the 2016 crop came to market, 300 – 400 metric tons of green beans were quick-processed, making the final market total of available beans much smaller than anticipated. Both the flavor houses and the buyers benefited as it saved months of time and sold for less than the final market prices, giving them both a huge competitive advantage. Where the quick-processed beans sold for $400 a kilo, the final market was significantly smaller than anticipated, and the prices went up by $100 to $500 a kilo.
Because the green bean curing and drying techniques were so financially successful, companies promoting this process have put down millions of dollars on the green vanilla beans not yet harvested to secure beans for their clients. This is not written or spoken about to the general public. Instead, a lot of the companies tout their sustainable practices and concern for the best vanilla beans and extracts. While there are both large and smaller companies doing all they can to make sure they are buying quality products and with a fair price for growers, this represents roughly 25 – 30% of the total crop.
Quick curing practices unfortunately come with a huge downside that could completely change the vanilla industry, and not for the better. Madagascar has long prided itself as a producer of high-quality vanilla beans. The quick processing of vanilla beans done properly can produce acceptable beans. However, it requires technique and specific equipment to do it correctly. The equipment and training are not available for the majority of the vanilla producers or middlemen.
The traditional method of curing and drying requires several months of work but the quality of the finished beans is far better, with a high flavor profile and supple beans. By eliminating traditional curing and drying methods, Madagascar's reputation would plummet. Of equal concern, tens of thousands of family farmers and their families would lose their livelihood as the industry jobs would evaporate. This, combined with the changing climate could prove disastrous for the legacy of pure vanilla.
Why does this happen with vanilla but not chocolate or coffee?
Because there are viable alternatives to vanilla beans such as imitations and "natural flavors," vanilla is a far smaller industry than chocolate or coffee. Coffee and chocolate are traded in millions of containers each year; vanilla comes in at roughly 2300 – 3000 metric tons in a good year. As a result, vanilla isn't traded on the international commodities market. There are no protections for vanilla growers and no rules or sanctions on the industry.
Coffee has a base price in place; farmers are at least guaranteed a minimum wage during a surplus. Chocolate used to have a base price, but this was recently discontinued. This has proven disastrous for the growers as currently there is a huge surplus in the market, which means they won't have an income from this crop. Coffee and chocolate also have non-profit associations that help growers and promote their products. While prices and available volume for coffee and chocolate fluctuate, they are more stable markets than vanilla. That said, small shareholder coffee and chocolate growers and those who labor on large plantations are poor. It is for these reasons that I am concerned about social justice issues for the small shareholder vanilla growers and do what I can to get them accurate market information and other assistance.
Hurricane Enowa, 2017
Just as it appeared that prices would stabilize and probably drop at some point in 2017, on the morning of March 7th, Madagascar was slammed by a slow moving, deadly, Category 4 Cyclone. It struck the entire vanilla growing region of the island. 78 people died and nearly 300,000 people lost their homes and crops. About 30% of the vanilla crop was destroyed. Whatever could be salvaged off the ground will be quick-cured and dried, but the beans were so immature that there will be little-if-any flavor.
At this moment, vanilla prices are $600 or more at source. All that can be done now is to wait to see how much vanilla will come in from Indonesia and Papua New Guinea. In the meantime, prices continue to escalate because there of the acute shortage of beans. Most traders are investing only for the short-term given the high prices. In addition to the $600 a kilo price tag, there is also the cost of shipping the beans long distances, port fees, customs fees and risk factors such as poor quality or mold. While the big buyers of vanilla beans make money, it is not proportionately higher due to the shortage. Extract manufacturers may make only $5.00 to 10.00 a gallon in order to remain competitive. As the margin-of-profit in the food industry is very small, despite the high prices, most of us selling vanilla are making a minimal profit.
This report will be updated when new information is available.
Patricia Rain
is an author, educator, culinary historian, and owner of The Vanilla Company (www.vanillaqueen.com), a socially conscious, product-driven information and education site dedicated to the promotion of pure, natural vanilla, and the support of vanilla farmers worldwide. She also does culinary presentations for food professionals, cooking schools, trade shows, food fairs, and private groups, and is a regular radio and TV guest.
Latest posts by Patricia Rain (see all)
Tags: 2016 vanilla crop update, Will prices ease for 2016 vanilla crop?